To grill a whole onion, slice the stem off each onion and peel it to create a flat bottom. Core and season each onion while you preheat the grill to 400°F. Set each onion directly on the pre-oiled grill grate and close the lid, allowing it to cook for 45 minutes or until juicy and tender.
How to Serve Grilled Onions at a BBQ
Grilled onions are the perfect topping for many dishes. Grilled onions are great as toppers for burgers, brats, or grilled steaks. They can be served as a side dish with roasted or grilled chicken. They can be skewered on kabobs. Add them to salads, sandwiches, fajitas, or tacos. Grilled onions can be served as an appetizer with dip or on a veggie tray.
Grilled whole onions can be kept whole and foil-wrapped until caramelized. No matter how you make them, onions prepared on a BBQ are a delicious addition to any dish.
Print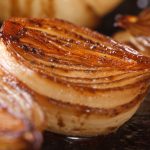 BBQ Grilled Whole Onion with Balsamic Glaze Recipe
---
Author:

Total Time:

1 hour
Description
This grilled whole onion recipe takes only a few pantry ingredients and 15 minutes of prep time. In an hour, you'll have juicy, sweet onions as the perfect side for your meal!
---
2

large sweet onions, Vidalia or Maui

1/4 tsp

kosher salt

1/4 tsp

black pepper

2 tablespoons

avocado or olive oil

2 tbsp

balsamic vinegar
---
Instructions
Slice the stem from each onion and peel.
Slice just a bit of the root end off of the onion so you can rest the onion on a flat bottom. This will prevent it from wobbling.
Use a melon baller or sharp knife to cut the core out of the onions. You'll end up with a cavity about 1 inch across that goes almost to the bottom of the onion.
Sprinkle half of the salt and pepper into each onion cavity. Drizzle 1 tbsp of oil into each onion cavity.
Drizzle or brush 1 tbsp of balsamic vinegar over and into each onion.
Preheat the grill to medium-high heat, around 400°F.
Brush the grill grates with oil and place the onions directly on the grill grate.
Close the lid and cook for about 45 minutes or until the onions are juicy, tender, and caramelized.
Slice each onion in half and serve!
Prep Time:

15 minutes

Cook Time:

45 minutes
Nutrition
Serving Size:

1 onion

Calories:

43kcal

Sugar:

2g

Sodium:

35mg

Fat:

3g

Saturated Fat:

2g

Carbohydrates:

4g

Protein:

5g

Cholesterol:

7.5mg
Why Grill Onions on the BBQ?
When onions are cooked, the heat releases the natural sugars in the onions, and they become tender and sweet. Grilling onions on the BBQ yields not only sweet, juicy onions, but onions that have a smoky flavor. Grilled onions are the perfect accompaniment to grilled meats or other dishes.
What Are the Best Types of Onions to Grill?
You can grill any type of onion you prefer. Red onions, white onions, and yellow onions are all sweet, tender, and juicy after they've been grilled. Grill the variety of onions you enjoy the most, but don't be afraid to experiment with different types.
Maui onions are naturally sweet and taste excellent when grilled. They are the perfect topper for sandwiches, fish, and lamb.
Red onion loses some of its characteristic sharpness and becomes sweeter. The insides turn into a jam-like texture perfect for topping a burger or steak.
Vidalia onions are wonderful when they are grilled. They are larger than other onions and have thinner skin. They have a higher sugar content and are considered sweet onions. Cooking them on the grill brings out their sweet, tender flavor.
White onions are milder in flavor than yellow onions and turn sweet when grilled. They may be the perfect choice for someone who doesn't usually enjoy onions. Slice into rings, grill, and top your grilled steak. Yellow and white onions can be used interchangeably because they are so similar.
Yellow onions are great for roasting at low temperatures. They lose their astringent taste and become caramelized when cooked with fat. They work perfectly with chicken or beef.
What Kind of BBQ Surface Is Needed to Grill Onions?
Onions must be grilled with oil or fat, so they don't stick to the grill's surface. You can put them on the grill grate after brushing the grate with oil. You can also use a grill basket or grill mat to make cleanup easier. Cook onions directly over the flame, so they get caramelized, or cook them over indirect heat.
How Long to Grill Onions
Grill whole onions on medium heat to medium-high heat for about 45 minutes. Grill halved onions for 25 to 30 minutes, and onion quarters for about 15 minutes.
If you prefer to cook over indirect heat, increase the grilling time by about 15 minutes.
How Do You Know Grilled Onions are Done?
You'll know your grilled onions are done cooking when they are soft. They should also become translucent in color, and you should see their juices drip. When you insert a fork into your onions, it should slide easily through the flesh and into the center of the onion.