The best method for making a whole chicken on the barbecue is to butterfly the chicken so it cooks more quickly over indirect heat. The ideal grill temperature should be between 350°F and 400°F and the chicken should be grilled until it reaches an internal temperature of 165°F.
Step-By-Step Guide to BBQ a Whole Chicken
Most keen home cooks are familiar with butterflied chicken breast meat because it's a popular way to cook chicken breasts. Here's a step-by-step guide that uses this classic method to prepare a whole chicken and barbecue it to perfection!
Prepare your chicken: Place your chicken on the cutting board, with the breast side down. Use kitchen shears to cut along the backbone. Discard the backbone and remove the wing tips.
Spatchcock your chicken: Spatchcock involves cutting a chicken and flattening it out. This allows the heat to reach every part of the chicken more quickly because there is more surface area. Spatchcocking the chicken also allows for a uniform thickness to ensure even cooking.
Marinate the chicken: It's recommended to marinate your chicken before cooking. Submerge the bird in a marinade of your choice before grilling to ensure the chicken is tender and juicy. Fresh herbs and spices added to the marinade will sink into the meat and increase flavor.
Grilling: Preheat your grill to 400°F. Place the spatchcocked chicken directly on the grill grates over indirect heat with the ribs side down. Grill until the internal temperature reaches 165°F.
Rest and Serve: Cover the meat with aluminum foil and rest for 10 minutes before serving your spatchcocked chicken with your favorite side dishes.
Can't wait to hit the grill? Try this barbecue chicken recipe today for a juicy chicken dinner!
Print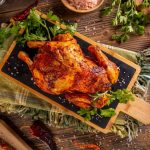 Whole BBQ Chicken Recipe
---
Author:

Total Time:

1 hour, 25 minutes
Description
In this exciting whole chicken recipe, you'll learn how to BBQ a whole chicken with some simple ingredients and simple prep work. This simple recipe uses a simple BBQ marinade, a tasty chicken dry rub, and indirect heat, producing perfectly juicy, tender, and delicious BBQ chicken each time.
---
Equipment Needed
A sharp knife or kitchen shears
Instant-read thermometer
Wood chips
Ingredient List
1

whole chicken (

3

to

4

pounds)

1 tsp

black pepper

1 tsp

smoked paprika

2 tsp

kosher salt

1 tsp

garlic powder
Melted Butter (1 stick)
Mop Sauce Ingredients
1

–

quart

apple cider vinegar

1

can beer

1/2

cup

hot sauce

16

ounces

of barbecue sauce

2 tsp

black pepper

2 teaspoons

kosher salt
---
Instructions
Flatten your chicken: Cut your chicken in half to allow the bird to cook evenly. Use a sharp knife or kitchen shears to cut along the backbone. Once you remove the backbone, cut your chicken in half through the middle of the breastbone.
Prep the rub: Combine the black pepper, smoked paprika, garlic powder and kosher salt. Next, pat the chicken dry with paper towel. Make sure to apply the dry rub mixture uniformly on the meat, rubbing in the dry rub with your hands. Store in the refrigerator until ready to cook.
Fire up the gas grill or charcoal grill to 400°F using two zones, and prepare to cook the chicken over indirect heat.
Place chicken on the grates with the rib side down and allow to grill with high heat for 20 minutes. Baste with butter and close the lid. Continue to cook for 20 minutes before basting with butter again. Mop the chicken skin side with the mop sauce every 10 minutes, flipping the chicken as needed. Allow to grill for an additional 20 minutes.
Check the internal temperature of the chicken with an instant-read thermometer. Once the chicken reaches 160°F in the thickest part of the chicken, remove from the grill.
Let the chicken rest on a cutting board for 10 minutes. As the chicken rests, carryover cooking should increase the temperature by about 5 to 10°F for a final barbecued chicken internal temperature of 165°F.
Slice your grilled whole chicken and serve with BBQ sauce.
Prep Time:

10 minutes

Rest Time:

10 minutes

Cook Time:

65 minutes
Nutrition
Serving Size:

8 ounces

Calories:

600

Sodium:

915mg

Fat:

26.46g

Saturated Fat:

9.5g

Protein:

64.26g

Cholesterol:

198mg
How Long Does it Take to Barbecue Chicken?
A whole chicken (if spatchcocked) should take around 5 to 7 mins of searing per side and 45 of cooking over indirect heat for a total grill time of approximately one hour. For a chicken that is not spatchcocked, it will take 5 to 7 minutes per side of searing plus approximately 90 minutes of grill time.
The best way to know when chicken is done is to use a meat thermometer. The USDA suggests that the internal temperature of BBQ chicken should reach 165°F at the thickest part of the meat.
What is the Best Temperature to Barbecue a Whole Chicken?
A BBQ chicken is well cooked when it reaches an internal temperature of 165°F. To achieve this, keep the grill temperature between 350°F and 400°F.
How Do You BBQ Chicken Breasts?
Every great barbecued chicken breast starts with a marinade! Make a marinade by combining barbecue sauce, ginger powder, garlic powder, mayonnaise, and honey. Place chicken breasts in a small bowl and coat evenly with the marinade. Cover the meat and place it inside the refrigerator for three hours.
Once the chicken is done marinating, place chicken on oiled grill grates and barbecue at 400°F for about 5 minutes per side (longer if you have large breasts). For the last few minutes of cooking chicken, brush the chicken breasts occasionally with barbecue sauce. They are done grilling once they reach 165°F.
How Do You Cook a Whole Chicken on a Gas Grill?
Put the chicken on the charcoal grill or gas grill and cook over indirect heat at a temperature of 400°F with one leg facing the hot side of the grill. Close the lid and avoid touching the meat for at least 40 minutes.
Flip the chicken after 40 minutes, and tilt the other chicken leg towards the hot side of the grill. Brush occasionally with butter or a mop sauce for moisture, and continue to grill until the internal temperature in the thickest part of the chicken reaches 165°F.
What are the Best Side Dishes for BBQ Chicken?
Turn your barbecue chicken into a mouth-watering feast with any of the following delectable side dishes:
Baked beans are a classic BBQ side dish. Combine bacon, navy beans, mustard, molasses, onion, brown sugar, ketchup, Worcestershire sauce, and brown sugar for a classic baked beans flavor. You can prepare this on the stovetop or in a crock pot!
This creamy side dish is always satisfying. The cheesiness pairs perfectly with the smoky flavor of BBQ chicken, creating a finger-licking combination.
Cornbread is a staple at barbecues. Top your homemade cornbread with honey and butter for the perfect side dish. To impress your guests further, serve it with a side of hot pepper jelly!
Asparagus with hollandaise is a rich side dish that adds creaminess and texture as a side for bbq chicken!
On a strict diet but love fries? Consider sweet potato fries! With a soft inside and crispy outside, these baked fries are delicious and super easy to prepare.
What Should You Never Do When Barbecuing a Whole Chicken?
If you want to end up with perfectly cooked chicken, avoid making these barbecue mistakes:
Seasoning Chicken After Cooking
Avoid seasoning your chicken after cooking it. If you season after cooking, the bird won't absorb those seasonings well. You should season the chicken before cooking so the black pepper, kosher salt, and spices can absorb into the meat during the cooking process.
Under-cooking Chicken
Remember, a whole chicken retains a lot of heat, and the interior cooks more slowly than the outer parts. Use a good meat thermometer to ensure you do not remove the chicken from the grill too early.
Not Checking the Internal Temperature
Check the internal temperature frequently. This is particularly important when cooking a whole chicken or chicken breasts since they tend to dry out when overcooked. Insert an instant-read thermometer or meat thermometer into the thickest section of the chicken to check the internal temperature. The chicken reaches doneness once the internal temp reads 165°F.
Failing to Flip the Chicken
Make sure to flip the chicken when cooking it. This will help make the chicken skin crispy. Flipping your chicken also helps to create a BBQ sauce crust that is typical of grilled BBQ chicken.
Not Resting the Chicken
After cooking your chicken, make sure to let it rest before carving and serving. The rest period allows the juices to reabsorb into the meat, which makes it more tender and juicy.