To make smoked pot roast, season your chuck roast and place it in your smoker preheated to 225˚F. Spritz your roast every 45 minutes during cooking to ensure a flavor-packed bark on your beef. Once the internal temperature reaches 195˚F, remove your roast from the smoker, wrap it in pink butcher paper, and let it rest for 1 hour.
Guide for Smoked Pot Roast
Use your backyard smoker or grill to smoke a tender, juicy pot roast full of beefy flavor. It only takes a bit of prep time – let your smoker do the rest of the work.
Tools Needed to Smoke Pot Roast
Foil pan
Meat thermometer
Smoker
Wood chips or wood chunks (hickory, mesquite, or oak)
How to Prepare Pot Roast for Smoking
Remove the roast from the packaging and pat dry with a paper towel. Unlike brisket, chuck roast does not need to be trimmed. The fat in this cut of meat is marbled throughout the tissue. It breaks down into the meat while it smokes, creating a juicy smoked pot roast.
Much like smoked brisket, pot roast is best when sprinkled with a bit of kosher salt the night before, and placed in an airtight container, to dry brine it in the refrigerator. It helps to season and add extra moisture to the meat, but this step is entirely optional.
Season the roast by sprinkling your favorite spices over the surface of the meat to get it ready for the pellet smoker.
Prepare the Smoker
Set your smoker to 225˚F and allow it to preheat for 15 minutes. Add wood chips or wood chunks as directed by the manufacturer. Hickory, pecan, oak, and mesquite complement the beef.
Smoke the Pot Roast
Smoke the pot roast for 6-7 hours or until the internal temperature reaches 195˚F. Remove the roast from the smoker and wrap it in towels while it rests so it stays as juicy as possible.
Rest the Pot Roast
Rest the pot roast for 1 hour before serving. During resting time, the connective tissue breaks down further, making your smoked chuck roast tender.
Print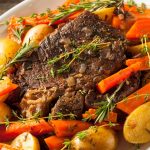 Braised and Smoked Pot Roast Recipe
---
Author:

Total Time:

8 hours, 10 minutes
Description
Whether a novice cook or a seasoned pro, this smoked pot roast recipe is for you. Create the perfect, tender smoked beef chuck roast for a showstopping weekend dinner.
---
3

lb

chuck roast

1

cup

beef broth or beef stock for braising

2 tsp

black pepper

2 tbsp

garlic powder

2 tsp

kosher salt

1 tbsp

onion powder

1 tsp

smoked paprika
---
Instructions
Remove the chuck roast from the packaging and pat dry with a paper towel.
Combine the dry seasonings in a small bowl and liberally sprinkle over the roast.
Preheat the smoker to 225˚F according to the manufacturer's instructions.
Place the chuck roast on the grill grate and close the smoker. Spritz or sprinkle with the braising liquid every 45 minutes while smoking.
When the internal temperature of the chuck roast reaches 195˚F, remove the meat from the smoker.
Wrap the meat in towels or pink butcher paper and rest for 1 hour.
Slice on a cutting board and serve with your favorite sides. I love to serve smoked pot roast with caramelized onions and mashed potatoes!
Prep Time:

10 minutes

Rest Time:

1 hour

Cook Time:

7 hour
Nutrition
Serving Size:

4 ounces

Calories:

697kcal

Sugar:

10g

Sodium:

508mg

Fat:

42g

Saturated Fat:

17g

Carbohydrates:

13g

Fiber:

0g

Protein:

33g

Cholesterol:

226mg
What Temperature Should the Smoker Be for Pot Roast?
Pot roast should be smoked at 225˚F. Smoking the pot roast at a low temperature allows the meat to become tender and keep its juices. Smoking at this temperature allows the connective tissue to break down, creating a tender cut of beef.
How Long Does it Take to Smoke a Pot Roast?
It takes between 6 and 7 hours to smoke a pot roast at 225˚F. Smoking at 275˚F takes 5-6 hours. Smoking closer to 200˚F will take 8-9 hours. The exact smoking time depends on how large and thick your roast is.
How Do You Know When Smoked Pot Roast is Done?
Cook your roast to an internal temperature of 195˚F. After smoking, the roast will turn dark brown and develop a crust of flavor called a bark. When you insert a fork into the roast, it will glide in effortlessly. When you twist your fork, a portion of meat will detach easily.
Can You Smoke a Roast Without a Smoker?
Yes, you can smoke a roast without a smoker. Both charcoal grills and gas grills can be arranged for smoking meat. Always soak wood chips or wood chunks in water for 1 hour before adding them to the grill. For additional flavor, soak the wood in red wine, beer, apple juice, or herbs.
How to Smoke Pot Roast on a Charcoal Grill
Arrange your coals, light them, and let them become hot and ash-covered.
Carefully move them apart and place a foil pan inside with 1 inch of hot water in the middle. Arrange the coals, so they touch all sides of the pan.
Add soaked wood chips or wood chunks to the coals.
Put the grill rack above the water pan and place your meat on the rack. Close the grill.
Check the pan every 45 minutes while the meat is cooking, adding more hot water as necessary to keep 1 inch of water in the pan.
How to Smoke Pot Roast on a Gas Grill
Place soaked wood chips in a foil pan and cover the pan with aluminum foil. Poke 10-12 holes in the foil.
Place the pan on the bars underneath the grate in the corner of the grill.
If smoking for longer than 2 hours, add a foil pan with 1 inch of hot water to the grill. Place it on a grate over a lit burner.
Place your prepared food on the grill rack over an unlit burner and close the grill.
Check the water pan every 45 minutes while the meat is cooking, adding more hot water as necessary to keep 1 inch of water in the pan.
What Does the Smoking Process Do to a Roast?
Smoking infuses the roast with flavor and acts to preserve the meat. The wood chips add a hint of flavor and smokiness. As the meat cooks slowly, the meat fibers break down, creating a tender pot roast that falls apart.
Best Side Dishes for Smoked Pot Roast
Pair these side dishes with your smoked pot roast for a delicious meal.
Slice your potatoes, season as desired, and air fry for 10-20 minutes. This side dish is quick and easy. This recipe even has different seasoning ideas depending on your taste preference.
These yeasted bread rolls are filled with chives and sour cream. They are hearty but light and fluffy.
You can't go wrong with classics. These green beans are seasoned with brown sugar and bacon and simmered until tender.
Roast cubed butternut squash with maple syrup and cinnamon. Sprinkle with rosemary and serve.
Get your veggies in! All you need is olive oil, salt, and black pepper to create tasty asparagus on your Traeger pellet grill or BBQ.