To make smoked chuck roast on your Traeger, preheat your smoker to 225°F. Season the chuck roast with steak seasoning and smoke for 2 hours. Then, wrap the roast in aluminum foil or butcher paper and return it to the smoker until it reaches an internal temperature of 203°F. Let the roast rest for 20 minutes before slicing and serving.
If you're looking for a delicious, smokey alternative to a traditional brisket that won't take all day to cook, a smoked chuck roast is a perfect choice. 
How to Smoke Chuck Roast on a Traeger Pellet Grill
Chuck roast is a well-marbled, flavorful, and affordable cut of beef that is typically used for pot roast. It's best cooked low and slow, but with the right equipment, you can smoke a chuck roast in as little as six hours. 
Follow these step-by-step instructions for smoking a chuck roast on a Traeger pellet grill for a mouth-watering meal that will have your taste buds buzzing.
Tools Needed to Smoke Chuck Roast
For this Traeger smoked beef chuck roast recipe, you don't need any special smoking equipment. You just need a Traeger pellet grill, a digital meat thermometer, a foil pan, a cutting board, a sharp chef's knife, and wood pellets.
The best wood pellets for smoking roasts are hickory, oak, and mesquite if you enjoy a strong smoke flavor in every bite. For a milder smoker flavor, look for fruit woods like apple, peach, or cherry wood.
How to Prepare Chuck Roast for Smoking
After the chuck roast has been properly trimmed of excess fat, be sure to season it generously with a simple dry rub.
Let the chuck roast sit at room temperature for up to an hour before placing it on the grill grates to give the rub time to penetrate the meat.
Prepare the Pellet Smoker
Preheat the charcoal or pellet grill to 225°F and add your wood chips. Ensure the smoker's lid remains closed.
Alternatively, smoke meat over indirect heat with a water pan directly below the meat to keep the temperature low and steady.
Smoke the Chuck Roast
Smoke the meat at 225°F. Use dry and wet wood chips to control the temperature. You want to add more wood pellets after every hour to get plenty of smoke flavor.
Smoke the roast until a crust forms on the meat and the internal temperature of the chuck roast is around 190°F, which takes roughly 6 to 8 hours. Use a digital meat thermometer to check for doneness.
Wrap the meat tightly in a layer of aluminum foil and cook at 225°F for one hour until the internal temperature reads 200°F to 203°F.
Rest the Chuck Roast
Remove the smoked pot roast from the Traeger grill, keeping the meat covered in aluminum foil. Allow it to rest for about 30 minutes before slicing and serving.
Print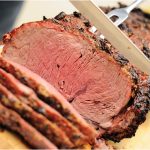 Cowboy Style Smoked Chuck Roast Recipe
---
Author:

Total Time:

5 hours, 45 minutes
Description
Smoked chuck roast is a quick and affordable substitute for smoked brisket or Prime rib. This smoked pot roast recipe uses a simple dry rub and is slow-cooked on a Traeger pellet grill to give a juicy, tender bite every time.
---
5

–

pound

chuck roast

2 tsp

black pepper

1 tsp

cayenne pepper

1 tbsp

kosher salt

1 tsp

oregano

1/2 tsp

chili powder

2 tsp

garlic powder
---
Instructions
Buy a 5-pound chuck roast. Rinse it with cold water and pat dry with a paper towel.
Combine all the dry rub ingredients in a medium-sized bowl. Rub the beef rub onto your chuck roast all over. If it doesn't adhere well, rub the meat in a thin coating of olive oil, then sprinkle the rub over the meat.
Wrap the chuck roast in plastic wrap and keep it in the refrigerator for 4 hours. Smoking the chuck roast straight away is fine, but keeping it in the refrigerator for a couple of hours will give the beef rub time to penetrate the meat.
Preheat the pellet grill to 225°F and add your wood chips.
Place the seasoned chuck roast on the grill grates, over the water pan. Add more wood chips or woodchucks to the hot coals. Close the lid and start smoking the beef.
Use both dry and wet wood chips to control the temperature. Dry wood chips help to provide a quick smoke and raise the heat while the wet gives a lower, slow-cooking smoke that brings the heat down. You should add fresh wood chips and coals every hour for the first four hours.
Keep monitoring the smoker's temperature every hour to ensure it stays close to 225°F. Don't keep opening the lid unless you're adding more wood chips or charcoal to maintain the smoke and temperature.
Smoke the meat until a crust forms on the meat and the internal temperature reaches 190 degrees F, after about 6 to 8 hours. Use a digital meat thermometer to check for doneness.
Remove the meat from the grill, wrap it in heavy-duty aluminum foil and return to the grill for another hour, keeping the smoker temperature in the 225°F range.
Remove the wrapped meat from the grill. Unwrap the foil and move the chuck roast to a cutting board.
Let the chuck roast rest for 30 minutes covered in foil before slicing it against the grain.
Prep Time:

15 minutes

Rest Time:

30 minutes

Cook Time:

5 hours
Nutrition
Serving Size:

6 ounces

Calories:

412kcal

Sugar:

0g

Sodium:

883mg

Fat:

26g

Saturated Fat:

11g

Carbohydrates:

0g

Protein:

43g

Cholesterol:

156mg
What Temperature Should the Smoker Be for Chuck Roast?
Ensure the smoker temperature is in the 225°F range throughout the cooking process for a chuck roast. Check the smoker's temperature every hour to constantly maintain this temperature range.
How Long Does it Take to Smoke a Chuck Roast?
It takes about 1½ to 2 hours to smoke one pound of a chuck roast at 250°F to the point where it's fall-apart tender. So for a 3 to 4-pound chuck roast, the total smoking time will be around 6-8 hours with the smoker temperature set at 250°F.
At 225°F, it should take roughly 2 hours per pound to completely smoke a chuck roast. For a 4-pound chuck roast, you can expect it to take about 8 hours.
The total time will vary depending on the humidity, outdoor temperature, and the fat content of the meat as well as whether or not you're cooking a bone-in or boneless chuck roast.
How Do You Know When Smoked Chuck Roast is Done?
Your smoked chuck roast will be done when the internal temperature reaches 180°F to 205°F.
If you want to slice your chuck roast like a beef brisket before serving, the internal temperature should be between 180°F and 190°F. However, if you want to shred the chuck roast for serving with sandwiches, aim for an internal temperature of 205°F to ensure it is fall-apart tender.
If you didn't keep the smoker temperature under control and your chuck roast seems tough even after reaching the recommended internal temperature, tent it with aluminum foil and return it to the smoker. It should become fall-apart-tender after cooking it for a more extended period.
What Does a Smoked Chuck Roast Taste Like?
Chuck roasts are pretty inexpensive, easy to prepare, and have a good fat ratio, which makes them perfect for smoking and gives a rich, beefy flavor.
Side Dish Ideas for Smoked Chuck Roast
This Traeger smoked chuck roast pairs nicely with many different side dishes! Here are some of my favorite sides to serve with smoked chuck roast: