You can remove the brisket from the smoker once it reaches an internal temperature of 190°F to 205°F. Per the USDA, beef is safe at 145°F, but the fat and connective tissues in brisket require additional cooking for the best texture and flavor.
When is Brisket Done Smoking?
The USDA recommends an internal temperature of a minimum of 145°F for safely cooked beef, with a three-minute rest after removing it from the heat source. However, this temperature is often too low for brisket, as it is a tough cut of meat that requires a longer cooking time to become tender. Brisket is considered done when it reaches an internal temperature of 190-205°F.
To accurately measure the brisket's internal temperature, it is best to use a digital meat thermometer inserted into the thickest part of the meat.
What are the Signs of Brisket Being Done?
There are a few signs that help you know when to pull brisket out of the smoker:
The internal temperature of the meat has reached the desired level (190-205°F).
The meat is tender and can be easily pulled apart with a fork.
The surface of the meat has a dark, caramelized crust.
The juices from the meat are clear rather than pink or red.
It has a crispy bark that is dark mahogany in color.
Is Brisket Done at 180°F?
At 180°F, brisket is not yet done, as it will still have a tough texture.
Is Brisket Done at 190°F?
190°F is not the best internal temp for a finished brisket. However, the brisket can be considered done at 190°F because the temperature will increase while resting (typically about 5 to 10°F).
Is Brisket Done at 195°F?
At 195°F, the brisket is done, and it is the best internal temperature to pull the brisket from the smoker.
It will have reached the upper end of the ideal temperature range and will be very tender. Pitmasters like Aaron Franklin attest to this wholeheartedly. At this point, the beef brisket connective tissues will render, and the collagen will break down into gelatin without under or overcooking.
Brisket Time Chart
Different temperatures when smoking the brisket means different cooking times.
Here is a rough guide to the cooking time for brisket at a cooking temperature of 225°F:
| | |
| --- | --- |
| Weight of Brisket | Cooking Time |
| 1 – 2lbs | 4 – 6 hours |
| 2 – 4lbs | 6 – 8 hours |
| 4 – 6lbs | 8 – 10 hours |
| 6 – 8lbs | 10 – 12 hours |
| 8 – 10lbs | 12 – 14 hours |
Bear in mind that the smoking time is only an estimate, and it may vary depending on the thickness and marbling of the meat, the type of smoker or grill you are using, and the ambient temperature.
Always use a meat thermometer to determine the brisket's internal temperature and ensure that it is cooked to the desired level of doneness.
Print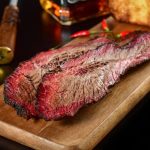 Texas Style Smoked Brisket on Toast Recipe
---
Author:

Total Time:

15 hours, 50 minutes

Yield:

8

servings

1

x
Description
Take a bite of this Texas-style smoked brisket on toast, and it'll transport you to the Lone Star State. It is the perfect combination of tender meat and crispy bread, with a backdrop of savory onion to make it pop. Try this perfect brisket recipe with a mesmerizing smoky flavor, and see what all the fuss is about!
---
Equipment
Heavy-duty Aluminum foil or pink butcher paper
Meat thermometer
Pellet smoker/Pellet grill
Spray bottle
Wood chunks
Brisket Ingredients
10

lb

packer brisket, untrimmed

3 tablespoons

ancho chile powder

2 tablespoons

kosher salt

1 tablespoon

allspice, ground

1 tablespoon

celery seeds

1 tablespoon

coriander seeds, ground

1 tablespoon

garlic powder

1 tablespoon

mustard seeds, ground

1 tablespoon

dried oregano

1 tablespoon

smoked Spanish paprika

1 tablespoon

freshly ground black pepper

2

cups

apple juice (in a spray bottle) – you can also use apple cider vinegar
Bobby Flay BBQ Sauce or your favorite BBQ sauce, heated
Texas Toast, recipe follows
Pickled Red Onions, recipe follows
Texas Toast Ingredients
2 teaspoons

canola oil

4

cloves garlic, smashed and chopped to a paste

2

sticks unsalted butter, softened
Kosher salt and freshly ground black pepper

2

loaves of good quality Pullman or pain de mie, sliced into

2

-inch thick slices

2 tablespoons

finely chopped flat-leaf parsley
Pickled Onion Ingredients
1 1/2

cups

red wine vinegar

2 tablespoons

sugar

1 teaspoon

mustard seeds
Kosher salt

1

small red onion, halved and thinly sliced
---
Instructions
Brisket directions:
Take the cut of meat and trim half of the fat cap off of it, leaving 1/4" of fat.
Take a bowl and combine all the spices.
Coat your piece of meat in the dry rub evenly.
Cover brisket with plastic wrap and place in the fridge for a minimum of 4 hours and ideally 24 hours.
Take the brisket out of the fridge and let it sit at room temperature.
Preheat the smoker to 225°F.
Pick your preferred wood and add it to the smoker. For brisket, hickory, pecan, and mesquite work wonderfully.
Place the brisket in the smoker with the fat side down and close the lid.
Pour apple juice into a spray bottle.
Let the brisket smoke, but spritz it once every 1 to 2 hours with the apple juice.
Smoke the brisket for a total of 4 hours – until it reaches an internal temperature of 165-170°F
When the temperature reaches that point, get it off the grill and double-wrap it in aluminum foil.
Return the wrapped brisket to the smoker and let it sit for 3 1/2 to 4 1/2 hours.
When the internal temperature reaches 185°F, it's time to take it off the smoker. Make sure to check by using a meat thermometer.
Let your brisket rest for 20 minutes and slice across the grain.
Texas Toast directions:
Preheat grill to 250°F.
Saute the garlic for 1 minute in a skillet.
Add butter and salt, and pepper.
Grill the bread on the smoker until golden.
Spread the garlic butter on top of the toasted buns.
Pickled Red Onions directions:
Heat a saucepan and place vinegar, mustard seeds, sugar, and salt until it boils, for a minute.
Place in a small bowl and let it cool.
Place the onions in the mixture and coat.
Store for later use.
Assemble your sandwich:
Once all three components are ready, take a slice of your Texas toast and top it with 1/2 pound to 1 pound of sliced brisket. Add a thick layer of pickled red onions, drizzle with BBQ sauce if desired, and serve with an ice-cold beer (or beverage of your choice). Enjoy!
Prep Time:

40 minutes

Inactive Time:

6 hours, 30 minutes

Cook Time:

8 hours, 40 minutes
Nutrition
Serving Size:

1 serving

Calories:

1969kcal

Sugar:

16g

Sodium:

1787mg

Fat:

142g

Saturated Fat:

61g

Carbohydrates:

65g

Fiber:

7g

Protein:

103g

Cholesterol:

540mg
How to Smoke Brisket Faster
You can smoke brisket faster using the "Texas Crutch method" which involves:
Wrapping the brisket in aluminum foil while it smokes.
Helping it retain moisture and heat.
Making the meat more tender.
Reducing the cooking time.
It is the first thing you must do to get over the dreaded "stall" when your brisket doesn't seem to get past a specific internal temperature. Thus, wrapping it with foil would accelerate the cooking time.
You can also cook brisket faster if you increase the temperature of the smoker. However, it's essential to be careful when using higher temperatures, as they can cause the meat to become overcooked or dried out if not monitored carefully.
Does Brisket Need to Rest Before Slicing?
A whole brisket would need to rest for about one hour before slicing.