The best method to make smoked vegetables is to drizzle your vegetables with oil and seasonings, and place your vegetables in a single layer inside a grill basket. Allow them to smoke using indirect heat at 225°F until soft, which takes around 30 to 45 minutes depending on the vegetables you choose.
Smoked vegetables are a popular side dish at any BBQ. The texture complements the smoky aromas from the grill and enhances your main entrees. Smoking will deepen, sweeten, and in many cases, improve the flavor of your vegetables.
What is the Best Method for Smoking Vegetables?
The best way to smoke vegetables is low and slow in a grill basket on your favorite pellet smoker. The ideal wood chips are lighter smoking woods such as applewood and cherry.
Add seasoning or rub before placing your veggies into the smoker for extra flavor. Any rub will do, or you can season with salt and pepper. You can smoke your veggies next to your main dish to make the most of your smoker!
Print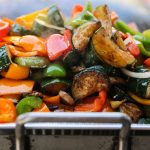 Best Mixed Smoked Vegetable Recipe
---
Author:

Total Time:

55 minutes
Description
Are you the kind of person who loves an excellent easy side dish? If so, you're going to love this smoker recipe. You can switch up the vegetables in this recipe for any veggies you have for a stunning side dish full of smoky flavor.
---
1

sweet onion peeled and quartered

1

red pepper cleaned and cut into squares

2

zucchinis sliced thick (bite-sized pieces)

1

cup

Brussels sprouts trimmed and cut in half

1

cup

mushrooms halved

2 tablespoons

extra virgin olive oil

1 tablespoon

Worcestershire sauce

1/2 teaspoon

salt

1/4 teaspoon

black pepper
---
Instructions
Set your smoker to the smoke setting.
Mix your vegetables and seasoning in a large bowl. You'll add salt, pepper, and Worcestershire sauce in this step.
Place your mixed veggies in a grill basket, and set them on the grill grates.
Smoke the veggies on the smoke setting for 15 minutes. Then adjust your smoker to 225°F and allow them to cook for another 30 minutes or until soft.
Notes
For extra flavor, you can soak your veggies in a marinade overnight.
If you're using a charcoal grill, you can wrap vegetables in aluminum foil and place them directly on the grill grates rather than using a grill basket.
To finish your smoked vegetables, drizzle the veggies with lemon juice, balsamic vinegar, whole black pepper, or parmesan cheese for an extra punch of flavor.
Prep Time:

10 minutes

Cook Time:

45 minutes
Nutrition
Serving Size:

3 ounces

Calories:

85

Sugar:

6g

Sodium:

246mg

Fat:

5g

Saturated Fat:

1g

Carbohydrates:

9g

Fiber:

2g

Protein:

2g
What are the Best Vegetables to Smoke?
Some vegetables are better suited to smoking than others – the important aspect is that they can take a bit of heat. Having a lower moisture content is ideal, which will help them absorb more smoke and flavor from the smoker.
Artichokes
Asparagus
Beets
Bell pepper
Broccoli
Brussel sprouts
Cauliflower
Corn on the cob
Eggplant
Green peas
Mushrooms
Pumpkin
Red onion
Sweet potatoes
Yellow squash
Zucchini
Should You Cold Smoke or Hot Smoke Vegetables?
Cold smoking only imparts a smoky flavor to your veggies, whereas hot smoking also cooks them so it will depend on how you intend to use your vegetables. Hot smoking takes minutes or hours, while cold smoking can take days.
It depends on what you want to do with the vegetables. Cold smoking will give your veggies a potent smoky flavor. It's ideal when you want to make a batch of many smoked vegetables for later use. Hot smoking is perfect if you want to eat your veggies right away.
Can You Smoke Vegetables the Same Way as Meat?
Smoking vegetables is similar to smoking meat but can have equally stunning results on flavor and texture. The largest difference is that smoking veggies takes significantly less time than smoking meat because they absorb smoke faster.
The best way to smoke vegetables is to smoke them at a lower temperature of 225°F – 250°F rather than smoking them on high heat, as you can with some meat.
How Long Does it Take to Smoke Vegetables?
For most vegetables, the cooking time averages between 30 minutes and 1 hour if smoked low and slow. Cooking time varies according to factors like the moisture content and size of the vegetables.
Here are some estimates:
| | |
| --- | --- |
| Vegetable | Smoking Time |
| Artichoke Hearts | 30 minutes |
| Asparagus | 30 to 60 minutes |
| Beets | 60 to 90 minutes |
| Bell Peppers | 30 to 45 minutes |
| Broccoli | 30 to 60 minutes |
| Brussels Sprouts | 20 to 30 minutes |
| Corn on the Cob | 45 minutes |
| Eggplant | 30 to 45 minutes |
| Green Peas | 15 to 30 minutes |
| Pumpkin | 60 to 90 minutes |
| Yellow Squash | 60 to 90 minutes |
| Zucchini | 30 to 45 minutes |
Smoked Vegetable Side Dish Recipes
Smoked vegetables work well with dishes like pork chops, pulled pork, or brisket – and the list continues.
Here's a list of my favorite smoked vegetable side dish recipes:
This is one of the best ways to cook eggplant. And it's extra rich since eggplants already have a smoky flavor.
These little red potatoes are easy to make! They're perfect for a crowd because they cook up quickly in the pellet smoker.
Sweet potatoes are already naturally sweet, but when you smoke them, that sweetness takes on a complex new flavor dimension.
Mushrooms have an earthy flavor that pairs well with most meats and vegetables. These stuffed ones make a great appetizer on their own!