To make a Traeger London Broil, season your steak with spice rub and marinate overnight. Preheat your Traeger to 275°F, and smoke the steak over indirect heat until the internal temperature reaches 110°F. Increase the heat and reverse sear both sides of the steak until the internal temperature reaches 140°F.
How Long to Smoke London Broil
It takes between 1.5 and 2 hours to smoke London Broil. London Broil is usually made from flank steak or round steak, and these cuts of beef need to be cooked at low temperatures for a more extended time.
Marinating London Broil
London Broil should always be marinated before smoking. London Broil is made from top-round steaks or flank steaks, which are tougher cuts of meat.
London Broil marinades contain vinegar, which helps break down the muscle in the meat before cooking. This creates a steak that is tender and juicy. Any type of vinegar is suitable for London Broil—apple cider vinegar, red wine vinegar, or white wine vinegar. Many marinades also include soy sauce or Worcestershire sauce. The acid in these sauces also helps break down the muscle in this cut of meat.
Print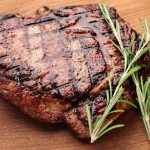 Traeger London Broil Smoker Recipe
---
Author:

Total Time:

2 hours
Description
Combine olive oil and apple cider vinegar to form the marinade base for this delicious smoked London Broil recipe. Season your London Broil with garlic, paprika, salt, and pepper, and get ready for a flavorful, tender steak!
---
Equipment Needed
Meat thermometer
Traeger Pellet grill (or pellet smoker like a Z grill or Pit Boss)
Wood chips—Hickory, Pecan, or Mesquite
Steak Ingredients
3

lb

London Broil flank steak

1/4

cup

olive oil or vegetable oil

3 tbsp

apple cider vinegar or red wine vinegar

1 tbsp

black pepper

2 tbsp

kosher salt

1 tsp

garlic powder

1 tsp

onion powder

2 tsp

smoked paprika
---
Instructions
Remove the London Broil from the packaging and place it in a large glass baking dish. Blot dry with a paper towel.
Mix the dry ingredients in a small bowl.
In another bowl, whisk the olive oil and the vinegar until combined. Pour over the London Broil making sure to coat both sides.
Sprinkle the dry rub over each side of the London Broil.
Cover the baking dish and set it in the refrigerator overnight.
Before smoking, remove the London Broil from the refrigerator and let it come to room temperature.
Preheat the smoker to 275°F. Add the wood chips or wood pellets as directed by the manufacturer.
Place the London Broil on the grill grate and let it smoke until the internal temperature reaches 110°F.
Raise the grill temperature to high heat and cook the London Broil for 2-3 minutes on each side to create a reverse sear.
Once each side is seared, move the steak back to indirect heat and cook until the internal temperature reaches 140°F.
Remove the steak from the grill and let it rest under tented foil for 10-15 minutes.
Slice into thin strips against the grain of meat with a sharp knife on a cutting board.
Serve with your choice of side dishes, and enjoy!
Prep Time:

20 minutes

Rest Time:

10 minutes

Cook Time:

90 minutes
Nutrition
Serving Size:

4 ounces

Calories:

270kcal

Sugar:

0.8g

Sodium:

250mg

Fat:

12g

Saturated Fat:

3g

Carbohydrates:

0.3g

Fiber:

0g

Protein:

40g

Cholesterol:

100mg
What Temperature Do You Smoke London Broil on a Pellet Grill?
Smoke your London Broil at 275°F. If you smoke or grill London Broil at a high temperature, it will be tough. The types of meat best for London Broil must be cooked low and slow. After cooking to 110°F, raise your pellet grill to high heat and reverse sear both sides of the steak.
How Long Does it Take to Smoke a 3lb London Broil?
London Broil is usually created from steaks between 2 and 3 pounds. These steaks take between 1.5 and 2 hours to cook. The exact smoking time depends on the thickness of your cut of beef. Check the internal temperature often to ensure your London Broil doesn't overcook.
How Do You Know When London Broil is Done?
Your London Broil is done when the internal temperature reaches 140°F. London Broil is usually cooked to a medium-rare temperature, but you can cook it more if you desire. Remove the steak when the internal temperature reaches 5°F below your target temperature. Let the steak rest under a tented piece of foil for 5 minutes.
| | |
| --- | --- |
| Desired Doneness | Internal Temperature |
| Rare | 125°F to 130°F |
| Medium-rare | 135°F to 140°F |
| Medium | 141°F to 149°F |
| Medium-well | 150°F to 155°F |
| Well-done | 160°F+ |
What is the Difference Between London Broil and Flank Steak?
Flank steak and London Broil are the same cut of beef. London Broil is a method of cooking that uses flank steak or top-round roast.
Flank steak comes from the cow's abdominal muscle or lower chest. It has very little fat in the meat and must be cooked slowly so that the meat doesn't become tough. London Broil refers to the marinating and slow-cooking method used for flank steak.
London Broil Side Dish Ideas
London Broil goes well with most side dishes including veggies, dinner rolls, and fruit salad!
Here are a few ideas to round out your meal:
How to Store and Reheat Smoked London Broil
Store smoked London Broil in an airtight container in the fridge for up to 5 days. Freeze your cooked London Broil in a freezer-safe container for 2-3 months.
Reheat in the Microwave
Transfer your London Broil to a microwave-safe plate and heat at 1-minute intervals until warmed through. It is easy to overcook steak in a microwave so you will need to watch it carefully.
Reheat in the Oven
Preheat the oven to 350°F. Wrap the steak in foil with butter and heat for 10 minutes. This will ensure the steak is juicy as it warms.
Reheat in a Skillet
Heat the skillet over medium heat. Add butter or oil, and cook the London Broil for 5 minutes on each side until warmed through!