To make smoked London Broil steak, coat your meat with a marinade that includes salt, garlic, red wine vinegar, olive oil, and black pepper and let it rest for 4 hours. Smoke the marinated meat at 225°F until the internal temperature reaches 145°F.
The origin of the name "London Broil' is obscure because this is a North American dish and has nothing to do with the English city. Many cooks will agree that London Broil is a cooking method and not a cut of meat because different cuts of meat can make a London Broil. Any large tough cut of meat such as flank steak or top-round steak can be a London Broil provided it is marinated overnight and broiled the next day.
Why London Broil Should Be Marinated Before Smoking
You should marinate London Broil to tenderize the meat and add bold flavor. To prepare your own marinade, begin with olive oil or vegetable oil and then add lemon or orange juice, Worcestershire sauce, soy sauce, apple cider vinegar, or red wine vinegar.
As with a dry rub, you can make your marinade using a combination of pepper, salt, brown sugar, chili powder, and aromatic seasonings such as garlic powder and onion powder.
A marinade is preferred over a dry rub because the acidic ingredients help to break down the tough connective tissue in this piece of meat. Marinate this tough cut of meat for at least 4 hours or overnight – the longer you marinate it, the more tender it will be.
Print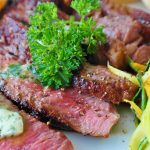 Smoked London Broil with Garlic and Red Wine
---
Author:

Total Time:

50 minutes
Description
This red wine and garlic marinade uses simple ingredients to help transform this inexpensive piece of meat into a juicy, tender, and flavorful smoked steak!
---
2

lb

London Broil

1/2

cup

olive oil

1/4

cup

honey

1/4

cup

apple cider vinegar or red wine vinegar

2 tsp

Worcestershire sauce

1 1/2 tsp

black pepper

1 tsp

red pepper flakes

1/2 tsp

kosher salt

5

cloves minced garlic

5

sprigs thyme

2 tsp

high-heat vegetable oil such as Avocado oil
---
Instructions
Mix all of the ingredients together in a medium-sized bowl to make your London Broil marinade.
Place the meat in the marinade, ensuring it is well-covered. Place in the refrigerator overnight.
Preheat the smoker to 225°F. Use cherry, oak, hickory, or pecan wood chips or pellets to infuse plenty of smoky flavor into the meat.
Drain the marinade and place the meat directly on the grill grates. Close the lid and smoke for 45 minutes.
Remove the meat from the smoker once the internal temperature hits 125°F (rare) or 135°F (medium rare).
If you want the meat to form a nice crust, fire up a cast-iron skillet over moderately high heat to sear. Add a few teaspoons of a high-heat oil such as Avocado oil.
Place meat in the pan and sear on both sides for 2 to 3 minutes per side.
Transfer the meat to a cutting board and rest for 5 to 10 minutes. Using a sharp knife, slice your meat into thin pieces against the grain. Enjoy!
Prep Time:

5 minutes

Marinating Time:

24 hours

Cook Time:

45 minutes
Nutrition
Serving Size:

4 ounces

Calories:

338kcal

Sugar:

0.1g

Sodium:

184mg

Fat:

22g

Saturated Fat:

8.4g

Carbohydrates:

0.3g

Protein:

33g

Cholesterol:

133.3mg
Is London Broil Good for Smoking?
Smoking is perfect for London Broil. This tough cut of meat yields to the smoke and produces tender and flavorful meat.
How Long Does London Broil Take on the Smoker?
It takes 45 minutes to smoke a London Broil at 225°F on the pellet smoker. Depending on the smoker's temperature and the meat thickness, London Broil can take longer to reach doneness, so monitor the internal temperature.
What Temperature Do You Smoke London Broil?
The best temperature to smoke London Broil is 225°F.
How Much Does a London Broil Weigh?
When a cut of meat is labeled as London Broil, it measures around 2 inches thick and weighs around 2 pounds.
How Do You Know When London Broil is Done Smoking?
London Broil is done when the internal temperature reaches 140°F for medium doneness. Your desired doneness level for smoked steak will ultimately determine when your steak is done smoking.
The exact cook time will vary based on the thickness, size, and temperature of the meat when you start cooking it. Therefore, the best way to tell when your London broil is done is to use a digital meat thermometer.
What are Good Seasonings for Smoked London Broil?
A rich London Broil marinade can transform this cut of meat into a juicy and tender steak that will leave your family and friends asking for more!
Seasoning options are endless for this smoked London Broil recipe.
You can opt for a marinade that uses a liquid like red wine vinegar to help tenderize the otherwise tough meat while adding plenty of body. Soy sauce, Worcestershire sauce, or beer are often used, and sweeteners like honey or sugar will help balance the flavors.
You can also use fresh herbs and spices. Good options include chives, thyme, basil, rosemary, oregano, and fresh parsley. Make your marinade extra spicy by using red pepper flakes or cayenne pepper.
Once you've made your marinade, let the meat sit as much as possible. Store the marinated meat in the refrigerator and leave it for 4 hours or ideally overnight. This will help produce more flavorful and tender meat.