To grill a bone-in chicken breast, start by brining it in salt, sugar, and water. After brining, sprinkle with dry rub and place on a grill preheated to 400°F. Flip the chicken a few times as it grills, ensuring even cooking and grill marks, and remove and let rest once it reaches an internal temperature of 165°F.
Top Tips for Grilled Bone-In Chicken Breast
Here are a few tips for grilling bone-in chicken breasts:
Brine the chicken before grilling to help keep it moist and flavorful. You can make a simple brine with salt, sugar, and water.
Season the chicken with a dry rub to add extra flavor. You can make a rub with a combination of herbs and spices, such as rosemary, thyme, paprika, and garlic powder.
Make sure the grill is hot before adding the chicken. A temperature between 375-400°F is ideal!
Use a meat thermometer to check the internal temperature of the chicken. The chicken is safe to eat once it reaches 165°F.
Consider using an indirect grilling method, where the chicken is not directly over the flame, to prevent burning and help it cook more evenly. To get the char and grill marks, reverse-sear the chicken near the end of the cooking time over high heat.
For extra juiciness, let the chicken rest for a few minutes before cutting it to let the juices redistribute.
Baste the chicken with a flavorful liquid, such as melted butter or BBQ sauce, during the last few minutes of grilling to add extra moisture and flavor.
To add flavor, you can wrap the chicken with bacon or prosciutto slices.
If you want crispy skin, dry the chicken thoroughly before grilling and avoid overcooking it. You can do this by patting it with a paper towel.
If you want to cook an entire chicken, consider grilling half a chicken or spatchcock the chicken so that the heat is evenly distributed throughout the grilling process.
Always buy chicken with skin on chicken breast – skinless chicken isn't as flavorful.
Print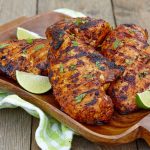 Juicy BBQ Grilled Bone-In Chicken Recipe
---
Author:

Total Time:

1 hour
Description
There's nothing better than a juicy bone-in, skin-on chicken breast. The bones add extra flavor and tenderness to this homemade classic. I recommend serving this main course with your favorite side dishes – it pairs well with almost anything from fresh salads to decadent macaroni and cheese!
---
1

whole chicken cut into pieces (

3

–

4

pounds)

2 tbsp

olive oil
Kosher salt, to taste
Black pepper, to taste

1

cup

barbecue sauce
---
Instructions
Preheat the grill to medium-high heat (around 375 to 400°F).
Take the chicken pieces and coat them with olive oil.
Sprinkle salt and pepper over the chicken pieces.
Place chicken on the grill grates – ensure it's placed with the skin side down.
Grill the chicken like this for 15 minutes.
Flip the chicken on the other side and baste it with barbecue sauce.
Cook the chicken for another 20 to 30 minutes, brushing the meat with barbecue sauce occasionally.
You should cook the chicken until it reaches an internal temperature of 165°F in the thickest part of the breast. At this point, the thighs should read around 175°F.
After it reaches the desired temperature, remove it from the grill and rest it for 5 minutes.
Slice and serve together with your favorite side dish!
Prep Time:

10 minutes

Rest Time:

5 minutes

Cook Time:

45 minutes
Nutrition
Serving Size:

1 breast

Calories:

478kcal

Sugar:

32g

Sodium:

1068mg

Fat:

24g

Saturated Fat:

6g

Carbohydrates:

39g

Fiber:

1g

Cholesterol:

95mg
How Long Do You Grill Bone-In Chicken Breasts?
The internal temperature of the meat is more important than time, so check with a thermometer and remove the meat from the grill when it hits 165°F.
The time it takes to grill bone-in chicken breasts will depend on a few factors:
The thickness of your chicken breasts. Thicker cuts will take longer to cook than thinner ones.
The hotter your grill, the faster chicken will cook. Remember that if the heat is too high, you may burn your chicken before it's done inside.
Whether you use direct heat or indirect heat for the majority of the cooking time.
Target Internal Temperature of Grilled Bone-In Chicken Breast
Unlike other raw meat, poultry must be cooked to a higher internal temperature for safety.
165°F is the USDA recommended temperature to ensure safe consumption. Always use a meat thermometer so you leave no room for error.
How Do You Grill Chicken Breast Without Drying It Out?
Cooking chicken at a high enough temperature to kill harmful bacteria while not drying it out is key.
Follow these tips for juicy grilled chicken:
Brine the chicken: Soaking the chicken in a saltwater solution before grilling can help to keep the chicken moist and flavorful.
Pound the chicken to an even thickness: This helps the chicken to cook more evenly so that some parts don't dry out before others are done.
Marinate the chicken: Marinating it in an acidic marinade can help keep it moist and flavorful.
Grill over indirect heat: Grilling the chicken over indirect heat will help prevent burning and allow the chicken to cook more evenly.
Baste the chicken with butter: Basting the chicken with butter can help to keep the meat moist and add extra flavor.
Let the chicken rest: After grilling, let the chicken rest for a few minutes before slicing so the juices can redistribute throughout the meat.
What Temperature Should You Grill Bone-In Chicken?
The temperature you should grill chicken depends on the part of the chicken you are cooking. Chicken thighs, drumsticks, and chicken wings will be grilled at a different temperature than a whole chicken.
The ideal temperature range for grilling bone-in chicken is 350°F to 450°F. Cooking the chicken at this temperature range will help ensure that the chicken is cooked through and that the meat is juicy and flavorful. This will give the chicken a nice char on the outside while preventing it from drying out.
What are the Benefits of Grilling Bone-In Chicken?
Grilling bone-in chicken is a great way to get the most out of your meat.
Bone-in chicken breast has the following benefits:
Cost: Bone-in chicken is typically less expensive than boneless chicken.
Easier to cook: The bones in the chicken also act as a built-in thermometer, making it easier to tell when the meat is fully cooked.
Improved flavor: Bone-in chicken tastes better. The bones give the meat its juiciness, and that's also where all that delicious marrow is hiding.
Longer shelf life: Bone-in chicken has a longer shelf life than boneless chicken because the bone can help protect the meat and preserve it for longer.
Moisture retention: The chicken's bones help keep the meat moist and flavorful as it cooks. This is because the bones act as a natural heat conductor, helping to distribute heat evenly throughout the meat.
Marinade Ideas for Grilled Bone-In Chicken Breast
There's nothing better than a good, juicy grilled bone-in chicken breast, especially a well-seasoned one.
Try one of these marinade ideas to make your chicken even more flavorful:
This fresh but flavorful marinade includes ingredients such as olive oil, lemon juice, garlic, oregano, and thyme. It's special because it combines all of the best condiments of Greece into one luscious bite!
This recipe is for a flavorful and spicy marinade, perfect for bone-in chicken breasts. It is made with a blend of spices, including allspice, cinnamon, nutmeg, orange, soy sauce, brown sugar, lime juice, and peppers. This marinade is perfect for people who like their chicken to have a little Caribbean flavor.
A simple marinade made with lemon juice, olive oil, garlic, basil, and thyme. This marinade works well with bone-in chicken breasts, as it helps to infuse the meat with flavor and keep it moist while grilling.
Best BBQ Sauce Ideas for Grilled Bone-In Chicken Breast
Check out my favorite BBQ sauces below—they're guaranteed to take your chicken to the next level!
This recipe uses chipotles in adobo sauce to add a spicy kick to your dish! You can adjust the heat level by adding more or fewer peppers, depending on how spicy you want the chicken.
A flavorful and spicy sauce that tastes like you've just taken a trip to the islands. This sauce is bold and tasty, with a kick of heat tempered by the sweetness of the orange – a combination that gives it a complex flavor.
If you're looking for something that makes barbecue sauce better, this maple bacon version will hit the spot! The sweetness of the maple syrup pairs perfectly with savory bacon flavors for an unforgettable taste experience that everyone will love!
If you like peaches in your barbecue sauce, then this recipe is perfect for you! It has bourbon whiskey as one of its main ingredients, along with chili powder, paprika, garlic, and mustard seeds, giving it a nice balance between all these southern flavors!
Side Dish Ideas for Grilled Bone-In Chicken Breast
If you're grilling up a chicken breast, you want to ensure that some delicious side dishes accompany it.
Here are some ideas to please the pickiest of palettes!