To smoke a half chicken, you will first need to divide the bird into halves, and coat each side with oil and dry seasoning. Fill your pellet grill with wood chips, and preheat to 225°F. Smoke the chicken for 1 to 2 hours until the internal temperature reaches 165°F, basting every 30 minutes with apple cider or beer.
Making a smoked half chicken on a pellet grill is similar to smoking a whole chicken, but it takes a little more prep work and a little less time to smoke.
Guide to Smoking a Half Chicken on a Pellet Grill
Here is your step-by-step guide on smoking a half chicken to perfection.
Tools Needed to Make Chicken on a Pellet Grill
To smoke a half chicken on a pellet grill, you will need the following equipment:
Aluminum foil or foil pan
Basting brush or spray bottle (optional)
Chicken halves
Grill thermometer
Meat thermometer
Pellet grill
Wood pellets/wood chips (your choice of flavor)
How to Prepare the Chicken
To prepare the chicken, ask your butcher to split it in half or do it yourself at home.
To split the chicken in half, you will need a sharp knife and a sturdy cutting board. Place the chicken breast side down on the cutting board. Using the tip of the knife, cut through the center of the chicken, starting at the neck. Then work your way down to the tail.
Once you have cut through the spine, use your hands to separate the two halves gently. Discard the backbone or save it for making stock. Then pat the chicken dry using paper towels.
The last step of chicken prep before smoking is to place the chicken in a marinade or brine it to infuse it with flavor.
Prepare the Pellet Grill
To prepare the pellet grill, fill the hopper with wood pellets and preheat the grill for at least 15 minutes, according to the manufacturer's instructions.
Choose wood that goes well with chicken, like hickory, mesquite, applewood, or pecan.
Smoke the Chicken
Preheat the grill to 225°F. Place the chicken halves (or just one half) on the grill grates, skin side up. Close the grill lid and smoke the chicken until the internal temp of the thickest part of the chicken reaches 165°F.
You can baste or spritz the chicken with your choice of liquid (such as apple juice, vinegar, or beer) every 30 minutes to add moisture and flavor.
You can also wrap the chicken in aluminum foil (the same as you would for a brisket) for the last 30 minutes of cooking to help keep it moist.
Rest the Chicken
When the chicken is done cooking, remove it from the grill and let it rest for at least 10 minutes before serving.
To rest the chicken, you can place it on a cutting board or serving platter, loosely cover it with foil, and let it sit in a warm place. Resting the chicken allows the juices to redistribute throughout the meat, resulting in a moister and more flavorful finished product.
Print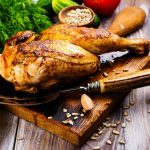 Smoked Half Chicken on a Pellet Grill Recipe
---
Author:

Total Time:

2 hours, 40 minutes
Description
This smoked chicken recipe on a pellet grill is easy enough that anyone can make it and delicious enough to impress even the pickiest of eaters. The skin gets crispy and crunchy while the meat stays tender and juicy. The perfect combination of smoky flavors, textures, and fragrant aromas will surprise everyone at your table.
---
2

chicken halves

1 tsp

kosher salt

1 tsp

black pepper

2 tsp

garlic powder

2 tsp

onion powder

1

pinch of cayenne pepper

1 tsp

vegetable oil for rubbing
Apple Cider Vinegar Sauce
1

cup

apple cider vinegar

2 tbsp

dark or light brown sugar

1 tsp

sea salt or kosher salt

1

pinch of cayenne pepper

1

pinch red pepper flakes
---
Instructions
Preheat the smoker to 225°F and set it up for 2-zone smoking (direct + indirect heat).
Take a small bowl and mix the ingredients for the apple cider vinegar sauce. Stir and set aside.
Take your half-chicken and rub it thoroughly in oil. Then sprinkle the dry rub all over it, covering all sides.
Place the chicken in the smoker with the skin side up and cook for about 90 minutes over indirect heat.
Smoke until the internal temperature reaches 140°F.
After it reaches this temperature, transfer it to the direct heat zone of your grill/smoker. This time, you should place your chicken skin side down.
Let it sear for 10 minutes.
Keep flipping the chicken and continue smoking until it reaches an internal temperature of 160°F in the thickest area of the chicken – which is usually at the center of the breast.
Remove the chicken from the smoker and let it rest for 10 minutes.
Slice the chicken and slather it with the apple cider vinegar sauce.
Enjoy it with your favorite side dish!
Prep Time:

20 minutes

Rest Time:

20 minutes

Cook Time:

2 hours
Nutrition
Serving Size:

8 ounces

Calories:

464kcal

Sugar:

6g

Sodium:

1303mg

Fat:

30g

Saturated Fat:

8g

Carbohydrates:

9g

Fiber:

1g

Protein:

36g

Cholesterol:

143mg
Best Pellet Grill Temperature for a Half Chicken
It is generally recommended to start the cooking process at a temperature around 225°F to 250°F and then increase it to 375°F to 400°F towards the end of the cooking time.
The best way to smoke chicken is to start at a low temperature and finish it off on high heat. Cooking low and slow will ensure the meat will stay tender and moist. At the same time, raising the smoker's temperature right at the end will ensure the chicken will have a nice golden crispy skin.
How Long Does it Take to Smoke a Half Chicken on a Pellet Grill?
Smoking a half chicken typically takes less than a whole chicken, which is very convenient. It usually takes 2 hours to smoke a half chicken at 225°F to 250°F, not including searing.
However, smoking time will vary according to many factors, like the size and thickness of the half chicken, the outside temperature, and the smoking method. So your best bet is always to measure your chicken using a meat thermometer to ensure it reaches a safe 165°F internal temperature.
What are the Benefits of Smoking a Half Chicken Instead of a Whole One?
There are several benefits to smoking a half chicken rather than a whole one:
Time: It takes less time to smoke a half chicken than a whole one, making it a convenient option for those who don't have much time.
Portion control: This option allows you to control the portion size more easily, which can be helpful if you are trying to watch your intake of calories or fat.
Even cooking: A half chicken is easier to position in the smoker, leading to more even cooking.
More options: Smoking a half chicken allows you to try different seasoning and marinade combinations on each half, giving you more options for flavoring your chicken.
Cost: Smoking a half chicken may also be more cost-effective than smoking a whole one, depending on the price of chicken in your area.
Marinade Ideas for Chicken
Marinating your chicken is a great way to keep it flavourful.
Here are three marinade ideas for smoked chicken:
Lemon Herb Marinade: This is made with lemon juice, garlic, and a blend of herbs such as parsley, thyme, and rosemary. It's a light, refreshing marinade that works well with chicken breasts or thighs.
Pineapple Marinade: This marinade is an acquired taste. The umami flavors paired with the sweet pineapple complement the chicken meat perfectly.
Soy Ginger Marinade: This marinade features a perfect combination of soy sauce, ginger, garlic, lemon juice, and brown sugar. It's a savory and slightly sweet marinade that works well with chicken wings or drumsticks.
Best BBQ Sauce Ideas for Smoked Half Chicken
Chicken is the most versatile meat on the planet, so it works great with plenty of sauces.
Here are some delicious sauce options for smoked chicken:
Side Dish Ideas for Smoked Half Chicken
These tempting sides are perfect to serve with your smoked chicken:
How to Store and Reheat Smoked Half Chicken
To store a smoked half chicken, allow the chicken to cool to room temperature. Then, you can place the chicken in an airtight container or wrap it in aluminum foil or plastic wrap and store it in the refrigerator for up to 3-4 days.
You can use the oven, stove, or microwave to reheat the chicken:
To reheat in the oven, preheat the oven to 350°F and place the chicken in a baking dish. Cover the dish with aluminum foil and heat for 20-30 minutes or until the chicken is warmed through.
To reheat on the stove, place the chicken in a pan over medium heat and cook for about 5-10 minutes. It's a good idea to add some butter or chicken stock while warming the chicken to ensure it remains moist.
To reheat in the microwave, place the chicken on a microwave-safe plate and heat for 1-2 minutes. Add a sauce to keep it moist while warming.
Per the USDA, reheat the chicken to 165°F before eating it to ensure it is safe as measured with a meat thermometer.