To marinate a chicken, place your chicken in a re-sealable plastic bag and pour your BBQ sauce over the top of it. Massage the bag to coat the chicken and set it in the fridge for at least one hour and up to 24 hours. Preheat your grill to medium-high heat and grill your chicken for 15 minutes per side until the internal temperature reaches 165°F.
Best Way to Marinate Chicken in BBQ Sauce
Marinating chicken in BBQ sauce is a simple process. Marinating infuses both flavor and moisture into your chicken to ensure it is delicious after being cooked. The following step-by-step guide shows you the best way to marinate your chicken for a perfect result every time!
Choose the BBQ Sauce
There are many BBQ sauces to choose from. You can buy a pre-made, commercial sauce or even make homemade BBQ sauce using simple ingredients. The choice is yours!
Place Chicken into a Resealable Container
Place your chicken in a zip-top plastic bag or a glass container with a lid.
Cover the Chicken Completely
Pour your BBQ sauce over the chicken and massage it into the meat through the bag. If your chicken is in a glass container, move it and flip the chicken so that each side is evenly coated.
Remember that using a bag requires less marinade since you can scrunch the bag around the chicken, but a glass container is reusable.
Place the Chicken in the Refrigerator
Place the container holding the chicken in the refrigerator, ensuring it is tightly sealed.
Marinate the Chicken for 1 to 24 hours
Marinate the chicken as long as you can, but no more than 24 hours as it can affect the texture of the meat. The extra time allows the seasonings to soak into the chicken, making it more flavorful and tender.
Discard Excess Marinade
Once your chicken is done being marinated and is ready to cook, remove it from the bag or container and discard the excess marinade.
Preheat the Grill and Cook the Chicken
If you want to baste the chicken with bbq sauce while it's grilling, set some bbq sauce aside before you marinate your chicken.
Basting with the sauce that marinated the chicken could be dangerous, as that sauce may contain bacteria. Grill the chicken until the internal temperature reaches 165°F and enjoy!
What is the Best BBQ Sauce to Use as a Marinade?
Making homemade bbq sauce is the way to go. You can tailor the flavor to your preferences, and you can make it fresh without any added preservatives!
If you prefer to buy BBQ sauce, these sauces are excellent choices:
When selecting a bbq sauce, it shouldn't have too much sugar. The more sugar in the bbq sauce, the faster the chicken will burn on the grill.
Print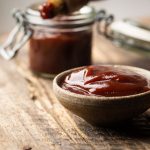 BBQ Chicken with Homemade BBQ Sauce Marinade Recipe
---
Author:

Total Time:

50 minutes
Description
This bbq chicken marinade recipe is highly versatile. It calls for 1 lb of chicken breast, but you can use bone-in chicken pieces like chicken thighs, drumsticks, or wings. Make it 2-3 months ahead and store the bag in the freezer. The night before you want to grill, take it out and put it in the fridge to thaw.
---
1

lb

boneless skinless chicken breasts (if they are thick, cut them in half)

1 tbsp

apple cider vinegar

4 tbsp

brown sugar

2/3

cup

ketchup

1 tbsp

minced garlic

1 tbsp

onion powder

1 tsp

smoked paprika

1 tbsp

Worcestershire sauce
---
Instructions
Lay the chicken breasts inside a zip-top bag.
Mix the rest of the ingredients in a bowl and whisk until well combined.
Pour the marinade over the chicken breasts. Reserve 1/4 cup sauce for basting, if desired.
Seal the bag with little air remaining and mush the bag to coat the chicken and lock in the marinade.
Place the bag in a small bowl and refrigerate for at least 4 hours or as many as 24 hours.
When ready to cook, preheat the grill to medium-high heat.
Place the chicken directly on the grill grate and cook for about 15 minutes. Flip the chicken and cook for 15 more minutes.
When the internal temperature of the chicken reaches 165 °F, remove the chicken and let it rest for 10 minutes before serving.
Prep Time:

10 minutes

Rest Time:

10 minutes

Cook Time:

30 minutes
Nutrition
Serving Size:

4 ounces

Calories:

269kcal

Sugar:

32g

Sodium:

493mg

Fat:

4g

Saturated Fat:

1g

Carbohydrates:

34g

Protein:

22g

Cholesterol:

107mg
Can You Marinate Chicken in Just BBQ Sauce?
Yes, you can marinate chicken in just bbq sauce. BBQ sauce typically has all the ingredients needed to marinate chicken safely.
BBQ sauce needs the following components:
An acid to preserve the meat (like apple cider vinegar, soy sauce, or rice vinegar).
A robust flavor (like garlic or shallots).
Ketchup or olive oil coats the chicken and keeps it moist.
Bonus flavorings: chili powder or paprika if you like spice, or brown sugar if you like sweetness.
You may already have most of these ingredients in your pantry, so whipping up your sauce will take just a few minutes!
What are the Benefits of Marinating Chicken in BBQ Sauce?
Marinating chicken in barbecue sauce provides 3 main benefits:
Creates flavorful chicken. Chicken breast and chicken tenders can have little flavor. This is a way to make sure each bite is tasty!
Keeps chicken moist. Chicken can dry out quickly. Soaking it marinade in beforehand ensures it is juicy.
Provides variety. Chicken is a great low-carb meat. Cook chicken often in different flavored marinades and add a variety of flavors to your diet.
How Much BBQ Sauce Do You Need to Marinate a Whole Chicken?
You'll need about 1 1/2 cups of bbq sauce to marinate a whole chicken. If you prefer to marinate chicken pieces, it will depend on the number of pounds you have.
Remember that marinating chicken in a zip-top bag is more efficient since you can mold the bag around the chicken and make sure all the chicken pieces are covered.
For 2 pounds of chicken thighs or chicken wings, you'll need 1/2 cup of BBQ sauce. If you have 2 pounds of chicken breasts, you'll need 3/4ths of a cup of sauce.
How Long Does it Take to Marinate Chicken in BBQ Sauce?
You can marinate chicken in bbq sauce for as little as one hour. You'll enjoy some of the flavors in the bbq sauce, but it's better to wait longer.
To get the best from your chicken marinade, marinate your chicken for at least 4 hours. You can even go for 8 hours or overnight.
Make sure to cook marinated chicken once it reaches 24 hours. After that point, the bacteria in the chicken will begin to take over, resulting in a potentially dangerous dish even after cooking. Also, the acids in the marinade begin to break down the chicken meat, leaving it mushy.
What Are Some Different Types of BBQ Sauce for Marinating Chicken?
BBQ sauce comes in many different styles. Different regions of the country are known for different types of sauces.
1. Alabama Style
This bbq sauce is mayonnaise-based, making it unique. Use it as a dipping sauce, coleslaw dressing, or a marinade.
2. East North Carolina
This sauce is simple—cider vinegar, salt, and red pepper flakes. It's perfect for pork and chicken.
3. Florida
Yes, Florida has a bbq sauce. It combines elements of the Carolina sauces and adds citrus and Caribbean spices. It's great on fish.
4. Kansas City
KC-style bbq is sweet and tangy. It has a tomato or ketchup base and uses brown sugar or molasses as sweeteners. Since it has a high sugar content, it burns easily on the grill or in the oven. Use it to baste your rack of ribs after cooking.
5. Memphis
Memphis bbq is made with a dry rub rather than a sauce. Some recipes turn it into a sauce made with cider vinegar.
6. Oklahoma
Oklahoma-style bbq sauce combines Texas and KC flavors. It uses ketchup, Worcestershire sauce, and brown sugar. Try it on brisket!
7. South Carolina
This bbq sauce is mustard-based. It's not sweet, but somewhat spicy and tangy.
8. St. Louis
St. Louis-style bbq sauce is similar to Kansas bbq sauce. St. Louis sauce is thinner and less sweet because of the addition of vinegar. It's sweet and sour but spicy and works with chicken or pork.
9. Texas
Texas-style bbq sauce may be thin, but it's full of flavor. It uses cumin, chili powder, hot sauce, garlic, and Worcestershire sauce. Use it on beef.
10. West North Carolina
This sauce is similar to the east NC sauce but adds ketchup and brown sugar. It's sweeter and less tangy and thick.