Smoked BBQ chicken is a classic barbecue staple and it's easy to make on a pellet grill. The trick to smoking a juicy, tender chicken on the BBQ is a steady temperature of 250°F and basting with delicious BBQ sauce after 45 minutes on the grill.
Keeping Smoked Chicken Moist When Smoking
In order to keep your chicken moist when smoking or grilling, it is recommended that you soak it in a seasoned brine for three to four hours before cooking. Smoking meat that has been in a brine imparts flavor to the meat and prevents it from drying out too quickly.
Another option is to wrap your chicken in aluminum foil or butcher paper halfway through smoking. This reduces cooking time and retains the fat and juices from your chicken, resulting in tender meat.
Print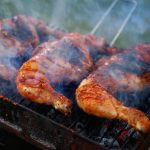 Smoked BBQ Chicken on a Pellet Grill
---
Total Time:

1 hour 20 minutes
Description
You can enjoy a simple and delicious barbecued chicken at any time with this pellet grill recipe! You can serve this dish as part of a dinner for camping or tailgating alongside potato salad and coleslaw, or you can serve it cold for a perfect picnic. With only four ingredients and smoke, this smoked chicken is sure to please.
---
1 1/2 ounce

bottle Jim Beam Maple Bourbon BBQ Sauce

2

whole chickens

1 tbsp

olive oil

1/2

cup

dry rub
---
Instructions
Remove the neck and gizzards from both of the chickens.
Split chicken in half lengthwise (both halves should have white and dark meat).
Season both sides of the chicken with a dry rub of your choice, or keep it simple with Kosher salt and black pepper.
Preheat grill grates to 225°F (174°C). Insert your meat thermometer into the thickest part of the chicken and place the chicken on the hot grill grates.
Allow them to smoke for 30 minutes and then flip them.
At the 45-minute mark, sauce the top of the chicken and allow them to continue cooking for 15 minutes.
After the 1-hour mark, flip them again and sauce the other side.
Once the chicken has reached an internal temperature of 165°F (74°C), remove it from the grill, cover it, and allow it to rest for five to ten minutes before serving.
Prep Time:

5 minutes

Cook Time:

1 hour 15 minutes
The Best Wood Pellets to Use for Smoking BBQ Chicken on a Pellet Grill
Mesquite, hickory, cherry, apple, and pecan are the wood pellets most often used for smoking chicken. Traeger, Pit Boss, and Kingsford make great pellet mixes but there are many brands out there.
What Type of Smoker is Best for BBQ Chicken?
There are many different types of Pellet smokers, and any one of them will work well for BBQ chicken. Some of the leading brands are:
How Long to Cook Chicken on a Pellet Grill
The length of time it takes to smoke chicken on a pellet grill depends on the type of chicken meat and the smoking temperature. It is always better to use time measurements as an approximation and use internal temperature to let you know when chicken is safe to eat.
In all cases, chicken must be cooked to a minimum of 165°F per the USDA.
Whole Chicken
When you are smoking a whole chicken, the smoke time will be around 5 hours for a 5 lb. chicken at 225°F to 250 degrees F.
Chicken Breast
The chicken breast should be smoked at 225°F until it reaches an internal temperature of 165°F. Chicken breast should take approximately one hour to smoke.
Chicken Wings
At a lower temperature, your pellet grill will impart a more intense smoke flavor. Chicken wings should be smoked at 225° for approximately 30 minutes.
Chicken Thighs
Chicken thighs should be smoked at 275°F degrees for about one to one and a half hours or until it reaches 165°F.
Chicken Legs or Drumsticks
The process of smoking chicken legs at 225°F takes approximately 60 minutes, followed by an additional 10 minutes of high-heat searing.
Seasoning BBQ Chicken on a Pellet Grill
Try this amazing dry rub seasoning on chicken to enhance flavor when smoking on a pellet grill. Most of these ingredients you likely already have on hand.
Dry Chicken Rub
2 tbsp smoked paprika
1 tbsp brown sugar
1 tbsp cayenne
2 tbsp chili powder
1 tbsp dried thyme
2 tbsp garlic powder
2 tbsp cumin powder
1 tbsp kosher salt
2 tbsp ground black pepper
How To Use Dry Seasoning
Combine all the ingredients in a small bowl and then sprinkle over your chicken for 15 to 30 minutes before smoking or grilling. It's that simple!
You can keep leftovers in an airtight container in a cool, dry environment. It will remain fresh for months if it is stored properly.