When grilling chicken legs, you should leave them on the grill for 35 to 45 minutes and flip them every 5 minutes until the internal temperature is 180°F to 185°F.
How Much Time Does it Take to BBQ Chicken Drumsticks?
Most chicken legs are fully cooked when they have spent 40 to 45 minutes on the grill at medium-high heat. Keep in mind this is an estimate because some grills perform better than others.
Rather than using time as a marker, the optimal internal temperature of chicken drumsticks is 180 to 185 degrees Fahrenheit. When you get a reading in this temperature range, your chicken should be taken off the grill and allowed to rest.
How To Tell When Chicken Legs Are Done
For chicken legs to be safe to eat, they need to be at a minimum of 165°F (74°C), per the USDA.
The time your drumsticks take to cook is not as important as the internal temperature of the meat. Use a meat thermometer to check your chicken's internal temperature. It's the easiest way to make sure your chicken is done (and safe to eat).
You can also avoid tough, flavorless chicken by using a meat thermometer so your chicken isn't overcooked. Just be sure to check the internal temperature of the meat without touching the bone.
Print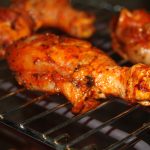 Best Southern BBQ Chicken Drumsticks Recipe
---
Description
Ready to make the perfect fall-off-the-bone BBQ chicken legs recipe with crispy skin? This simple recipe will wow your friends and family every time and it takes less than an hour!
---
2

lbs

chicken drumsticks

1/4

cup

olive oil

2 tsp

smoked paprika

1 tsp

onion powder

1 tsp

chili powder

1 tbsp

Kosher salt

1 tsp

black pepper

1 tsp

garlic powder

1/2 tsp

cayenne (optional)

1/2

cup

BBQ Sauce (your favorite)
---
Instructions
Preheat your grill to 400°F.
Open your package of chicken drumsticks. Pat and dry every piece of chicken with a paper towel.
While the grill is warming, prepare your homemade BBQ rub in a mixing bowl by mixing salt, pepper, and dry spices together.
Place your chicken on a sheet tray or baking pan and apply a light coating of olive oil to your chicken legs. Then use the seasoning to coat the chicken all over with your homemade BBQ Rub.
Over indirect heat, cook the chicken until the internal temperature reaches 165 degrees F, turning it every 5 to 6 minutes.
Then move the legs onto direct heat to sear. Turn chicken every 1 to 2 minutes to ensure even grilling and crispy skin. When the chicken reaches 175 degrees, remove it from the grill.
Allow the grilled chicken to rest for 5 minutes.
Use your silicone brush to add your preferred BBQ Sauce to the chicken right before serving.
Serve your delicious BBQ chicken legs with an assortment of yummy sides. Some side ideas that pair well with this recipe are BBQ beans, coleslaw, and potato salad.
Prep Time:

5 minutes

Cook Time:

45 minutes
Grilling Chicken Legs on a Gas Grill
Grilling chicken legs on a gas grill is easy with proper temperature management.
Follow these simple steps for delicious chicken legs on a gas grill:
Step 1: Pre-heat your grill to medium-high heat (about 400°F). 
Step 2: Turn chicken drumsticks with a fork every few minutes until they have rich brown color on the skin.
Step 3: Once you see the desired grill marks and brown color on the skin, close the grill lid and lower the heat to 300°F.
Step 4: Allow to grill for around 25 minutes total, and turn halfway through, monitoring the internal temperature until it reaches 180 degrees F.
Step 5: Pull your chicken off of the grill and allow them to rest for 5 minutes before serving!
Grilling Chicken Legs on a Charcoal Grill
Grilling chicken drumsticks on a charcoal grill yields excellent color and flavor. Additionally, it is one of the easiest ways of grilling chicken legs with only 4 simple steps!
Step 1: Move all of the charcoal to one side of the grill only and light the briquettes.  
Step 2: Once the charcoal is hot, place your chicken legs on the grilling surface directly over the charcoal.
Step 3: When the chicken legs are browned on all sides, move them away from the heat source to the side of the grill without charcoal to finish cooking.
Step 4: Monitor the internal temperature of the chicken with a meat thermometer until it reaches 180 degrees Fahrenheit. Then remove from the grill and allow to rest for 5 minutes.
When Should You Add Barbecue Sauce to Grilled Chicken Legs?
BBQ sauce is heavenly on grilled chicken legs, but you don't want to add it when it's still on the grill. Most BBQ sauce contains sugar and sugar burns when exposed to hot grill grates.
Wait until your drumsticks are done grilling, and while resting, slather on your favorite sauce.