To make this perfect side dish, you need one large sweet onion, a bouillon cube, and a pat of butter which will be sealed together inside a foil packet while the onion caramelizes on the grill for 1 hour at 350°F. This low-effort recipe yields a sensational result that will be the star of the plate!
Step-By-Step Guide to Grilled Onion in Foil
Choose a Sweet Onion
For perfect caramelization, buy an onion that's a sweeter variety, like Walla Walla, Maui, or Vidalia onion.
Preheat the Grill
You will want to heat your grill or smoker to 350°F.
Skin Your Onion
Remove the outer layer of the onion until the flesh is exposed.
Carve Your Onion
When grilling and wrapping onions in foil, you will make a hole in the middle of the onion for heat to penetrate easily and to cook the onion more evenly.
Add Seasoning
You can get creative here. This recipe keeps it simple with butter and a bouillon cube. But you can replace the bouillon cube with kosher salt and ground black pepper, or any spice mixture you choose to change the flavor profile!
Foil Your Onion
By wrapping your onion in foil, it won't burn and pieces won't slide off into the grill grates. The foil packet also keeps all the delicious flavor inside the onion.
Grill Until Tender
Set your grill to 350°F. Grill the foil-wrapped onion over indirect heat for 1 hour.
Print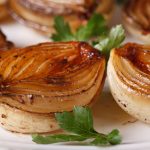 Caramelized Grilled Onion in Foil Recipe
---
Author:

Total Time:

1 hour, 15 minutes
Description
This grilled onion recipe is both sweet and savory, easy to prepare, and jam-packed with flavor. Don't be fooled by its simplicity—this is one of those recipes that will have your guests asking what you did to make it so good!
---
4

large whole onions (sweet variety such as Vidalia or Maui)

4

bouillon cubes (chicken or beef)

8 tablespoons

butter (or olive oil)
---
Instructions
Preheat grill to medium heat or 375°F.
Cut the top of the onion and make a small hole in the middle of the onion – this is the part where you'll place the butter and bouillon cube.
Put the previously cut cap back on top of the onion.
Wrap in aluminum foil.
Place foil-wrapped onions on the grill using indirect heat.
Close the grill's lid and let the onions cook for 45 minutes.
Check the onion after 45 minutes and look for a yellow exterior.
Once it's ready, take it off the grill and serve it as a side dish or appetizer.
Notes
After grilling your onions, they should last about 4 hours in your fridge if you don't want to eat them immediately. Alternatively, you can freeze them for up to 3 months though this may influence their texture.
Prep Time:

15

Cook Time:

1 hour
Nutrition
Serving Size:

1 whole onion

Calories:

260

Sodium:

5mg

Fat:

23g

Saturated Fat:

14.5g

Carbohydrates:

16g

Cholesterol:

61mg
Why Wrap Onions in Aluminum Foil?
There are many reasons to wrap onions in aluminum foil:
Storage in the Fridge
Storing onions in aluminum foil keeps them from oxidizing and doesn't allow moisture to accumulate, preventing them from spoiling quickly. There's no need to worry about them getting wet and becoming mushy. If you want to use them later, unwrap them and use them in any application!
For Cooking on the Grill
Wrapping them in aluminum foil will help them hold their shape while cooking, ensuring they don't fall through the grill grates.
Can You Store Grilled Onions in the Foil that you Grilled Them In?
That foil is probably burnt beyond recognition, so it's not recommended to store your grilled onions in the original foil, particularly if they're going into something like soup or stew where they could pick up a strong flavor from the wrapping. If you want to store onions after grilling them, wrap them in new aluminum foil.
What is the Best Temperature to Grill Onions in Foil?
The perfect temperature for grilling onion is medium to high heat – a sweet spot would be reaching a temperature between 350°F – 400°F and leaving the onion on the grill for about 45 minutes.
What are the Benefits of Grilling Onions?
Grilled onions have a rich, smoky flavor that you can't beat. Onions are also a key ingredient in most recipes because they add flavor without adding fat or calories. Aside from taste, they also add a crispy texture. Grilled onions pair well with meats and other vegetables to create delicious dishes that won't leave you feeling stuffed afterward!
Onions are a healthy food. They're light, containing only 40 calories per 3.5 ounces. They're full of vitamins and minerals, like vitamin A, vitamin C, and B6 (perfect for your skin and hair), potassium, fiber, and calcium. They're also packed with antioxidants and sulfur-containing compounds. These can all help lower the risk of cancer along with cholesterol levels, and help to prevent heart disease while boosting immune function.
What is the Best Way to Grill Onions?
Opinions vary among grill lovers, but most people will agree that foiling onions is a sure way to keep them soft while ensuring a seamless caramelization process while flavor is infused deep into the layers. Another critical factor is that you don't shred the onion or cut it into small pieces, so you can avoid them falling off the grill grates during the cooking process.
What is the Difference Between Grilling and Roasting Onions?
Grilling and roasting are different things. Grilling is a generally faster cooking process that entails placing the food on a direct heat source and generally gives a nice brown or charred exterior to most dishes (if uncovered). Grilling is better for small pieces of food like onions, as it's less likely to dry them out.
Roasting is a slower cooking process and comprises placing the food on an indirect heat source.
What Can You Make with Foil-Wrapped Grilled Onions?
You can pair foil-wrapped onions with meat and veggies as a topping or side. Here are some of the best ways to complement your dishes:
French Onion Soup
Foil-wrapped grilled onions make the best soup base, and they're easy to chop up and add to any soup recipe. Plus, the grilled version will add plenty of smokiness to it. Add some broth, cheese, and bread, then simmer until hot and delicious!
Onion and Mushroom Skewers
Onion and mushroom skewers make a great appetizer. In this case, you can make both simultaneously. Get some wooden skewers and some mushrooms and onions. Wrap them up in foil, throw them on the grill, and you're ready to go! Serve them warm with a dollop of sour cream.
Topping for Grilled Steak
Do you love steak but want something different than plain old steak sauce? Try adding grilled onions! And you have the added benefit of smoking them both at the same time. You can't go wrong with this option.
Burger Topping
Caramelized sliced onions make an excellent classic topping for burgers. They'll add some crunchy texture while giving you a hint of sweetness that'll make any burger better.
Side Dish for BBQ Chicken
Another option is just slicing up those grilled onions into half moons and serving them as a BBQ chicken side dish. No one can resist caramelized onions at a barbecue!