To make skirt steak on your Traeger, preheat the Traeger grill to 225°F. Season the skirt steak with black pepper and salt or your favorite dry rub. Put the steak on the grill grates over indirect heat and smoke for 45 minutes, then reverse-sear the steak by increasing the grill temperature to 450°F for 1 to 2 minutes per side. 
Nothing beats the taste of smoked and grilled carne asada, and preparing it on the Traeger grill is the best way to achieve that classic taste and flavor. 
How to Make Skirt Steak in a Traeger Pellet Smoker
A thin cut like a skirt steak or flank steak is commonly used to make grilled carne asada. Skirt steaks and flank steaks are both lean cuts of steak because they have little fat yet both cuts of beef have incredible flavor.
Tools Needed to Make Skirt Steak on a Traeger
Smoker: Traeger makes an excellent pellet smoker.
Grill: You can use any pellet grill provided it's hot enough to cook the steak properly.
Wood pellets: You can use any type of wood pellet. These wood pellets are used to generate heat and smoke, which gives the meat its smoky flavor.
Meat thermometer: A high-quality meat thermometer is essential for smoking any cut of meat. Use a meat thermometer to ensure the desired internal temperature is reached.
How to Prep the Skirt Steak for Grilling
Trim off any excess fat from your steaks and then put them in a resealable bag.
There are numerous carne asada marinade recipes available, but the best marinades will include black pepper, onion, garlic, and lime juice. Keep your skirt steak in the marinade for a longer period to make it extra tender, but avoid over-marinating it.
Pour your marinade over the meat in an even coat. Marinate it in the refrigerator for a minimum of two hours and a maximum of 24 hours. After marinating the meat, drain and discard the marinade.
Rest the meat for 30 minutes before grilling.
Prepare the Pellet Grill
Preheat the grill to 225°F and ensure there are enough wood pellets in the hopper.
Grill the Skirt Steak
The key to beautiful carne asada is that charred flavor. To ensure this, the grill should be hot enough to cook the meat properly.
Place the skirt steak on the grill grates and cook for around 45 minutes with the lid closed. Check the internal temperature of the steak. If it is getting close to your desired doneness, you will want to prepare the grill for reverse searing.
Adjust the temperature to about 450°F and sear for 2 minutes on each side.
Flip the meat once the juices begin to rise. Remove the meat from the grill once the juices start to flow.
Rest the Skirt Steak
Transfer the skirt steak to a cutting board, wrap it with aluminum foil, and allow it to rest for 5 minutes. This short siesta before slicing allows the meat juices to redistribute around the meat.
The internal temperature of the steak should rise around 5 degrees as it rests due to carryover cooking.  Serve your rested steak with warm tortillas and your favorite sides!
Print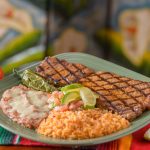 Carne Asada Traeger Skirt Steak Recipe
---
Author:

Total Time:

25 hours, 50 minutes
Description
Tender skirt steak is marinated in cilantro, citrus, and garlic and rubbed with Traeger Prime Rib Rub before being grilled. This carne asada recipe is quick and easy to prepare. Serve carne asada with tortillas or your favorite accompaniments, and enjoy this crowd-pleasing meal!
---
Steak
2

–

pound

skirt steak

3/4

cup

Traeger Prime Rib Rub
Marinade
Juice of

2

fresh limes
Juice of

2

medium lemons
Juice of

3

medium oranges

1/2

cup

fresh chopped cilantro

3

minced cloves garlic

1/2 tbsp

ground cumin

1

minced jalapeño

1/4

cup

olive oil

1 tsp

kosher salt

1/2 tsp

ground black pepper
---
Instructions
Make the skirt steak marinade. Combine the lime juice, lemon juice, orange juice, cilantro, cumin, jalapeno, olive oil, black pepper, and salt, and stir properly to dissolve the salt.
Remove any excess fat from your cut of meat and then put it in a resealable bag. Take the marinade and coat the steak before marinating it in the refrigerator for two hours.
Drain and discard the marinade. Season your skirt steak on all sides with your Traeger Prime Rib Rub. Allow the steak to rest for about 30 minutes.
Preheat the Traeger grill to 225℉ and keep the lid closed for 10-15 minutes. For the best results, use Traeger's Super Smoke mode.
Put the seasoned skirt steak on the grill grates and cook the steak for around 45 minutes with the lid closed.
Remove the smoked skirt steak from the heat. Crank up the Traeger's temperature to 450°F. Preheat the grill for 15 minutes with the lid closed.
Return your meat to the grill and sear for about 2 minutes on each side or until the internal temperature of the skirt steak reaches your desired level of doneness (135℉ for medium rare).
Pull the carne asada Traeger skirt steak off the grill and allow it to rest for 5 to 10 minutes before serving. Enjoy!
Prep Time:

20 minutes

Marinating Time:

24 hours

Cook Time:

1 hour, 30 minutes
Nutrition
Serving Size:

1 ounce

Calories:

60kcal

Sugar:

0g

Sodium:

80mg

Fat:

3g

Saturated Fat:

1g

Carbohydrates:

0g

Fiber:

0g

Protein:

8g

Cholesterol:

25mg
How Long Does it Take to Smoke Skirt Steak?
You should smoke 1 to 2 pounds of skirt steak for about 1 hour. This should give a succulent, pink interior with a charred crust.
What Temperature Should You Grill Skirt Steak?
Since skirt steak is thin, you should grill it at the target temperature of 450°F to 500°F.
The best way to tell when your skirt steak is done is to use a meat thermometer to measure the internal temperature.
| | |
| --- | --- |
| Desired Doneness | Target Temperature |
| Rare | 130°F to 135°F |
| Medium-rare | 135°F to 140°F |
| Medium | 140°F to 150°F |
| Well-done | 165°F |
Is it Better to Smoke or Grill Skirt Steak on a Traeger?
Both cooking methods are equally suitable for cooking skirt steak on a Traeger.
Smoking on a Traeger involves cooking the skirt steak over indirect heat using wood pellets to generate smoke, while grilling on a Traeger involves cooking the meat over direct heat.
Not all BBQ smokers are designed for grilling. BBQ smokers are intended to cook at low temperatures over indirect heat, while grilling uses direct heat at higher temperatures. However, wood pellet grills also deliver the high temperatures required for direct grilling.
One advantage of skirt steak grill recipes is that they can be made more quickly than smoking. Grilling requires high heat, which means the steak will cook faster. This can be useful if you are short on time and need to get the steak on the table quickly.
On the other hand, smoking skirt steak allows for a more flavorful and tender result. This is because the low and slow cooking method of smoking allows the steak to become infused with the flavors of the wood pellets such as hickory and mesquite. Smoking also allows for more precise temperature control, which can be useful in achieving the desired level of doneness.
Ultimately, the choice between grilling and smoking skirt steak on a Traeger will depend on your personal preferences and the amount of time you have available. Both methods can produce delicious results, so it's up to you to decide which one is best for you.
Best Marinade Ingredients for Skirt Steak
A good marinade enhances flavor and tenderizes the meat. A great way of marinating skirt steak is by using citrus and Latin American spices to make carne asada. After grilling or smoking on a Traeger, this extra tender and flavorful dish is usually served with tortillas or tacos.
Some of the best marinade ingredients you can use for skirt steak include:
Basil
Black pepper
Chili powder
Garlic powder
Honey
Lemon juice
Lime juice
Parsley
Peanut oil
Red wine vinegar
Soy sauce
Worcestershire sauce
All you need to do is to combine your favorite marinade ingredients, and allow your steak to rest submerged in the marinade for several hours.
Do You Need to Reverse Sear Skirt Steak?
If you smoke your steak, you should reverse-sear skirt steak! Reverse searing is a great way to achieve a beautiful crust on the exterior of a perfectly cooked steak.
What Can You Substitute for Skirt Steak?
Skirt steak is the best cut of beef for cooking carne asada, but there are several alternatives you can use, including:
Denver Steak
Flat Iron Steak
Flank Steak
Hanger Steak 
Sirloin Tips (Sirloin Flap Steak)
Thinly-sliced brisket
The beef cut you choose should have great flavor, but it doesn't have to be tender since the marinade helps with tenderizing the meat.
What Should You Serve with Skirt Steak?
Traditionally, carne asada is paired with dishes such as Mexican rice, beans, and salsa or used as a component in tacos or fajitas. But there are many sides that will complement skirt steak!
Here are some of my favorite sides to pair with skirt steak:
Creamy Parmesan Brussels Sprouts Gratin: This side dish is not only great with skirt steak, but it also makes an excellent holiday meal. Hearty, cheesy, and yummy, this dish will soon be your new food favorite.
Chili Lime Rice: This is one of the best skirt steak side dishes out there. You'll love its taste and flavor and how simple it's to make.
Grilled Asparagus: For more greens, smoked asparagus is the perfect dish to accompany your carne asada.
Smoked Corn With Parmesan: This versatile smoky corn pairs perfectly with many dishes and is amazingly delicious. The recipe is super tasty and packed with vitamins.
Smoked Vegetables: Smoked veggies are perfect for pairing with carne asada.
Be sure to prepare your sides before you cook your skirt steak, so you can enjoy it while it's warm.