To make smoked brats, preheat the smoker to 225°F and place brats over hot coals. Smoke the bratwurst for 1½ to 2 hours or until they reach an internal temperature of 160°F. Take the smoked brats off the smoker, place them in a beer bath, and let them soak for about 20 minutes before eating.
The key to smoking brats is to smoke at a low temperature to allow your brats to absorb the smoke flavor produced by your favorite wood chips. 
How Do You Smoke Brats?
In just four simple steps, you can have perfectly smoked bratwurst!
Preheat your smoker to 225°F.
Use a pair of tongs to place brats into the smoker and be careful not to tear or pierce the casings. Puncturing the brats will cause the juices to escape.
Smoke bratwurst for around 1½ to 2 hours. If using a meat thermometer to check the internal temperature of the bratwurst, make sure to check the same sausage so as not to pierce the casings of multiple brats.
Once the smoked bratwurst reaches 160ºF, take them off the heat and rest them for 5 minutes.
Print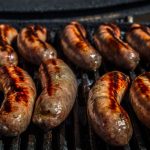 Game Day Loaded & Smoked Brats Recipe
---
Author:

Total Time:

1 hour, 15 minutes
Description
These smoked brats are juicy, tender, and smokey. This recipe keeps it classic with mustard, sauerkraut, and onion, but get creative and add crunchy bacon, onion straws, or even nacho cheese and pickled jalapenos! There are no rules or limits to what you can add to take these smoked brats to flavor town!
---
6

raw brats
Brat buns
Yellow Mustard
Sauerkraut

2

cans of beer

2

onions peeled and diced
---
Instructions
Preheat the smoker to 225°F. Add cherry or apple wood pellets or wood chips.
Place brats on the pellet smoker, over the heat source.
In an aluminum pan, combine onions and beer and place to the side.
Smoke your bratwurst until the safe internal temperature of 165°F is reached. This should take about 45 to 60 minutes.
Remove the brats from the smoker and place them directly into the beer bath.
Place the beer bath pan inside the smoker on the grill grates and let the brats soak for about 20 to 30 minutes.
Remove the brats from the beer bath and place them directly into the brat buns. Load them up with mustard and sauerkraut, or any toppings you choose!
Prep Time:

10 minutes

Rest Time:

5 minutes

Cook Time:

1 hour
Nutrition
Serving Size:

1 bratwurst

Calories:

494kcal

Sugar:

10g

Sodium:

1261mg

Fat:

22g

Saturated Fat:

7g

Carbohydrates:

47g

Fiber:

4g

Protein:

18g

Cholesterol:

49mg
How Long Does It Take to Smoke Brats?
How long it takes to smoke bratwurst depends on the size of the brats and the smoker you're using.
This chart will help you plan your bratwurst cooking time according to the smoking temperature.
| | |
| --- | --- |
| Temperature | Time to Smoke |
| 225°F | 1½ to 2 hours |
| 250°F | 45 minutes to 1 hour |
| 300°F | 30 to 45 minutes |
In all these cases, use a meat thermometer to test for doneness. You can know that smoked brats are ready to eat once the internal temperature reaches 160°F.
Target Internal Temperature for Brats
The best way to ensure your smoked brats are fully cooked is to monitor the internal temperature.
It's imperative to know when your smoked brats are safe to eat. It's strongly recommended to avoid eating raw meats.
If you suspect your brats are safe to eat, insert a meat thermometer into the thickest part of the smoked sausage horizontally. According to the USDA, ground pork sausages like bratwurst are ready to eat once the internal temperature reaches 160°F.
What Temperature is Best for Smoking Brats?
The best temperature for smoking brats is 225°F. This is the best temperature because it makes it easier to smoke your bratwurst without overcooking them. 
If you set the smoker temperature too high, the bratwurst casings will likely burst. Although a ruptured casing seems minor, the high heat will cause the smoked brats to dry out and become flavorless.
If you set the smoker's temperature too low, it could cause a safety risk. That's why most experts recommend smoking brats at 225°F. Anything below 200°F can cause food poisoning.
Best Wood for Smoking Brats
There are a variety of wood chips that can be used for smoking brats or grilling them on a BBQ. Each type of wood will add a unique flavor to sausages.
Some popular wood options for smoking brats include:
When choosing wood for smoking brats, it is essential to consider the flavor of the wood and how it will complement the flavor of your smoked brats.
Should Brats Be Boiled Before Smoking?
It is widely believed that boiling brats in water or beer before cooking improves the texture and flavor of the sausages. Boiling beer brats also helps eliminate any excess fat, ensuring the brats are cooked more evenly.
However, this is true only when grilling brats and not when smoking them. Boiling brats before smoking ruins the flavor. The casings might also rupture, which causes the brats to absorb a lot of water or beer, thereby diluting the flavor of the smoked brats.
Smoked sausages sometimes have a pink middle, but this does not necessarily mean they are not adequately cooked. The best way to test for doneness is to check the internal temperature of the brats before removing them from the pellet grill or smoker.
Using a Smoker vs a Grill to Smoke Brats
Cooking brats can be done using either a smoker or a grill but the unique flavor imparted through the smoking process can't be replicated on a grill.
Smoking Brats
The main advantage of using a smoker is that it allows you to maintain a consistent temperature over a longer period of time, which is essential for smoking meats. It also typically has a larger cooking area, allowing you to smoke more brats.
The main disadvantage of using a smoker is that it requires more setup and prep time, as you need to properly set up and light the fire, as well as monitor the temperature throughout the cooking process.
Grilling Brats
The main advantage of using a grill is that it is more convenient and easier to use than a smoker. It also allows you to cook the brats more quickly, as the direct heat of the grill cooks the meat faster.
The main disadvantage of using a grill is that it is more challenging to maintain a consistent temperature over a long period of time. It also typically has a smaller cooking area, so you may need to cook the brats in batches.
Ultimately, the choice between using a smoker or a grill to smoke brats will depend on your personal preference and the resources you have at hand. Both methods can produce delicious results.
Topping Ideas for Loaded Brats
When it comes to loaded and smoked brats, the sky is the limit on toppings! But what are the most popular bratwurst toppings? Here are some of my favorites:
Traditional Toppings for Brats
Here are the traditional, must-try toppers to consider when serving smoked brats:
Tailgate Toppings for Brats
These are all delicious topping options for brats at a tailgate or any cookout:
Fresh Toppings for Brats
There are endless possibilities for topping smoked brats, and you can even use side dishes as toppings! Whether you prefer brats simple or extra fancy, these brat condiments and toppings ideas are sure to take your smoked brats to the next level!