The ultimate pellet grill smoked burgers start with seasoned 1/2" burger patties. Smoke your patties at 225°F until they reach an internal temperature of 125°F, then reverse-sear them at 400°F for a few minutes until they reach your desired doneness.
This recipe ensures your smoked pellet grill burgers stay juicy, and take it to new heights of flavor with a homemade roasted garlic aioli sauce and crunchy onions.
What is the Best Way to Cook Burgers on a Pellet Grill?
The best way to cook burgers is low and slow, at a temperature of about 225°F to 250°F. Shape the ground beef into patties slightly larger than the bun, with a slight indention in the center to prevent them from puffing up while cooking.
Season both sides of the patties with your favorite dry rub, then place them on the grill grates and cook until they reach the desired level of doneness.
During the last minute of cooking, add cheese slices to the top of the patties, if desired. Remove the patties from the grill and let them rest for a few minutes before serving.
Lastly, assemble the burgers by placing the patty on a toasted, buttered bun and add any desired toppings such as lettuce, tomato, onion, and your favorite condiments!
Print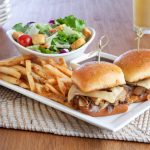 Smoked Philly Cheesesteak Pellet Grill Burgers Recipe
---
Author:

Total Time:

1 hour, 20 minutes
Description
If you're looking for a new way to make your burger game a little more interesting, here's what you need. This loaded Philly Cheesesteak smoked burger recipe with roasted garlic aioli is the best burger you'll ever have!
---
Burger Ingredients
1

lb

of ground beef (chuck) or ground sirloin – 80/20 ratio

1 tsp

Worcestershire sauce

1 tbsp

Montreal Steak Seasoning
Kosher salt
Black pepper

1/2

white onion, sliced into rings

1

green bell pepper, seeded and sliced into rings

4

provolone slices (or cheddar cheese)
Red leaf lettuce
Soft burger buns
Roasted Garlic Aioli
1

head of garlic (avoid garlic powder)

1 tbsp

olive oil

1/2

cup

full-fat mayonnaise
---
Instructions
First, you'll make the garlic aioli. Preheat your oven to 400°F.
Slice the topic of the head of garlic, but don't tear apart the cloves
Place garlic in an aluminum packet or pan and pour olive oil on top. Season with salt and let it cook for 40 minutes.
When done, take the pan out of the oven and let it cool. Squeeze garlic out of the skin and place in a food processor.
Add mayonnaise and combine the garlic with the mayo.
Sprinkle Kosher salt and black pepper in the mix to taste, and store in the refrigerator.
Next, it is time to preheat your pellet grill to 250°F.
Take a bowl and combine ground beef, Montreal Steak seasoning, Worcestershire sauce, and salt & pepper.
Form the mixture into even hamburger patties and make a slight indentation in the middle.
Sautee your cut onions and pepper in a heated skillet for about 8-10 minutes on high heat.
Place the burger patties on the pellet grill and cook for 5 to 7 minutes or until the internal temperature reaches 145°F – be sure to check with a meat thermometer. Flip the patties halfway through the cooking process.
Meanwhile, place the buns on the grill and wait until they're toasted with crispy edges.
Always monitor the meat patties until they reach the desired internal temperature. Once they do, turn off the grill, place the cheese on the patties, and close the lid.
Let it sit until the cheese melts for roughly 1 minute.
Next compose your burger. Take your toasted buns, place patties on them, and add aioli sauce, lettuce, onions, and peppers.
Serve your smoked hamburger alongside your favorite side dish.
Prep Time:

10 minutes

Rest Time:

10 minutes

Cook Time:

1 hour
Nutrition
Serving Size:

1 burger

Calories:

593kcal

Sugar:

2g

Sodium:

437mg

Fat:

52g

Saturated Fat:

16g

Carbohydrates:

4g

Fiber:

1g

Protein:

25g

Cholesterol:

105mg
How Long Does it Take to Smoke Burgers on a Pellet Grill?
You've probably heard that it takes a long time to smoke burgers on a pellet grill. But have you ever wondered what the internal temperature of your burger should be, and how long it'll take to get there? This chart will help you with your smoking time.
| | | |
| --- | --- | --- |
| Doneness | Internal Temperature | Cooking Time |
| Rare | 120-125°F | 8-10 minutes |
| Medium-rare | 125-130°F | 10-12 minutes |
| Medium | 130-135°F | 12-14 minutes |
| Medium-well | 135-140°F | 14-16 minutes |
| Well-done | 145°F+ | 16-18 minutes |
What is the Best Temperature for Smoking Burgers on a Pellet Grill?
The best temperature for smoking burgers on a pellet grill is between 225°F. and 250°F. This temperature range is low enough to allow the smoke flavor to penetrate the meat but high enough to cook the burgers to a safe internal temperature without drying them out.
Best Wood Pellet Grills for Smoking Burgers
If you are looking to smoke some burgers, then you need a pellet grill that is capable of cooking them at the right temperature.
These are the most popular wood pellet grills for smoking burgers:
Traeger Pellet Smoker
Traeger Pellet Smokers are known for their versatility and consistent cooking performance. They use wood pellets as fuel, fed into the grill through an auger system, allowing for precise temperature control. Traeger grills also have a digitally controlled temperature system and a pellet sensor to ensure consistent cooking.
Pit Boss Pellet Grill
Pit Boss Pellet Grills are known for their affordability and large cooking surfaces. They use wood pellets as fuel and have digital temperature control for consistent cooking. They use a digital control board for precise temperature control and are a more affordable option than Traeger grills.
Weber Pellet Grill
Weber pellet grills are known for their high-quality construction and grilling performance. They use wood pellets as fuel and have a digital temperature control system for consistent cooking. They have more temperature probes than other grills and a grease management system for easy clean-up.
Choosing the Best Meat For Pellet Grill Burgers
The best choice of meat for making smoked burgers on a pellet grill is ground beef, with a fat content ratio of 80/20. That means 80% lean meat and 20% fat. This ratio provides the right balance of flavor and moisture, resulting in a juicy, flavorful burger.
Do You Have to Flip Burgers on a Pellet Grill?
If you want to flip your meat patties, make sure you only do it a maximum of 2 times. There's no point in over-flipping them. When turning them, don't press the patties too hard – this will result in lost juices and will affect the tenderness of your burger.
Adding Cheese to a Pellet Grill Burger
Place cheese on top of the burgers during the last few minutes of cooking, and let it melt before removing the burgers from the grill. This method will allow the cheese to take on some of the smoke flavors from the grill. You can add already smoked cheese to your burger to increase that flavor, but it's unnecessary.