Traeger is the most well-known, and highest-priced pellet grill-making company. Pit Boss is a reasonably-priced alternative for those looking to smoke meats at home who don't want to spend too much to get started. Both companies make pellet grills that work well, but Traeger's longer warranty tilts the argument in their favor.
The beauty of pellet grills is that they are the best set-it-and-forget-it outdoor cookers on the market, and offer the perfect blend of technology and wood-fired flavor. However, it can be difficult to find the best pellet grill to suit your needs.
You may already be aware that Traeger is unquestionably the leading brand. Since its original patent expired in 2006, the company has not looked back since the founder of Traeger pioneered pellet grilling. The patent expiring resulted in new approaches to pellet grills from competing companies, and Traeger is now often compared with competing brands.
As one of the top competitors, Pit Boss is often stacked against Traeger and many people question which of the two is right for them. Let's take a look at the history of each brand to start.
Origins of Traeger and Pit Boss
Pit Boss Brand Grills
Dan Thiessen, along with his sons Jeff and Jordan, established Dansons Inc in 1999 in order to convert sawmill waste into a reliable source of energy. Dansons soon became one of Traeger's biggest competitors in the pellet grill market, with subsidiaries Pit Boss and Louisiana Grills offering alternatives at various price points.
It was an unlikely pairing of talents that eventually led Dansons to work with Joe Traeger. Dansons' Pit Boss pellet grill is a lower-end model that has created a niche among BBQ chefs seeking greater affordability while maintaining a low-and-slow cooking method.
Reasons to purchase a Pit Boss pellet grill include:
Traeger's greatest competitor at a competitive price
Stylish finishes and vertical configuration make their pellet grill stand out
There's an easy-to-use digital control board for temperature control on these pellet smokers
Cooking griddles are porcelain-coated so they're durable
Traeger Brand Grills
Joe Traeger invented the first wood-fired pellet grill in 1985 after experimenting with wood-burning stoves, earning the patent a year later and selling the first model in 1988. During the next 20 years, Traeger's family-run company remained unchallenged until 2006, when Traeger's patent expired and other brands entered the market.
Eventually, Traeger (the brand) relocated from Oregon to Salt Lake City, Utah, where it continued to establish itself as a leading pellet grill manufacturer. Soon after Joe Traeger collaborated with Dansons, a company that sells Pit Boss pellet smokers.
Reasons to purchase a Traeger pellet grill include:
Original and best-selling pellet grill
Exceptional versatility for all outdoor cooking needs
Designed for easy operation and easy control
Delivers amazing wood-fired flavor to every meal
They offer some of the most value-packed cookers on the market
Best Selling Models: Pit Boss Smoker vs Traeger
Comparing wood pellet smokers and grills can be tough but it just requires a bit of research for each grill line-up to find the best option for you.
Using the following 6 categories, Pit Boss Smokers are compared to Traeger.
Price
Construction and build quality
Range of temperatures
Space for cooking
Hopper size
Connectivity options (like WiFi)
| | | |
| --- | --- | --- |
| Feature | Pit Boss Sportsman 820 | Traeger Pro 575 |
| Dimensions | 58 x 32 x 52 in | 53x41x27 in |
| Hopper capacity | 21 lb | 18 lb |
| Cooking surface area (sq. in) | 849 (592 main grate + 256 second) | 575 (425 main grate + 150 second) |
| Direct flame | Slide plate flame broiler | No |
| Meat probes | 1 | 1 |
| Temperature range | 180°F – 500°F | 165°F – 500°F |
| WiFi | No | Yes |
| Control | Dial-in digital control | D2® drivetrain |
| Storage | Removable side shelf | Folding front shelf (sold separately) |
| Warranty | 5 years | 3 years |
| Price | $499 | $899 |
You'll pay more for the Traeger Pro 575, but you get WiFIRE control via an app and a more advanced control system.
Pit Boss Sportsman 820 is a great grill that saves you a little money, has some nice usability features like a slide plate for grilling, and includes a removable side shelf. Ultimately, it comes down to the features you will use the most to determine which is a better option for you.
Best Pit Boss Smokers
These are the top three Pit Boss smokers, including a top-of-the-line model, a mid-range smoker, and the best-selling budget grill.
Pit Boss Lockhart Platinum Series
The Lockhart is an attractive, high-end pellet grill and combination smoker from Pit Boss.
On the bottom of the Lockhart, you will find a pellet grill, and at the top, you will find a smoke cabinet with double doors.
A total of 2136 square inches of cooking space is provided, all within a relatively modest footprint (assembled dimensions are 55.12L x 31.50W x 66.93H).
A large 40 lb hopper is included, and you may add up to four probes if you so desire.
This is a fun, unique smoker that does not fit into the same mold as most pellet grills because of how versatile it is.
Anyone who wants to feed a crowd, and appreciates having two chambers, should consider this option.
Pit Boss Sportsman 820 Wood Pellet Grill
With plenty of features for a mid-range pellet grill at a budget-friendly price, the Sportsman 820 is one of Pit Boss' newest (and most popular) releases.
The appliance has a generous amount of cooking area for the price, with 829 square inches of cooking area divided between a primary grate and a secondary grate.
Additionally, there is a 21 lb hopper with a window for monitoring pellet level, and a drain hole to remove unused pellets after cooking.
With the Sportsman, the only real negatives were the small searing zone, which is common with most "slide and sear" products, and the rounded diverter plate, which affected the ability to collect drippings.
Compared to a comparable Traeger, the Sportsman is cheaper, holds more food, and comes with better storage and prep areas than the Traeger.
Pit Boss 700FB Wood Pellet Grill
The 700FB is especially well-priced for those looking for a solid wood pellet grill on a budget.
In keeping with its name, the Pit Boss 700FB has a cooking surface of 700 square inches. For the same space on a Traeger, you would need to purchase the Traeger Pro 780, which is twice as expensive.
Despite sacrificing some features, such as WiFi connectivity, the 700FB is still an attractive choice among pellet smokers in the mid to large size range based solely on its price.
The grill does offer a variety of options for cooking hot food. It is capable of reaching 600°F, and it also has a flame broiler system where you use a slide-plate to grill directly over a flame.
Due to the fact that you receive a standard digital controller (not a PID controller), the temperature will fluctuate a little more. The control unit is not as attractive as the Sportsman, and there are no side shelves or front shelves.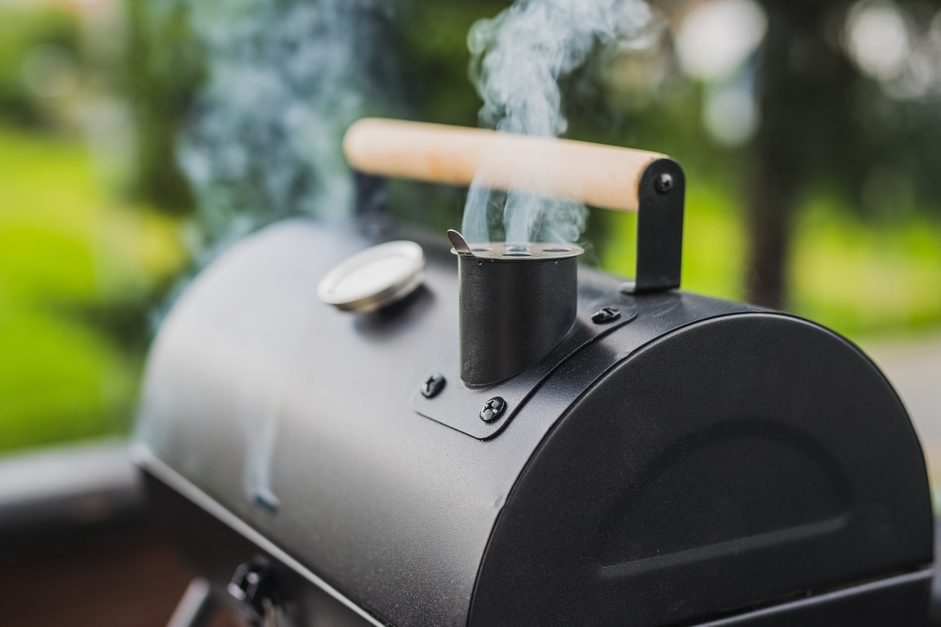 Best Traeger Smokers
There are three main series offered by Traeger: Timberline, Ironwood, and Pro pellet grills. To highlight the largest models from each product line, the key features and benefits of each product line will be described in detail. This will allow you to have a snapshot of the entire Traeger collection.
Traeger Timberline Series
The Timberline pellet grill is Traeger's top-of-the-line pellet grill series. With the D2 direct drive, the temperatures are locked on your target, the double-walled stainless steel interior, WiFire controls for smart devices, and a rock-solid chassis design.
Additionally, both the 1300 and 850 models have three tiers of adjustable cooking grates and a pellet hopper that can hold up to 24 pounds of pellets. There is sufficient fuel for all-day smoking. 
Features:
Its double-walled interior is made of stainless steel grade 304 to ensure maximum heat retention.
The D2 direct drive delivers more power and flavor.
With WiFIRE, you can control the grill from your phone.
Smoke your food even more with Super Smoke Mode. 
3 tiers of stainless steel cooking grates let you customize your smoker.
The extra-large pellet hopper has a low-pellet sensor so you'll never lose a pellet.
Traeger Ironwood Series
In comparison to Traeger's Pro series, the Ironwood Series is a mid-range option and offers two sizes (885 square inches and 650 square inches of cooking space) and 20 lbs. You can cook all day long for your entire family, with a direct drive drivetrain seamlessly powering the pellet smoker. Add rugged durability and Traeger's WiFIRE controller that pairs with smartphones and you have an all-around premium pellet smoker.
Features:
A double-walled interior enhances heat retention and adds durability.
With Super Smoke Mode, you get an incredible smoky flavor.
Direct drive D2 makes the grill durable and efficient.
You can control the grill wirelessly with WiFIRE technology.
Keep track of fuel levels with the built-in pellet sensor.
The smoker has all-terrain wheels so you can use it anywhere.
Traeger Pro Series
For a budget-friendly Traeger line, there is much to love about the Traeger pellet grill pro series, from easy-to-use controls to impressive cooking versatility and powder-coated steel construction. Some models include WiFIRE compatibility and the D2 direct drive, while others have fewer frills, but still live up to the Traeger brand name. Among the Traeger Pro pellet smokers, you will find a variety of sizes and price points to suit your needs.
Features
Easy-to-use features and simple controls make cooking effortless.
Wi-Fi compatibility is available on some models.
The pellet hopper holds 18 pounds of fuel.
It's easy to change flavors with the hopper cleanout system. 
You'll have more confidence moving around the backyard with locking caster wheels.
There's plenty of cooking space on the porcelain-enameled steel grates.
Which is Better: Pit Boss Pellet Grill or Traeger?
Traeger grills are the gold standard for pellet grills and their price tag reflects that fact along with the impressive 5-year warranty.
Pit Boss is also known for high-quality grills that work very well, so it is difficult to say which one is better for you as it will largely depend on your personal needs. Whether you choose Pit Boss or Traeger, you will end up with a quality grill that will help you become a backyard pitmaster. Try this delectable Pit Boss Pork Butt or this authentic smoked tri-tip at your next barbecue!