Pork butt is also known as pork shoulder, and it is used to make pulled pork. The best way to smoke pork butt is using a Pit Boss (or similar) pellet grill to smoke it low and slow for juicy, tender meat. 
What Is a Pork Butt?
Although it has a colorful name, pork butt does not originate from the pig's butt or behind. A pork butt is a cut of meat from the shoulder of a pig.
In most cases, pork butt is used in the preparation of pulled pork. As well as being able to be roasted or cut into steaks, it is also suitable for braising, stewing, or for making ground pork or sausages.
Print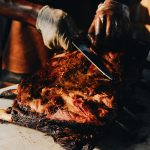 Smoky Pit Boss Pork Butt Recipe
---
Total Time:

7 hours 20 minutes
Description
This hickory-smoked mouthwatering ultra-juicy and tender piece of pork will make your tastebuds happy. Featuring a gorgeous crisped bark-like exterior and soft interior, this pork dish is going to set tongues wagging at your dinner table.
---
8

lb

pork butt roast (bone-in)

1

cube chicken bouillion

2 tbsp

brown sugar

3/4

cup

peach nectar

1/2 tbsp

soy sauce

3/4

cup

white grape juice

2 tbsp

Worcestershire sauce

3/4

cup

ice

1/4

cup

honey

1 tbsp

Pit Boss Homestyle Pork Rub
---
Instructions
An hour before cooking, you will make the Pit Boss marinade. Place the bouillon cube in a saucepan with 1/2 cup of water on medium heat. Stir until the bouillon cube has completely dissolved.
Add your brown sugar to the pot until it is dissolved and then add in the peach nectar, soy sauce, Worcestershire sauce, and white grape juice until combined.
Remove the marinade from the saucepan and place in a bowl with the ice to cool. Place marinade in your refrigerator for 1 hour.
When marinade is done cooling, fire up your Pit Boss Pellet Grill (if you are looking to buy one, try a Pit Boss Austin XL) and set it to 250°F. You can also use a Traeger or another pellet grill with great results.
Add your favorite wood pellets for a smoky flavor – Hickory and Applewood both pair nicely with pork.
Cut off all large pieces of fat from the pork butt because they won't render during the cooking process.
Put the pork butt fat side down in a pan.
With a meat injection needle (you can purchase a Pit Boss Marinade Injector on Amazon) inject marinade throughout the meat in a checkerboard pattern, about 1 tbsp at a time in each pocket. The flavor will spread through the meat if you spend extra time around the bone.
Wearing gloves, rub Pit Boss Homestyle Pork Rub all over the meat side.
Let it rest at room temperature for 30 minutes before grilling.
When it has come to room temperature, place the pork butt in the pellet smoker at 250 degrees Fahrenheit.
Remove smoked pork butt after 3.5 hours, place fat side down in pan, sprinkle with additional dry rub, and drizzle honey on top.
Wrap it in aluminum foil and put it back in the smoker at 275°F. Check the internal temperature with a meat thermometer. When the pork butt reaches 190°F, check for tenderness. When it's 194°F, the bone should show 1" or more.
Take it out of the smoker when it's tender and let it rest for 30 minutes to an hour.
Putting on 'hot' gloves (try cotton gloves over a nitrile glove), remove the bone from your pork butt and shred by hand, removing any excess fat and setting it to the side.
Mix your Pit Boss pulled pork with your favorite bbq sauce and serve it on some toasted buns with coleslaw or inside tortillas with your favorite toppings.
Prep Time:

20 minutes

Cook Time:

7 hours
What is a Good Temperature Setting for a Pork Butt?
Smoke the pork butt for 6 hours at 250°F, then turn it up to 275°F to crisp the skin.
After about four hours, you should have an internal temperature of 202 degrees F. Make sure you start smoking early because this process will take around 10 hours.
Is It Fat Side Up Or Fat Side Down?
There's a lot of debate about whether to cook pork butts (or briskets) fat side up or fat side down. You should place the fat cap on the bottom, where the heat comes from to ensure it protects the meat from the flame and keeps it juicy.
How Many Pounds of Pulled Pork is Needed per Person?
A serving of pork butt should be between 1/3 to 1/2 pounds per person. Keep in mind that smoked pulled pork can be served in many different ways so the serving size can vary whether making a pulled pork sandwich or whether it is served by itself.
It is important to remember that bone-in pork butts lose about 30 to 40 percent of their weight when cooked and pulled. Be sure to account for this loss when purchasing your meat.