To make brine for chicken thighs, pour 4 cups of water into a bowl. Add 1/2 to 3/4 cup of salt and 1/2 cup of brown sugar along with any seasonings you like such as bay leaves, garlic powder, juice, wine, or vinegar. Once all the ingredients are combined, place your chicken thighs in the brine and let it marinate for 3-6 hours. Remove from the brine, pat dry, season, and cook your thighs!
If you want to make smoked chicken thighs, it's essential to let the chicken soak in a smoked chicken thigh brine to ensure a juicy, tender, and flavorful result!
Leave the chicken in the brine for about 4 hours before cooking to let the brine solution marinate the chicken. You can use a brine for any type of smoked chicken: whole chicken, chicken legs, chicken thighs, chicken wings, and chicken drumsticks!
How to Brine Chicken Thighs
To make brine for chicken legs or thighs, pour 4 cups water into a bowl and add 1/2 to 3/4 cup of salt. You can add other liquids to the water such as wine, vinegar, beer, soda, broth, or juice.
Add any additional dry seasonings, herbs, and spices that you'd like. Common additions include brown sugar, bay leaves, and garlic powder.
Once all of your brine ingredients are combined, mix thoroughly until all granulated ingredients are dissolved.
Place the chicken thighs in a brining bag. Pour the brine over the chicken and cover it entirely. Tie the bag and put it in a container. Allow it to sit in the refrigerator for 3 to 6 hours. After the time has passed, remove the chicken from the refrigerator an hour before cooking.
Tools Needed to Brine Chicken Thighs
Brining or oven bag
Drying rack
Large bowl
Meat thermometer
What Ingredients Are Usually Added to Brine?
The main brine ingredients for any brine are salt and water. For extra flavor, you can add aromatics, spices, and sugar.
Here are some popular brine ingredients:
Bay
BBQ sauce
Black pepper
Brown sugar
Garlic
Olive oil
Onion
Soy sauce
Thyme
Vinegar
Wine
Don't be afraid to experiment using liquids and seasonings in your brine. Brines are a great canvas for creating flavors to customize your meat while making it tender and juicy!
Print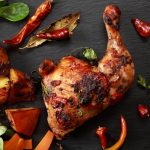 Smoked Chicken Thighs with Brine Recipe
---
Author:

Total Time:

6 hours, 10 minutes
Description
This chicken thighs recipe is for you if you love the taste of applewood-smoked meat. Add moisture with a simple brown sugar brine and lock it in with a quick sear. Set your smoker to low and smoke slowly to get juicy, succulent chicken thighs.
---
10

bone-in skin-on chicken thighs

1

cup

brown sugar
handful fresh rosemary
handful fresh thyme

1

cup

kosher salt

6

cups

water
---
Instructions
Prepare the brine by combining salt, water, and sugar in a medium saucepan. Heat until the salt and sugar are dissolved.
Add the herbs and let the solution come to room temperature.
Place the thighs in a bowl and pour the brine over the thighs. Cover with plastic wrap and let it sit in the fridge for 2 to 4 hours.
Remove chicken from the brine and place it on a drying rack.
Preheat the grill to high. Sear for 2 minutes then flip the chicken and sear the other side for 2 minutes.
Lower the heat to 225°F and add applewood chips.
Smoke for 2 hours or until the internal temperature of each thigh reaches 165°F.
Prep Time:

10 minutes

Brine Time:

4 hours

Cook Time:

2 hours
Nutrition
Serving Size:

1 thigh

Calories:

241kcal

Sugar:

3.9g

Sodium:

2076mg

Fat:

5g

Saturated Fat:

1g

Trans Fat:

0g

Carbohydrates:

4.6g

Fiber:

4g

Protein:

7g

Cholesterol:

33mg
How Long Will it Take to Smoke Chicken Thighs?
Smoking chicken thighs at 225°F will take about 2 hours. The chicken thighs need to reach an internal temperature of 165°F for safe consumption.
Should Chicken Thighs be Brined Before Smoking?
Chicken thighs should be brined before smoking to make them juicy and tender. The brine adds moisture, saltiness, and flavors to the inside of the meat.
Brining meat is essential when smoking meat. Smoking can leave meat exposed to warm temperatures for hours, often drying out the meat. Brining helps the meat retain moisture.
Should Brined Chicken Thighs Also Be Marinated?
You can marinate brined chicken thighs, but it isn't necessary.
If you decide to brine and marinate, stick with a simple salt and water brine solution. You don't want clashing flavors from the brine and the marinade.
Do Brined Chicken Thighs Need a Dry Rub?
Adding a dry rub to brined chicken thighs results in juicy, flavorful, tender chicken thighs. If you use a dry rub and a brine, you should brine the chicken first, pat it dry with paper towels, then add the dry rub.
How Long Does it Take to Brine Chicken Thighs?
For best results, brine bone-in chicken thighs for 4 hours and boneless chicken thighs for 1 hour.
You can brine chicken thighs for up to 24 hours, but longer than that can make the texture of the chicken mushy or too soft. Brining for too long can also result in chicken that is too salty.
Benefits of Brining Chicken Thighs Before Smoking
Brining chicken before smoking adds flavor and keeps the meat tender. A benefit of brining chicken is that you can customize and create a brine to get your desired flavored meat.
Brining meat before smoking is recommended because brining keeps food moist while it is subjected to the dry heat of the smoker.
How Much Salt Should Be Added to Chicken Thigh Brine?
Add three tablespoons of salt per quart of water for chicken brine. The USDA recommends using table salt for the best flavor, but Kosher salt also works well.
Brine Flavor Variations for Chicken Thighs
Want to up your flavor game? Check out these awesome brine ideas for chicken thighs!
1. Beer Brine
Use a dark beer to make this spicy, beer-brined chicken thighs recipe.
2. Coffee Brine
To add a kick of bitterness to your brine that will add a depth of bold flavor, add a few cups of cold brew to your brining liquid.
3. Margarita Brine
Soak chicken in this citrus and tequila-spiked brine recipe to add Latin flavors to your chicken.
4. Pickle Brine
Brine your chicken thighs in pickle juice to get juicy chicken with a tangy flavor. No additional seasonings are needed for the brine!
5. Sweet Tea Brine
Most brines include sugar, so use sweet tea as the liquid and sugar portion of the brine. Follow this sweet tea brine recipe to make crispy, golden, sweet chicken.