Making chicken wings in an electric smoker will give them the same delicious flavor that comes from wood-smoking—but with none of the work or mess. Simply season the wings, and allow them to smoke for 30 minutes at 200°F before increasing the temperature to 375°F. They are done when the internal temperature is 165°F.
Chicken wings are the ultimate appetizer. They're crunchy, salty, smokey, and just the right amount of spicy. Smoking chicken wings are perfect for game day (or any day) because you can easily eat them with your hands, and preparing them in an electric smoker is easy if you don't have a pellet smoker.
How to Make Crispy Chicken Wings in an Electric Smoker
Preheat your electric smoker to 200°F. You will want to smoke chicken wings for 30 minutes before cranking up the temperature to 375°F and allowing them to cook for another 45 minutes.
Be sure to flip and rotate your chicken wings so they don't burn. Allow them to smoke until they reach an internal temperature of 165°F.
Print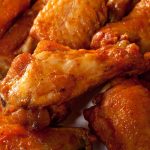 Smoked Buffalo Chicken Wings in an Electric Smoker
---
Total Time:

1 hour 10 minutes

Yield:

6

1

x
Description
There are two secrets to these smoked buffalo chicken wings. The first is dipping them in an incredibly flavorful rub before smoking them to ensure that every bite will burst with flavor. The second secret is smoking them until they reach the perfect temperature and increasing the heat right at the end so the meat absorbs all that flavor! When they come out of the smoker, they are tender and juicy with crispy skin!
---
5

lbs

chicken wings

3 tbsp

baking powder

3 tbsp

dry rub
olive oil
Dry Rub
1 tbsp

garlic powder

1 tbsp

smoked paprika

1 tbsp

cumin

1/2 tbsp

brown sugar

1/2 tbsp

ground dried mustard

1/2 tbsp

chili powder

1 tsp

black pepper

1/2 tsp

chipotle chili powder

1/2 tsp

sea salt

1 1/2 tsp

cayenne pepper
---
Instructions
Preheat your smoker to 250 degrees F.
Place wood chips in the smoker (most electrical smokers will have this option): the best recommendations for chicken wings are hickory, applewood, mesquite, and cherry wood.
Combine all spices in a small bowl and mix well.
Pat the chicken wings dry using a paper towel.
Place wings in a plastic bag and sprinkle them with a little olive oil, baking powder, and the dry rub from your mixing bowl.
Shake the bag to distribute the dry ingredients evenly.
Take the wings out of the bag and place them piece by piece on the smoker's grates.
Flip the wings every 30 minutes and let them sit in the smoker until the internal temperature reaches 165° F – the total smoke time will be about 45 minutes.
When the wings turn the desired temperature, increase the smoker temperature to 425°F to crisp the skin, and let the wings cook for another 15 minutes or until they reach 175°F internal temperature.
Remove the wings from the smoker.
Serve with your favorite side dish and barbecue sauce. 
Prep Time:

10 minutes

Cook Time:

1 hour

Cuisine:

American
Why Smoke Chicken Wings in an Electric Smoker?
If you're looking to smoke chicken wings, you might wonder if an electric smoker is right for you. Here are some of the biggest reasons why it is!
Ease of Use: Electric smokers are designed to be as user-friendly as possible unlike some Traeger and charcoal grills, so you can get started immediately without needing special skills or tools. You just plug it in, set the temperature and time, and go!
Convenience: Electric smokers don't take up much room at all, so you'll never have trouble finding space for them when you need them.
Flavor: The smoke flavor can be counted on.
Safety: Electric smokers have no open flames so there's less chance of a fire, flare-up, or burning smells from fat drippings falling onto hot coals.
What is the Best Temperature to Smoke Chicken Wings in an Electric Smoker?
The best temperature to smoke chicken wings is between 225-250°F.
How Long Does it Take to Smoke Chicken Wings in an Electric Smoker?
At 225°F, it usually takes about one and a half to two hours to smoke chicken wings. The best way to ensure you're smoking them just the right amount is to measure their internal temperature with a meat thermometer. If your wings have a 160-165°F temperature, they're good to go!
You can smoke your chicken wings at 257°F too, but many people don't recommend this because it can dry off your meat. If you want them to be more crispy, simply broil or place them shortly on a grill after the smoking process is over.
How Long Does it Take to Smoke Frozen Chicken Wings in an Electric Smoker?
Many people ask themselves if it's ok to smoke frozen chicken wings in an electric smoker. It is possible to smoke frozen chicken wings; you should expect it to take an additional 30 to 60 minutes of cooking time.
A downside of smoking your frozen wings is that they won't be as tasty as defrosted chicken wings because it's harder for the smoke to be absorbed if the meat's exterior is frozen. It's also harder to make them crispy from the start.
It's recommended that you use a higher cooking temperature when the wings are frozen – in this case, it's best to go above 275°F.
The amount of time to smoke frozen chicken wings varies according to the size of the wings, your electric smoker, and the temperature used.
How to Defrost Chicken Wings for Cooking in an Electric Smoker
There are three ways of defrosting frozen chicken wings so you can smoke them in an electric smoker afterward.
Thawing in the Refrigerator
If you want to defrost chicken wings by thawing, you need to place them in a refrigerator and wait about 4-5 hours until they are thawed.
Cold Water Bath
Defrosting chicken wings in a cold water bath (while staying in a sealed bag) will take about ½ hour per pound of waiting time. Once the wings aren't clumped together and are easily pliant you'll know they have defrosted.
Microwave
Last but not least, you can defrost your chicken wings by using the defrost setting of your microwave – this usually takes 4-5 minutes, split into 1-minute intervals with checking in-between. Microwave defrosting is the least preferred way of defrosting because it can defrost chicken unevenly, which means it may not cook evenly later.
Chicken Wing Internal Temperature
When it comes to chicken, there's no such thing as the desired level of doneness as with other meats like beef. You must ensure your chicken reaches the minimum safe temperature required for eating; there's no way around this!
So beyond setting the temperature according to advice you hear from other pitmasters or the internet, follow the advice of the USDA and always measure your chicken wings' internal temperature by placing a probe thermometer in the middle of the meat and making sure it reaches 165°F before eating.