To barbecue a full slab of ribs, remove the membrane and season with a dry rub. Preheat the grill to 250°F and place your ribs on the grill or smoker with the bone side down. Cook until the ribs reach an internal temperature of 190°F and allow them to rest covered in foil for 20 minutes before slicing and serving!
What is the Best Way to Cook a Slab of Ribs?
To cook a juicy and tender slab of ribs, follow these steps:
Prepare the ribs: Remove the membrane from the back of the ribs, if necessary. This will help the ribs cook more evenly and absorb more flavors from the rub or brine solution.
Brine or dry rub the ribs: If you're using a brine solution, soak the ribs in the mixture for the recommended amount of time. If you're using a dry rub, sprinkle the rub over both sides of the ribs and massage it into the meat.
Preheat the grill or smoker: Preheat your grill or smoker to the desired temperature, typically around 225-250°F for smoking ribs.
Place the ribs on the grill or smoker: Place the ribs on the grill or smoker, bone side down, and close the lid. Cook the ribs for the recommended time, typically around 4-6 hours for pork ribs and 6-8 hours for beef ribs.
Check the ribs for doneness: To check the ribs for doneness, insert a meat thermometer into the thickest part of the meat. The ribs are done when the internal temperature reaches around 195-205°F for pork ribs and your desired doneness for beef ribs.
Remove and rest: Once they are done, remove them from the grill or smoker and rest for 10-20 minutes.
Serve the ribs: Cut the ribs into individual portions and serve with your choice of sides and sauces!
Print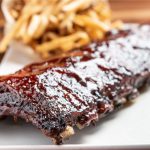 Full Slab BBQ Baby Back Ribs Recipe
---
Author:

Total Time:

1 hour, 45 minutes
Description
These ribs will make you want to shout "Woo-hoo!" and then go back for more. The secret is in the marinade, which ensures that these ribs are tender, juicy, and flavorful. If you've got a full slab of ribs to cook, this recipe will ensure it's done right—and done quickly!
---
3

pounds

of baby back pork ribs (one big slab of ribs)

1 tablespoon

ground cumin

1 tablespoon

chili powder

1 tablespoon

paprika
salt and pepper to taste

1

cup

barbeque sauce
---
Instructions
Preheat your gas grill to high heat. If you're using a charcoal grill, place charcoal on one side and grease the grill grates with fat or oil.
Combine the dry ingredients in a jar and shake to combine – chili powder, paprika, cumin, salt & pepper.
Take each rib rack and trim the membrane from the back of the ribs using a knife.
Spread the dry rub on the ribs, carefully covering as much of the surface as possible. If the rub doesn't stick, coat the ribs in olive oil, and then apply the rub.
Place a tray or aluminum foil on the lower rack to avoid liquids dripping into the fire.
Place ribs on the top rack, away from direct heat.
Close the lid of the grill and let the slab of ribs cook for 90 minutes without opening the lid.
After this time has passed, lift the lid and cover the ribs with some bbq sauce.
Leave the ribs for another 5 minutes or so until the internal temperature reaches 190°F.
Serve whole or cut in pieces between the rib bones.
Prep Time:

30 minutes

Rest Time:

10 minutes

Cook Time:

1 hour, 5 minutes
Nutrition
Serving Size:

1/2 pound

Calories:

441kcal

Sugar:

11g

Sodium:

582mg

Fat:

30g

Saturated Fat:

11g

Carbohydrates:

17g

Fiber:

1g

Protein:

25g

Cholesterol:

117mg
What Types of Ribs Can You Cut from Full Slab Ribs?
Many types of ribs exist and can come in a full rack. What they are called is based on where they're placed in the ribcage and whether they are pork or beef ribs. They typically fall into these categories:
These can also be called loin ribs, riblets, and back ribs, and you can find them in the upper area of the rib cage.
They are also known as side ribs, loin back ribs, or flanken-style ribs, and they're meaty loin meat.
You can find this cut near the breastbone, close to the sternum. They are also called Kansas City-style cuts.
Rib tips are full of cartilage, but if trimmed properly and cooked low and slow, they make an excellent, flavorful meal.
How Many Ribs are in a Full Slab of Ribs?
A full slab of pork ribs from the butcher or grocery store typically contains 10-13 bones. They typically weigh 2 to 3 pounds. Larger slabs may contain more bones, and the size of the bones can vary significantly, with some ribs having smaller bones and others having larger bones.
What is the Difference Between a Slab and a Rack of Ribs?
A whole slab of ribs refers to a large cut of ribs that has not been separated into individual ribs or rib sections. A slab typically contains 10-13 ribs. A slab of ribs is often cooked and served as a whole, with the ribs being cut into individual portions after cooking.
A rack of pork ribs refers to a cut of ribs separated into individual ribs or rib sections (like a half slab), usually with the bones running parallel to each other. A rack of ribs is often cooked and served as individual ribs or rib sections rather than as a whole. A full rack of ribs is typically smaller than a slab of ribs, with a smaller number of ribs overall.
For example, untrimmed spare ribs are considered a slab, yet once they are cut into St. Louis-style, they are considered a rack.
How to Transform a Slab of Ribs into a Rack of Ribs
To transform a slab of ribs into a rack of ribs, you will need to separate the individual ribs from the slab.
Start by placing the slab of ribs meat-side down on a cutting board. Using a sharp knife, carefully cut between the ribs to separate them from the slab. Then use a small knife or kitchen tweezers to remove any excess fat or gristle from the ribs.
Finally, arrange the ribs in a standing position on a baking sheet or in a roasting pan, making sure that they are spaced evenly apart and standing upright. You can then smoke the ribs to your desired level of doneness.
How Long Does it Take to Cook a Full Slab of Ribs?
Cooking a whole slab of pork ribs can take anywhere from 1 to 6 hours, depending on the cooking method, the type of ribs, and the desired level of tenderness.
Grilling a Full Slab of Ribs
To grill ribs, it's best to use the indirect cooking method, where the ribs are placed on the part of the grill that is not directly over the heat source.
You can grill ribs at a higher temperature, but it will take anywhere between 30 to 45 minutes to cook a pound of pork ribs on a grill.
Smoking a Full Slab of Ribs
To smoke ribs, you'll need to use a smoker or a pellet grill set up for smoking. Smoking ribs takes longer than grilling, as the low and slow cooking method allows the flavors of the smoke to penetrate the meat.
You'll need to allow about 1 hour of cooking time per pound of ribs (if you smoke them at about 225-250°F). For example, a full slab of ribs that weighs 3 pounds will take about 3 hours to cook.
Keep in mind that smoking times are approximate and will depend on factors such as the thickness of the ribs, the temperature of the grill or smoker, and the desired level of tenderness. It's always a good idea to use a meat thermometer to ensure that the ribs are cooked to the desired level of doneness.
Target Internal Temperature for Full Slab of Ribs
When done, the internal temperature of pork ribs should be at least 145°F; this is the minimum safe temperature for pork recommended by the USDA. To take the temperature of the ribs, you'll need to use a meat thermometer and insert it into the thickest part of the ribs (avoiding the bone).
For beef and lamb ribs, it's important to note that they're a tougher cut of meat than pork ribs. So they may need to be cooked to a higher internal temperature to achieve the desired level of tenderness – 190-200°F, as this will result in very tender, fall-off-the-bone ribs.
What are the Best Sides to Serve with a Full Slab of Ribs?
When you're serving up a full slab of ribs, it's not just about the meat. The sides are essential, too! Here are some excellent sides to pair with ribs:
The cranberries will give you that sweet and fruity kick you need to balance out the savory flavor of your meat, and the nuts add a crunchy texture to this carrot salad.
These are perfect for sopping up all that delicious sauce on your plate! They taste great when dipped in barbecue sauce or honey mustard dressing. They can also be made ahead of time!
You can't go wrong with grilled asparagus! Its crispy texture contrasts the softness of your meat, and its light flavor will help cleanse your palate between bites of meaty goodness.
This light side dish will add a little bit of freshness to your life. The mint and citrus are a perfect complement to the meaty flavor of the ribs (and it cuts through the juicy fats of the ribs).