To make BBQ rib tips, preheat the grill to 250°F. Place your dry rub seasoned rib tips on the grill and allow them to cook over indirect heat for 3 hours. Brush with barbecue sauce and allow them to cook for an additional hour before pulling them off the grill and letting them rest for 5 minutes before serving.
Rib tips are the end pieces from a full rack of ribs. They are also known as pork riblets or the brisket of pork ribs. They are delicious when grilled on low heat and slathered in BBQ sauce.
How to Make Rib Tips on a Barbecue
Follow this step-by-step guide on how to cook the best BBQ rib tips you'll ever eat!
Tools Needed to Make BBQ Rib Tips
Grill: You can make this bold BBQ rib tips recipe on your Traeger pellet grill, charcoal grill, or gas grill. Many of us prefer smokers set up for cooking over indirect heat because they allow for low and slow cooking, which gives BBQ ribs tips plenty of smoke flavor as they cook.
Sharp knife: If trimming your rib tips, you will need a sharp knife to slice through the meat and cartilage.
Almond wood: For rich smoke flavor, opt for almond wood, hickory, mesquite, or a blend of your favorite wood pellets.
Season the Rib Tips
Create a dry rub by mixing the following spices:
1 tablespoon smoked paprika
1 teaspoon cayenne pepper
1 tablespoon brown sugar
1 teaspoon garlic powder
½ tablespoon kosher salt
½ tablespoon coarse black pepper
½ ground cumin
Sprinkle this dry rub all over your rib tips, mixing them with your hands to ensure they are evenly coated. Allow the rib tips to sit in this rub overnight.
Get the Grill Ready
Preheat the grill to 250°F. Place almond wood on the hot coals or inside the smoker for extra smoky flavor (optional). Once the grill maintains a steady temperature, it's ready to use.
Barbecue the Ribs
Arrange the rib tips directly on the grill grates and close the lid.
Cook the rib tips low and slow over indirect heat at 250°F for 3 hours.
Pull the rib tips off the grill and apply BBQ sauce.
Put the rib tips back on the grill grates and cook for an additional hour or until the meat pulls away easily from the bones.
Rest the BBQ Rib Tips
Cover BBQ rib tips with aluminum foil and rest them for 5 minutes before slicing them into pieces.
Print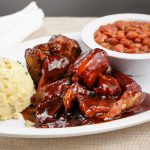 Bold BBQ Rib Tips Recipe
---
Author:

Total Time:

3 hours
Description
Cooked to perfection, these BBQ rib tips will surely be the star of your next summer meal. So easy to make and incredibly tender!
---
6

pounds

pork rib tips

1/2

cup

brown sugar

2 tbsp

garlic powder

1 tsp

ground black pepper

1 tsp

ground cayenne pepper

1 tbsp

kosher salt

2 tbsp

onion powder

2 tbsp

smoked paprika

1 tbsp

parsley flakes

2

cups

apple juice

1/4

cup

olive oil
---
Instructions
Preheat the grill to 250°F.
Mix all of the dry seasonings in a medium-sized bowl.
Divide the mixture in half.
Spread half the olive oil on your rib tips.
Use half of the dry seasoning to season your rib tips, tossing to ensure they are evenly coated.
In a different bowl, mix the apple juice with the remaining olive oil and dry seasoning. Combine the ingredients to create your mop.
Place charcoal on one side of the grill and arrange the rib tips on the other side.
Close the lid and grill your rib tips for 20 mins. Flip and slather them with the mopping liquid. Repeat this every 20 to 25 minutes.
Grill the rib tips for 2½ hours until they are done.
Rest for 5 minutes and serve as an appetizer or with your favorite side dishes. Enjoy!
Prep Time:

25 minutes

Rest Time:

5 minutes

Cook Time:

2 hours, 30 minutes
Nutrition
Serving Size:

1/2 pound

Calories:

310kcal

Sugar:

10g

Sodium:

750mg

Fat:

19g

Saturated Fat:

8g

Carbohydrates:

12g

Fiber:

0.5g

Protein:

20g

Cholesterol:

70mg
Target Internal Temperature for Rib Tips
Barbecue rib tips reach doneness when the internal temperature hits 180°F. This should take around 2½ to 3 hours.
Your rib tips may be too small to insert a probe thermometer into them, so monitor your meat to see when it starts to pull away from the bones. At that point, the rib tips are almost done.
How Long Does it Take to BBQ Rib Tips?
The total cook time for ribs tips can vary significantly depending on the smoker you're using and its ability to maintain a steady temperature. The number and size of the rib tips will also influence the total cooking time.
When cooked low and slow at 250°F, it takes about 2½ to 3 hours to BBQ rib tips.
Are Rib Tips Better than Ribs?
It is a matter of personal preference whether rib tips or ribs are better. Rib tips refer to the meaty scraps at the low bottom section of pork spare ribs. Rib tips are usually trimmed off to produce St. Louis-style ribs. They typically measure 1-3 inches wide and 8-12 inches long.
Rib tips are typically smaller and more irregular in shape than ribs. They are a less expensive alternative to ribs.
Some people may prefer rib tips because they are typically more flavorful and tender than ribs, due to their high-fat content. They are also easier to eat, as they do not have bones and are easier to cut into smaller pieces.
On the other hand, some people may prefer ribs because they are larger and have a more uniform shape, making them easier to cook and serve. Ribs are also more visually appealing and may be preferred for this reason.
How to Keep Rib Tips Moist
Rib tips should be cooked at a low, steady temperature. If they are cooked too quickly over high heat, they can become dry, tough, and chewy.
To prevent your rib tips from drying out, wrap them in aluminum foil and cook them on the grill over low heat. 
What's the Difference Between Spare Ribs and Rib Tips?
Rib tips refer to the pieces of cartilage and meat that are taken from the end of spare ribs to make St. Louis cut-style ribs.
On the other hand, spare ribs are taken from the bottom section of the rib cage. Spare ribs have long, flat bones while rib tips have pieces of meat or cartilage.
Ribs tips are typically cheaper than spare ribs. You can also purchase a rack of spare ribs and cut the rib tips yourself.
Seasoning Variations for Rib Tips
To add a sweet element to your rib tips, coat them with teriyaki sauce and add sesame seeds for the perfect summer BBQ rib tips.
To achieve a crusty finish with sweetness, add a little brown sugar to your dry rub. For the best results, you should add this rub before grilling.
The Memphis-style rub adds sweetness, sourness, bitterness, and warmth to your rib tips. It uses dried garlic and herbs to give the rub the perfect flavor profile.
Every Kansas city-inspired BBQ dish has a classic BBQ rub which is always on the sweet side.
Best Sides for BBQ Rib Tips
This rib tips recipe pairs well with a variety of sides, including:
Collard Greens slaw is a classic side that is easy to make. It is filled with feta cheese and collard greens, making it versatile enough to be the perfect accompaniment to pork rib tips.
This creamy comfort food is slowly simmered in a crockpot with ham hocks for the perfectly flavored side dish.
Fries always make a great accompaniment to pork and other meats. Add a global touch to your fries by choosing yuca fries instead of potatoes.