For traditional sweet and spicy Kansas City rib rub, combine paprika, black pepper, cayenne pepper, and garlic powder with brown sugar and kosher salt. This dry rub should be applied evenly over the rack of ribs and allowed to sit for a few hours to penetrate the meat for the best flavor.
If you're a barbecue enthusiast, you know that Kansas has a unique style of barbecue that originated in Kansas City.
In case you're wondering what "Kansas City" rib rub style means: it's a dry rub made up of a spice blend of paprika, brown sugar, kosher salt, black pepper, cayenne pepper, and garlic powder that's used on all types of meat before they hit the grill or smoker.
Making the Perfect Kansas City Ribs Starts with a Killer Rib Rub
This seasoning is most often used on ribs because it enhances the caramelization of ribs and provides an unforgettable sweet and smoky kick.
Print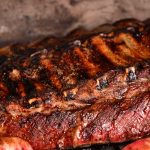 Kansas City Rib Rub Recipe
---
Description
If you haven't been to Kansas City, you can at least make your taste buds travel there and taste their perfect barbecue. We've got a recipe for a Kansas City-style dry rub that will make your meat (and your mouth) sing with joy!
This dry rub recipe is the perfect blend of spices and seasonings to make your meat taste like a masterpiece.
It is straightforward but packs a punch with its bold flavors – perfect on a rack of ribs, but works equally well on brisket or pork shoulder. Best of all it only takes a max of 5 minutes prep time!
---
1/2

cup

Brown Sugar

1/4

cup

Paprika

1 tbsp

Black Pepper

1 tbsp

Kosher Salt

1 tbsp

Garlic Powder

1 tbsp

Onion Powder

1 tbsp

Chili Powder

1 tsp

Cayenne Pepper
---
Instructions
Once you've collected all of these ingredients, combine them in a mixing bowl and stir them together with a whisk or spoon until they're well incorporated.
You can use the rub immediately or store for up to a month in an airtight container.
This BBQ dry rub is enough for one rack of BBQ ribs made on a smoker, grill, or oven. If you plan to BBQ more meat, simply double or triple the recipe.
Directions for Cooking with the Kansas City Rib Rub
1. Pick your favorite type of ribs – baby back or spare ribs.
2. Get rid of any moisture on the ribs – dab to dry the ribs well by using paper towels.
3. Rub the mixture onto the ribs liberally and evenly.
4. Wrap the ribs in plastic wrap or aluminum foil and refrigerate for at least 4 hours but optimally 24 hours and up to 48 hours. The longer you let the rub rest on your ribs before cooking, the better they'll taste! You want to make sure that the rib rub is on there for long enough that it has a chance to infuse into the meat.
5. Pick your favorite method of cooking.
Kansas City barbecue ribs are usually slow-cooked for up to 6 hours. These are the most popular methods of smoking them:
Low and Slow Method: Set the smoker at 225 degrees Fahrenheit (110 degrees Celsius) until they reach an internal temperature of 160 degrees Fahrenheit (71 degrees Celsius) – for maximum tenderness.
The 3-2-1 Method: Smoke the meat for 3 hours. Take it out and wrap it in foil and cook it for another 2 hours, then unwrap the ribs and smoke it for an additional hour.
What does Kansas City BBQ Rub Taste Like?
If you've ever had a rack of ribs cooked with Kansas City Rib Rub, then you know what it tastes like: pure heaven. In all seriousness, Kansas City BBQ rub is sweet, smoky, and spicy (because of the chili powder and cayenne pepper).
You can taste a complex mix of many BBQ spices, and can't pinpoint only one flavor profile. It's an explosion of spices, perfect for some hearty beef or pork meat. 
Can You Use Kansas City Rib Rub on Pork Ribs?
You betcha! Kansas City Rib Rub is perfect for barbecue in general. When you see and smell this rub, you instantly think of a traditional Kansas barbecue.
It is so versatile that you can use it on anything from beef to pork ribs to chicken wings. It's also great for grilling vegetables because it adds extra flavor.
What Temp are Kansas City Ribs Done?
You must cook your ribs until they reach an internal temperature of 145°F. The best way to ensure it reaches this temperature is by using a meat thermometer.
The temperature of your grill is going to be important too. The general rule of thumb is that you should cook ribs at 225 degrees Fahrenheit for about 3 hours (for medium-rare). If that's not enough for you, cook until you reach your desired level of doneness.
What's the Difference between St Louis-style Ribs and Kansas City-style ribs?
St Louis-style ribs come from the pig's underbelly and lower rib cage and are cut perpendicular to the bone (unsurprisingly, this is called a St. Louis-style cut).
St. Louis-style ribs are meaty pieces filled with fat that are easy to eat without having to gnaw on bones or cartilage. They are great for beginners who want something more tender than baby back ribs but still want some serious flavor without having to go all out with their knife skills! 
The sauce is usually thinner and has a more pungent vinegar taste. It's also primarily tomato-based.
In comparison, Kansas City-style ribs have cartilage left in them. They're the most popular type of ribs – when you think of ribs, this is the first image that will pop into your head. Kansas City-style ribs barbecue sauce is the traditional BBQ sauce you see on most pieces of meat.
You can recognize it because it is thick, sweet, and spicy, with a tomato or ketchup base, and contains brown sugar or molasses as a sweetener. It can burn easily because of its high sugar content so be careful when cooking!
You're sure to love the flavor of Kansas City ribs using our rib rub, whether you slather it in barbecue sauce or simply eat them hot off the grill. Enjoy!