To make country-style beef ribs, set your grill temperature to 275°F. Place your seasoned ribs over indirect heat and allow them to cook for 1 hour, flipping the meat after 30 minutes. Move the ribs over direct heat and continue cooking for 1 hour and 20 minutes, flipping them and basting them with barbecue sauce until they reach an internal temperature of 165°F.
Country-style ribs are derived from the muscular shoulder blade near the loin. To produce this cut, a chuck eye steak is cut in half. It is usually the case that country-style ribs are boneless; however, the bone may be present from the shoulder blade rather than the rib.
Step-By-Step Guide to Grilled Country Style Beef Ribs
Country-style ribs differ from traditional ribs because they are either boneless pork ribs or boneless beef ribs. They are meaty with a substantial amount of fat. They do best when cooked using slow cooking methods like braising or a slow cooker such as a crockpot.
Country-style beef ribs are traditionally made from chuck roast which is a tough cut of meat. It should be grilled at a low temperature for several hours to achieve tenderness.
Marinate the meat for several hours and up to 1 day in a marinade made with brown sugar, curing salt, water, pepper, and other spices you enjoy.
Ensure your grill is preheated to 275°F and set up for indirect cooking.
Season the ribs liberally with a dry rub of your choice.
With tongs, place ribs directly on the grill.
Cover and grill for 30 minutes on each side over indirect medium heat.
Move ribs to direct medium heat after the first hour and cook for 40 minutes on each side.
Turn the ribs occasionally to prevent sticking and baste them with barbecue sauce in the last 30 minutes of cooking if desired.
The internal temperature of the ribs should be 165°F.
Before serving, coat with more BBQ sauce.
Print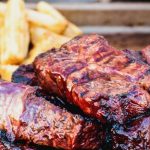 BBQ Country Style Beef Ribs Recipe
---
Author:

Total Time:

2 hours, 10 minutes
Description
Served with your favorite tangy barbecue sauce, country-style beef ribs are tender, boneless, and flavorful. These ribs are made by splitting a Chuck Eye Steak in half lengthwise. You do not have to deal with any bones when preparing this easy recipe.
---
4

lbs

of Country-style beef ribs

1/2 tsp

Black pepper

1/4 tsp

Cayenne

1/2 tsp

Garlic powder

1/4

cup

Olive oil

2 tsp

sea salt

1

cup

of barbecue sauce
---
Instructions
Ensure that your grill is preheated to 275°F for indirect cooking before you start.
Stir together the salt, black pepper, cayenne, and garlic powder in a small bowl.
Brush the ribs with olive oil, then apply the seasoning mixture all over the ribs to ensure they are well-coated.
It is recommended that you place the ribs individually on the grill using tongs, ensuring there is space around each piece of meat.
Grill the ribs for 30 minutes on each side (indirect heat), keeping the grill lid closed.
After the first hour, the ribs should then be moved over direct heat and cooked for another 40 minutes on each side.
It is recommended to turn the ribs occasionally and baste them with barbecue sauce during the last 30 to 40 minutes on the grill to achieve caramelization.
Before removing ribs from the grill, the internal temperature must reach 165°F. Be sure to monitor the temperature as they grill.
Lastly, coat with additional BBQ sauce before serving.
Prep Time:

20 minutes

Rest Time:

10 minutes

Cook Time:

1 hour, 40 minutes
Nutrition
Serving Size:

3 ounces

Calories:

179

Sodium:

65mg

Fat:

13g

Saturated Fat:

5.4g

Protein:

16g

Cholesterol:

60mg
How Long Does it Take to Grill Country-Style Ribs?
It takes around 2 hours to grill country-style ribs. Remember that BBQ is not an exact science, so check in on your meat often because the cooking time depends on the grill's temperature. Make sure the internal temperature reaches at least 165°F.
At 275°F, seven pounds of country-style ribs will take approximately two and a half hours to cook.
What is the Best Temperature to BBQ Country-Style Ribs?
A low temperature between 250°F to 300°F is necessary to tenderize the meat while preserving its flavor and juiciness.
What Should the Internal Temperature of Grilled Country Ribs Be?
When the ribs are finished, the internal temperature should be 165°F. Invest in a meat thermometer if you do not already own one to take the temperature.
What is the Difference Between Country Ribs and Baby Back Ribs?
A country-style rib originates from where the loin meets the shoulder blade while Baby Back ribs are cut from the loin area near the backbone.
Is It Better to Grill Country Ribs on a Gas or Charcoal Grill?
A wood fire is the best way to cook country ribs, but a charcoal or gas grill will also work. Some people prefer to use charcoal, but there aren't any specific advantages to using a charcoal grill.
The key is indirect heat cooking to start and finish the meat over the fire unless you are smoking country-style ribs.
Sides to Serve with BBQ Country Style Ribs
There are so many yummy sides you can pair with country-style ribs. Here are a few of my favorites!
How to Store and Reheat Grilled Country-Style Ribs
Store your ribs in a sealable ziplock bag or a Tupperware with a closable lid.
Reheating Instructions
Set the oven to 250°F.
Add the ribs to an oven-safe dish and coat them in barbecue sauce to keep the ribs moist.
Cover the dish with foil as they warm.
Cook them until they reach 145°F which should take approximately 10 minutes.