Making country ribs starts by trimming the rib rack and removing the membrane before seasoning the meat liberally with your favorite dry spices. The ribs are then placed in a smoker set to 225°F and slow smoked for 4 to 6 hours to achieve a perfect, fall-off-the-bone rack of ribs that is juicy, tender, and has a perfect crust.
Country-style ribs are a cut of meat that you can find near the pork butt, shoulder, and pork loin. You can find them at a butcher shop in a bone-in or boneless variety. Country-style ribs are meatier than a St. Louis cut but have more fat than short ribs.
Soul food lovers adore country-style ribs. While they have an exquisite taste, they're also relatively easy to make – and this country ribs smoked recipe will prove this. All you have to do is be patient and ensure you have a tasty bbq rub to help bring out the natural flavor of the meat!
Step-By-Step Guide to Smoking Country Ribs
Trim your Rib Rack
The first step is to remove the membrane from the back side of each rack of ribs. You can do this using a sharp knife.
Rinse and Pat Dry
Rinse off your trimmed ribs with cold water, then pat them dry with paper towels.
Preheat the Smoker
The ideal temperature for smoking country-style ribs is 225-250°F, but it can vary depending on what kind of smoker you use.
Season the Ribs
Drizzle with oil and then season both sides of your ribs liberally with salt and pepper. You can also opt for a bbq rub like this Kansas City Rib Rub. You can season the ribs right before cooking or do this step ahead of time and keep them in the fridge overnight to soak in all that flavor.
Smoke the Ribs
Smoke the ribs until they reach an internal temperature between 190°F -196°F. Verify the internal temp with a meat thermometer.
Allow the Ribs to Rest
During this time, your ribs will cook more, and the internal temperature will rise about 5°F.
Country-style ribs are just like country music: they're sweet, but they've got a bit of a bite. That bite comes from their smoky flavor. Now that we've summarized all the steps, it's time to show you how to make this delicious pork ribs recipe on a pellet smoker!
Print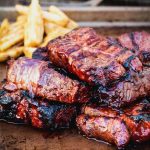 Perfect Smoked Country Style Ribs Recipe
---
Author:

Total Time:

4 hours, 20 minutes
Description
These melt-in-your-mouth smoked country-style pork ribs have a crispy outside and a tender inside, and they're covered in a delicious bbq rub that will make you want to lick your fingers. The smoky flavor of the meat shines through, and they're so easy to make! Remember to serve these with your favorite bbq sauce.
---
Equipment Needed
Meat thermometer
Pellet grill/ Traeger smoker
paper towels
Ingredient List
2 pounds country-style pork ribs (thawed)
1 tbsp olive oil
1 cup BBQ sauce of your choosing
Dry Pork Rub Ingredients
1/4

cup

brown sugar

1 tbsp

kosher salt

1 tbsp

black pepper

1 tbsp

paprika

1 tsp

garlic powder

1 tsp

onion powder

1 tsp

dry ground mustard

1/2 tsp

ground sage
---
Instructions
Preheat your grill to 225°F.
Rinse your ribs in cold water.
Pat the country-style ribs with paper towels until they're dry.
Place them on a plate and start seasoning: drizzle them first with olive oil, then coat the country-style ribs with the dry rub.
When your smoker has finished preheating, place ribs on the grill grate and let your ribs cook for about 3 and a half hours (or until they reach an internal temperature of 160°F).
Remove the ribs from the smoker, braise them with barbecue sauce using a brush, and let them smoke for another 30 minutes (or until they reach an internal temperature of between 190°F – 195°F).
Take the ribs out of the smoker and let them rest for another 10 minutes.
Serve with extra barbecue sauce and your favorite sides!
Notes
For extra moisture, you can regularly spritz your meat while cooking by using a bottle filled with a mixture of apple cider vinegar and apple juice. Do not spritz for the first 2 hours of smoking as this interferes with the development of a crust.
Prep Time:

10 minutes

Rest Time:

10 minutes

Cook Time:

4 hours
Nutrition
Serving Size:

0.5lb

Calories:

433

Sugar:

24g

Sodium:

827mg

Fat:

21g

Saturated Fat:

4g

Carbohydrates:

29g

Fiber:

1g

Protein:

29g

Cholesterol:

109mg
How Long Does it Take to Smoke Country-Style Ribs?
It depends on what temperature you're smoking them at. If you set your smoker to 250°F, it will take approximately 4 hours to smoke Country-style ribs. Of course, time can vary according to the size of your ribs. The essential factor to consider is the internal temperature of the ribs. If you check regularly and ensure they reach 195°F, you can rest assured that your ribs are safe to eat.
What is the Best Temperature to Smoke Country-Style Ribs on a Pellet Smoker?
Low and slow cooking is the key to getting that tender, fall-off-the-bone texture. BBQ ribs are typically smoked for at least 4 hours at a temperature between 225°F and 250°F. When cooking country-style ribs, you want to ensure they have enough time to absorb all that delicious flavor without burning them or drying them out.
What Should the Internal Temperature of Country Ribs Be?
The USDA recommends an internal temperature of a minimum of 145°F (it used to be 160°F) for pork meat. So to consume it safely, you must let the ribs reach this temperature by checking with a meat thermometer. But cooking ribs should go above the minimum requirement. For perfect texture and taste, it's ideal to smoke country-style ribs until they reach an internal temperature between 190° and 200°F.
How Long Does it Take to Smoke Country Ribs at 225?
At 225°F, it will take 4 hours to smoke country ribs.
How Long Does it Take to Smoke Country Ribs at 275?
Generally, it takes about 3 to 4 hours to smoke country-style ribs at 275°F.
What are the Best Wood Chips for Country Style Ribs?
As you might expect, it depends on what kind of flavor profile you're going for! Some people like a sweet, mild taste, while others prefer a more robust, bold flavor. The best wood chips for country-style ribs are the best wood chips for pork meat! So anything that works with pork works with these ribs.
Here are some options:
Hickory
This is one of the most popular woods for smoking because it imparts a strong flavor that works well with pork.
Mesquite
Mesquite has a much stronger flavor than hickory, so use this one sparingly! It's best used as an accent smoke. You can mix mesquite with milder woods to achieve the perfect amount of smoke.
Oak
Oak is a more delicate-flavored wood that pairs well with pork because of its subtlety that doesn't overwhelm the meat.
Apple
Apple will add a mild sweetness to your meat. So if you want to add some fruity notes to your ribs, they're the perfect wood to choose.
Cherry
Cherry wood chips are also sweet and fruity, like apple wood, and they make a great pair with pork ribs.
What You Should Serve with Smoked Country-Style Ribs
Here are a few fantastic sides you can serve alongside your perfectly smoked country-style ribs!
This dish is an excellent option if you want something fresh and light to accompany your dish. The dressing is tart and sweet, and the kale nicely balances the sweetness. 
This Mexican street food classic is perfect for serving alongside smoked meat like ribs because it's full of bold flavors that complement each other well. 
This slaw is full of bright colors and fresh flavors that will make anyone come back for more! Not only is it beautiful to look at, but it's also crunchy and refreshing.
This dish is a classic for a reason—it's rich, creamy, and has just the right amount of spice. This hearty side dish pairs perfectly with smoked country-style ribs.
Who doesn't love mashed potatoes? We all do! These are extra special because they're made with sweet potatoes. Sweet potatoes are full of fiber and have a sweeter taste that works well with ribs!