There are an endless array of complementary side dishes that can be served with BBQ pork but some favorites include baked beans, cornbread, potato salad, and coleslaw. To decide what to serve, consider what seasonal ingredients are available and balance the textures and flavors on the plate.
What Are Classic Sides to Serve with BBQ Pork
If you're serving up BBQ pork as the main course, there are so many delicious side dish options. The perfect side dish doesn't have to be hard to find! BBQ side dishes that pair well with BBQ pork can be simple or extravagant, the choice is yours!
Fruit Salad
Fruit salad is a healthy option that is light and acts as the perfect complement to a BBQ pork sandwich. You can use cranberries and apples to cut through the smoky flavor of the meat while still providing a healthy dose of sweetness. You can also combine more subtle fruits such as watermelon or canteloupe to tame the strong taste of the meat.
To add creaminess to fruit salad, add a dollop of greek yogurt and for a little extra sweetness, a drizzle of your favorite honey.
Baked Potato
A baked potato is another great side dish for BBQ pork because it's simple and filling. Plus, they're an easy side dish to make ahead of time as they keep warm when wrapped in foil, so they're ready when you need them!
Onion Rings
We all know that onion rings are delicious on their own, but they also work well with BBQ pork because they add texture—they're crispy on the outside and soft on the inside.
Macaroni Salad
Instead of macaroni and cheese, consider a macaroni salad. It is made with macaroni noodles, chopped veggies, and a creamy, mayo-based dressing. It can be made ahead of time and can be served cold or at room temperature.
Buttermilk Biscuits with Honey Butter
The saltiness of grilled meat offsets the sweetness of the biscuits, which provides a nice balance of flavors and textural contrast. Plus biscuits are great for soaking up any extra sauce.
French Fries
French fries are a staple at barbeque joints – they're usually served alongside main dishes. You can make crispy fries in a traditional fryer or by using an air fryer. If you're feeling adventurous, try adding jalapenos and parmesan cheese for a Mexican feel to your dish.
Sweet Corn Fritters
These fried balls of cornmeal and flour are often served in the south as a side dish or dessert—but they go equally well with barbecue! The light sweetness of the corn pairs perfectly with the smoky flavor of pork ribs.
Print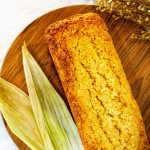 Sweet Southern Cornbread Recipe
---
Description
Cornbread is an option that's sure to fill you up. You can make cornbread savory or sweet, and even add diced jalapenos and cheese for a Tex-Mex version!
---
1

cup

All-purpose flour

1

cup

yellow cornmeal

2/3

cup

granulated sugar

1 tsp

salt

3 1/2 tsp

baking powder

1/3

cup

sunflower oil

1

large egg

1

cup

milk
---
Instructions
Prepare a 9-inch cake pan by buttering it or spraying it with cooking spray and preheat the oven to 400 F.
Mix the dry ingredients – flour, cornmeal, sugar, salt, and baking powder.
Form a hole in the middle of your dry mix and add the egg, milk, and oil.
Stir the mixture until the lumps start to disappear.
Pour the batter into the prepared pan.
Bake for about 20-25 minutes. Place a toothpick in the middle of the batter to check for doneness. Only light crumbs should stick to the toothpick.
Serve your delicious cornbread while it's still piping hot!
What to Serve with a BBQ Pork Sandwich?
BBQ pork sandwiches are typically made of pulled pork. Pulled pork comes from shredded smoked pork shoulder or it can be made in a crockpot (slow cooker).To speed up the process, you can also use an instant pot.
A pulled pork sandwich goes well with simple sides like these:
Potato Chips
You can't go wrong with this classic accompaniment for BBQ sandwiches! Potato chips are the perfect pairing for any pulled pork sandwich. They're crunchy, salty, and easy to make at home!
Sweet Potato Fries
Sweet potato fries add textural contrast to your BBQ pork sandwich and are sure to please everyone at the table. They have a unique taste and are perfect if you want to change your regular potato side dish to something more exciting!
You can add some cheddar cheese, feta, or mozzarella to your fries to take them up a notch!
Baked Beans
The good news is that baked beans can also be slow-cooked (same as with pulled pork), so this combination is a pair made in heaven. Baked beans can be made savory or sweet to complement the sauce on your pulled pork sandwich.
Print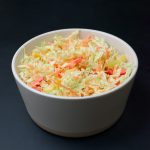 Quick Country Coleslaw Recipe
---
Description
A creamy slaw is an excellent complement to any meat sandwich and pairs exceptionally well with BBQ pork because it adds a touch of sweetness that complements the smoky flavors without overpowering them. Coleslaw is also an easy recipe to make, with just a few simple ingredients!
---
1

white cabbage (or purple)

1

red onion

4

carrots

1 tbsp

Dijon mustard

1/2

cup

Mayonnaise

1 tbsp

white vinegar

1/4 tsp

paprika
---
Instructions
Clean the cabbage – remove the outer leaves and dense core. Slice the cabbage and add to a large mixing bowl.
Peel and grate the carrots, and thinly slice the onion. Place both in the mixing bowl.
Mix the Dijon mustard, mayo, and vinegar together with the paprika and salt in a smaller bowl.
Combine the wet ingredients with the vegetables in the large mixing bowl and stir thoroughly to combine.
Eat immediately or refrigerate for up to 3 days.
What is the Best Vegetable Side Dish to Serve with BBQ Pork?
Fresh vegetables can be both light and filling and can be roasted, grilled, or raw. The best vegetable side dish is really up to you – there are so many options that all pair amazingly well with pork!
Here are some gluten-free and low-carb options that are on the healthy side without sacrificing flavor!
Collard Greens
Collard greens are a vegetable often used as a BBQ side dish, but they can also be the main course. They have a mild flavor and can be paired with many different sauces and seasonings to create a satisfying meal.
Green Beans
Green beans have an earthy flavor reminiscent of fall, which is a great time to serve BBQ pork. Green beans are an excellent choice for a BBQ pork meal because they can stand up to the intense flavors of the meat without overpowering them.
These vegetables are also packed with protein and fiber, so they'll keep you satisfied all afternoon. For extra flavor, you can pair green beans with bacon and a sprinkle of brown sugar.
Zucchini
Zucchini is great at soaking up seasonings while maintaining its own identity and not getting lost in the mix. Zucchini is easy to prep and cook – simply slice, lightly grill, and serve!
Corn on The Cob
Corn on the cob is another classic pairing with BBQ pork because of the textural contrast. The crunchiness of the corn against the softness of the meat is perfect. It's also a good option for large family gatherings and potlucks because everyone loves it.
Grilled Asparagus
Asparagus contains nutrients like iron, calcium, and magnesium and is low-carb. It also tastes great when cooked on the grill or in the oven.
Baked Squash
Squash is full of beta-carotene and vitamin C. The baked version is wonderfully smoky, with a subtle sweetness. It is a surprising side dish because it is not traditional but it adds a wonderful accent to BBQ pork.
Summer Tomato Corn Salad
This side dish is so refreshing. It combines a perfect mix of lettuce, corn, tomatoes, and carrots. Serve it with a light balsamic dressing or a simple sprinkle of salt. It pairs perfectly with pork.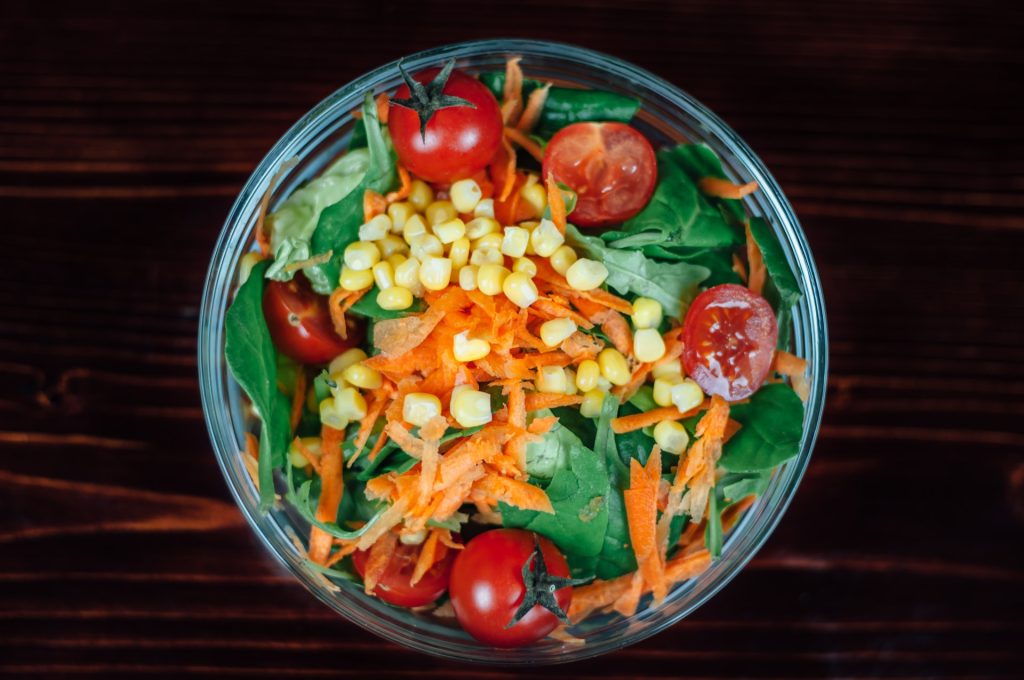 What are the Best Sauces to Serve with BBQ Pork?
All your cookout is missing is the perfect sauce to bring it all together! Try one of these sauces to pair with your delicious BBQ pork.
Classic BBQ Sauce
You can't go wrong with BBQ sauce. You can make a homemade version to suit your taste or buy any BBQ sauce that you love. BBQ pork pairs perfectly with all types of BBQ sauce.
Balsamic Vinaigrette
If you want something lighter than barbecue sauce, try balsamic vinaigrette instead. The tanginess will help balance the sweetness and ensure everything tastes fresh and vibrant.
It's super easy to make at home—just mix equal parts balsamic vinegar, olive oil, honey, and dijon mustard together in a bowl and add salt and pepper to taste! You can also add some garlic if you want more flavor.
Sour Cream
Sour cream gives your BBQ pork a creamy texture that pairs well with crispy skin and juicy meat. Plus, it helps cut through any excess spice or saltiness so everything comes together in one bite! For a delicious ranch sauce, simply add a packet of ranch seasoning to your sour cream!
Ketchup
For those who prefer their food more on the sweet side rather than savory: ketchup is always an option! This household staple balances out the saltiness of the meat with its sweet tanginess and umami flavors.