The best pork steak recipes start by marinating the meat, coating it in a rich pork dry rub, and then grilling at 350°F until it reaches a minimum of 145°F with a caramelized crust. Rest pork steak for 5 to 10 minutes to ensure the meat stays tender and juicy.
Pork steak is also called pork butt, Boston butt, or pork blade steak. It's a cut of meat from the pork shoulder and can be boneless or bone-in. It's one of the most popular grilling meats, next to grilled pork chops and brisket.
There are many pork steak recipes to choose from but the basic method for grilling pork steak remains the same.
Step-By-Step Guide for How to Grill the Perfect Pork Steak
BBQ pork steak has a good amount of fat, which means that when you cook it, the outside will get nice and crispy while the inside stays tender and juicy.
Here are the steps you need to follow to grill pork steak properly:
Marinate your pork steak.
Add your desired marinade to your steak a minimum of 1 hour before grilling, and at most, marinate overnight in the refrigerator in an airtight container.
Preheat the grill.
You will want to heat your barbecue or smoker before cooking the meat. It can be as low as 325°F or as high as 375°F, depending on how crispy you want the exterior.
Season the meat.
Add your preferred pork dry rub to your steak. Most dry rubs for pork contain brown sugar, kosher salt, pepper, garlic powder, onion powder, and paprika. Some also add cumin, chili powder, and cayenne for additional spiciness.
Grill the pork steak.
You can cook pork steak at a temperature of 325°F and let them grill on each side for 20-25 minutes. You can also opt for a higher temperature of 375°F, and grill each side for 8-10 minutes. Check that the interior temperature of the meat reaches a minimum of 145°F before removing it from the grill. Baste with bbq sauce towards the end of the cooking time if you enjoy a sweet glaze.
Let the pork steak rest.
Let the steak rest for about 10 minutes before serving!
Print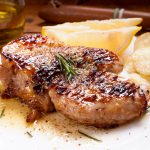 Juicy BBQ Grilled Pork Steak Recipe
---
Author:

Total Time:

1 hour, 55 minutes
Description
The tenderness of the pork is enhanced by the sweet tanginess of the barbecue sauce and the smokiness of the grill in this recipe. It's hard to believe that something so simple can taste so good!
---
3

lbs

pork shoulder steak

24

ounces

light beer

8

ounces

of bbq sauce

3 tablespoon

brown sugar

2 tablespoons

smoked paprika

1 tablespoon

onion powder

1 tablespoon

garlic powder

1 teaspoon

chili powder

1 teaspoon

kosher salt

1/2 teaspoon

black pepper

8

ounces

of light beer (for basting)

8

ounces

of apple juice (for basting)
---
Instructions
Place your pork steak in a container with the light beer to marinate it for a minimum of 1 hour and up to overnight.
Preheat the grill to 325°F.
Place pork steaks on a plate and pat them dry with a paper towel.
Mix the dry rub ingredients in a bowl.
Rub the spices on the pork steak as evenly as you can, ensuring an even coating on all sides.
Optional: For basting while grilling, combine apple juice with a fresh beer in a spray bottle or a bowl. If using a bowl, you will want to mop the meat or brush with a silicone brush.
Grill the pork steak on indirect heat (low-medium) for about 20 to 25 minutes on each side.
Reverse-sear your steak by grilling each side for about 3-4 minutes over direct heat. This is when you'll want to smear barbecue sauce on both sides of the pork steak so it caramelizes.
Allow the meat to rest for 5 to 10 minutes after coming off the grill. Slice and serve!
Prep Time:

1 hour

Rest Time:

10 minutes

Cook Time:

45 minutes
Nutrition
Serving Size:

6 ounces

Calories:

438

Sodium:

117mg

Fat:

28g

Saturated Fat:

10g

Protein:

43g

Cholesterol:

161mg
How Long Do Pork Steaks Take to Grill?
If you grill it at medium heat, finishing a whole pork steak should take around an hour, depending on the thickness of the meat. While you can cook pork steak both on high heat and low heat, the most important thing is ensuring they get to the correct internal temperature for safe consumption which is 145°F.
How Do You Cook Thin Pork Steaks on the Grill?
Thin pork chops require a lot of attention to ensure they don't burn or overcook. Pork steak tends to cook fast, so it is recommended to choose a low temperature to grill thin pork steaks and to keep an eye on them by checking their internal temperature with a meat thermometer.
What is the Best Seasoning for Pork Steak?
This pork seasoning blend is a popular, versatile seasoning that can please even picky eaters and is easy to make. Combine brown sugar, chili, cumin, smoked paprika, garlic powder, onion powder, thyme, oregano, ground mustard, salt & pepper in a bowl, and then cover your pork steak with this dry rub just before grilling.
Best Pork Steak Recipes
These grilling recipes are tried and true, resulting in excellent pork steaks!
A favorite in the midwest, this pork steak recipe features a lager beer and jalapeno hot sauce that will bring heat to the party!
This sticky pork bbq recipe is lip-smacking good. This one has a killer marinade and features soy sauce that adds extra umami flavor to your juicy steak.
The main course is a pork steak with white wine vinegar and dark muscovado sugar, and a side of succulent, smoky, grilled corn.
This foolproof recipe is perfect for beginners and has a marinade featuring craft beer, fresh oregano, garlic, cumin, and paprika. It is bold in flavor and can be made on the grill or in a pan!
If you want something that stands out and is unlike anything you've ever tasted, this recipe is for you. Featuring brown sugar, shallots, and a secret ingredient (fish sauce), this grilled pork steak is perfect for being made into spring rolls or as the star of the plate!
What Are the Best Side Dishes for Pork Steak?
It's okay to let your pork steak shine on its own, but a killer side dish rounds out a meal. Here are some ideas that pair perfectly with pork steak!
It's hard to beat—the sweetness of the corn and the buttery goodness of the pork steak pair perfectly together. Baste with butter or top with mayo and cotija cheese for a real treat!
Cornbread is one of those dishes that seems to go with everything. It has a sweet taste that contrasts perfectly with savory meats like pork steak and makes for a fantastic pairing.
Foil-wrapped onions are one of the simplest sides to make on the grill, and one of the most delicious. The sweet and savory notes are the perfect accent to your pork steaks.
Sweet potatoes are delicious no matter how you slice them (or bake them), and they pair exceptionally well with pork steaks because they add a layer of sweetness. Paired with tangy cheddar cheese, these croquettes are bursting with flavor!
Fruit salad is an excellent side dish for pork steak because it offers a sweet and refreshing note that cuts through the rich meaty taste of the pork steak. Fruit salad can be dressed simply with lemon juice or taken to the next level with whipped topping and jello!
How to Store and Reheat Pork Steak
To store leftover pork steak, place the meat in an air-tight container, put it in the fridge, and consume it within four days. Alternatively, you can freeze it for up to 4 months.
There are many methods of reheating it, but the best is using a skillet. Place the steak in a skillet over medium heat, and add 2 tablespoons of water and 2 tablespoons of butter to the pan. Cover with a lid and let the steak reheat for 3-4 minutes on each side.
If the meat was frozen, thaw it in the fridge overnight before heating it in the pan.