The best recipe for pellet grill spare ribs is the famously easy 3-2-1 method. Start by smoking your ribs uncovered for 3 hours. Then, wrap the ribs in foil or butcher's paper and place them back in the smoker for 2 hours. For the last hour of smoking, unwrap the ribs, and slather them in BBQ sauce until they reach the desired temperature.
The best pellet grill spare ribs can be made with this tried and true method that delivers a smoky flavor.
How to Smoke Spare Ribs on a Pellet Grill
The 3-2-1 method of cooking BBQ ribs is a "best odds" approach to preserving moisture and tenderness throughout the cooking process.
Smoke the ribs uncovered for 3 hours.
Wrap the ribs in foil (or butcher paper) and place them back on the pellet smoker for 2 hours.
Unwrap the ribs, coat them in BBQ sauce and place them back on the grill for 1 hour. The duration of this portion of the cooking process can vary a bit. It is recommended that you remove the ribs after 20-30 minutes if they are at the right temperature; otherwise, wait the entire hour.
What Temperature Do You Cook Ribs on a Pellet Grill?
For the 3-2-1 method, you will heat the pellet grill to 225°F.
How Long Should You Smoke Spare Ribs on a Pellet Grill?
There is a total cooking time of six hours for spare ribs on a pellet grill when smoked at 225°F.
There are few rules in barbecue, and the times shown here are averages rather than exact times. If it is your first time making them, observe the ribs closely as they cook and adjust the time and temperature as necessary.
Print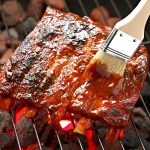 Pitmaster's Pellet Grill Spare Ribs Recipe
---
Author:

Total Time:

6 hours, 20 minutes
Description
Are you interested in mastering the art of making juicy, tender, fall-off-the-bone smoked pork ribs? When it comes to smoking ribs, the 321 method is the easiest way to get perfect spare ribs.
---
Equipment Needed
aluminum foil
large mixing bowl
paper towels
pellet grill
spray bottle
sharp knife
Ingredient List
2

racks of St. Louis-style ribs (baby back ribs or pork spare ribs can be used, but the cooking time will be shortened).
Approximately

3/4

cup

apple juice (1/4 cup for wrapping each rack of ribs and 1/4 cup for spritzing).
For spritzing, use cider vinegar (1/4 cup).

2/3

cups

of either BBQ rib dry rub or Pitmaster BBQ rub.
Approximately

2 tablespoons

of either yellow mustard, butter, or oil per rack of ribs.
For each rack of ribs, use 1/2 cup brown sugar (for wrapping).
To wrap each rack of ribs, use 1/4 cup butter.
If you plan to baste the ribs with sauce, use 1 1/2 cups of barbecue sauce.
---
Instructions
You should heat your pellet grill to 225 degrees Fahrenheit, and keep the lid closed until it reaches that temperature. For this recipe, I recommend using cherry, apple, maple, or mesquite pellets. It is also possible to use hickory or pecan wood pellets for good smoke flavor.
Place the spare ribs on a large cutting board and remove the silverskin membranes from the bone side. With a butter knife, separate it from the edge, get a good grip, and carefully pull it away. If the surface becomes too slippery, use a paper towel. Remove large chunks of fat or loose meat hanging from the bone ribs.
Turn the ribs over so that the flesh side is exposed. For each rack of ribs, you will need 1/3 of a cup of rib rub or you can keep it simple by seasoning them with kosher salt and black pepper.
Before applying the seasoning, brush 2 tablespoons of oil, butter, or mustard over each rack of spare ribs to help the seasoning adhere to the meat. If you choose mustard as the wet binder, it adds a layer of flavor to these pellet grill spare ribs. If you opt for butter or oil, you will only taste the dry rub.
It is important to season the ribs on both sides.
The ribs should be placed bone side down on the grill grates, covered with a lid, and allowed to cook for three hours at 225 degrees Fahrenheit.
Notes
In a clean, food-safe spray bottle, combine apple juice and apple cider vinegar or equal parts apple juice and Dr. Pepper soda. Spray the ribs after two hours of cooking. Do not spritz the ribs before this time. You will want a nice bark to form, and spritzing too early may prevent this from happening.
Prep Time:

20 minutes

Rest Time:

10 minutes

Cook Time:

6 hours
Nutrition
Serving Size:

2 ribs

Calories:

310

Sodium:

430mg

Fat:

27g

Saturated Fat:

10g

Protein:

16g

Cholesterol:

70mg
How Many Spare Ribs Can You Cook at Once on a Pellet Grill?
Meat smokers come in many shapes and sizes, so you must use your best judgment to assess the final amount. That being said, you can cook racks of ribs piled on top of each other, as long as you have tongs to move them around so you can spritz them and turn them every 30 mins to an hour.
Cooking time will be extended by approximately 30% if you double or triple up on racks.
How Long Do Spare Ribs Take at 225 on a Pellet Grill?
5-6 hours of cooking ribs at 225°F are sufficient to reach an internal temperature of 203°F.
Best Side Dishes for Pellet Grilled Spare Ribs
Delicious sides are a big part of having a successful and yummy BBQ.
For these spare ribs, try one of these delectable dishes:
How to Store and Reheat Smoked Spare Ribs
Leftover spare ribs at a BBQ are about as rare as a unicorn sighting, but if for some reason, you are the lucky one who made too many ribs, put them in sealed zip-lock bags or Tupperware with lids and store them in a refrigerator.
The oven should be used for reheating. Place the leftover ribs in a pan, cover them tightly with aluminum foil, and place them in a gentle 250°F oven for about half an hour, or until the meat reaches an internal temperature of 130°F to 140°F degrees.