To make 221 ribs, start by smoking seasoned ribs uncovered for 2 hours over low heat. Next, wrap the ribs inside a foil packet with butter, apple juice, and cider vinegar, and cook at 225°F for two more hours. Lastly, uncover the ribs, slather them in barbecue sauce and smoke them on the grill for one final hour to finish cooking the ribs.
There are many ways to make baby back ribs on a smoker or pellet grill. 2-2-1 ribs are one of the most popular methods.
What is the 2 2 1 Method for Ribs?
The 2 2 1 method for making ribs takes a total time of five hours, and the numbers refer to how many hours each step of the method requires.
That means you need to smoke the ribs for 2 hours, then wrap them in foil and continue to cook them for an additional 2 hours. After that, you cook them for one more hour without the foil.
Benefits of 2 2 1 Ribs
The 2-2-1 method is a great way to hone your skills if you're not used to low and slow cooking methods. It also allows you to add flavor to your meat without overcooking it. This allows the smoke flavor to penetrate the meat. 
In addition to the unique flavor, the 2-2-1 technique helps to tenderize the ribs, making them easier to eat. It also locks in plenty of moisture, so your ribs do not dry out.
What Equipment Do You Need to Make 2 2 1 Ribs?
You can get fall-off-the-bone tender ribs by using any pellet grill or smoker and wood chips or pellets for smoking.
You can use the Big Green Egg, Traeger Pellet Grill, electric smoker, or the good ol' charcoal grill. Just make sure to follow the same time technique. Ensure the smoker is big enough to close the lid without tearing into the foil.
You will also need a butter knife when removing the membrane from the ribs. Simply slide the knife under the membrane and wiggle it to loosen the edge, and slowly peel it back.
You can use paper towels to hold the membrane since it will give you a better grip. You may pull it off all at once, or you may need to remove it in small pieces. 
Print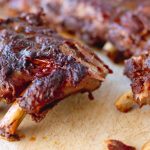 2 2 1 Baby Back Ribs Recipe
---
Author:

Total Time:

5 hours, 55 minutes
Description
The 2-2-1 method is the best way to smoke baby back ribs. This easy smoked baby back ribs recipe can help beginners master smoked ribs in just a few hours!
---
1

rack of baby back ribs (

3

lbs)

1

cup

brown sugar

1 tablespoon

kosher salt

1/2 tablespoon

black pepper

1/4 teaspoon

cayenne pepper

1 tablespoon

chili powder

1 tablespoon

yellow mustard powder

1 tablespoon

onion powder

1/4

cup

apple juice

3 teaspoons

butter

1/2

cup

barbecue sauce
---
Instructions
Trim off the membrane from your ribs.
Create your dry rub by mixing salt, pepper, 1/2 cup brown sugar, cayenne, chili powder, yellow mustard powder, and onion powder in a bowl.
Season the ribs on both sides with the dry rub and keep them at room temperature for about 30 minutes.
Preheat the pellet grill or smoker to 225°F. Add apple wood or hickory wood chips or wood pellets to your smoker.
Place ribs on the grates and smoke them for 2 hours.
Prep the foil pouch for the ribs. Place the butter in the packet and sprinkle the remaining brown sugar over the butter.
Place ribs with the meat side of the ribs down into the pouch. Pour the apple juice over the ribs, and seal the foil pouch tightly.
Place the foil-wrapped ribs back on the pellet grill with the meat side of the ribs down and smoke at 225°F for 2 more hours.
Pull the ribs off the grill and open the foil. Remove the ribs from the foil packet.
Place the ribs back on the grill uncovered, this time with the meat side facing up. Baste with BBQ sauce.
Smoke the ribs for one last hour or until the internal temperature reaches 195°F.
Pull the smoked ribs off the grill, and place them on a cutting board.
Rest for about 10 mins at room temperature and slice carefully between bones to serve!
Prep Time:

45 minutes

Rest Time:

10 minutes

Cook Time:

5 hours
Nutrition
Serving Size:

454g

Calories:

1251

Sugar:

20g

Sodium:

996mg

Fat:

85g

Saturated Fat:

31g

Carbohydrates:

25g

Fiber:

0.6g

Protein:

91g

Cholesterol:

330mg
What is the Best Temperature to Smoke 2-2-1 Ribs?
BBQ ribs are best smoked low and slow. Always cook ribs at low temperatures in the smoker or on the grill. The best temperature to smoke 2-2-1 ribs is 225°F.
How Can You Tell 2-2-1 Ribs are Done?
2-2-1 ribs are done once they reach an internal temperature of 195°F, so avoid cooking them beyond this point.
Besides the internal temperature, there are a few visual cues that make it easy to tell when the ribs are done:
The meat will shrink and pull back from the bones slightly.
A rack of ribs should bend slightly if picked up with a pair of tongs.
A wood skewer should pass easily through the pieces of meat.
How Long Does it Take to Make 2-2-1 Ribs?
It takes 5 hours to make 2-2-1 ribs. The 2-2-1 approach for BBQ ribs stands for two hours of smoking unwrapped, two hours of smoking wrapped in heavy-duty aluminum foil, and one final hour of smoking unwrapped.
What is the Difference Between 3-2-1 Ribs and 2-2-1 Ribs?
The 3-2-1 ribs method and the 2-2-1 ribs method are both popular ways of smoking ribs. The 3-2-1 ribs method is ideal for smoking spare ribs while the 2-2-1 approach is best for baby back ribs.
The 3-2-1 method means the ribs should be cooked uncovered for 3 hours before being wrapped in foil for 2 hours, followed by 1 hour unwrapped and basted with bbq sauce. The higher fat content of spare ribs makes the 3-2-1 method better for them, as they need additional uncovered time to smoke.
Conversely, the 2-2-1 rule stands for two hours unwrapped, two hours wrapped, and one final hour unwrapped. This method is better for lower-fat ribs and helps ensure they don't dry out.
What is the Best Type of Ribs to Use for 2-2-1 Ribs?
The best 2-2-1 ribs are baby back ribs. These pork ribs have a low-fat content, so they dry out quickly. A shorter cooking time is better for them.
What is the Best Rub for 2-2-1 Ribs?
Seasoning ribs with a rib rub or bbq rub is vital to ensuring they are full of flavor! The best rib rubs will have a blend of salt, sugar, chilis, and spices.
Many options are available for dry rubs, including the award-winning Myron Mixon rib rub. It uses kosher salt, paprika, garlic powder, onion powder, and cayenne pepper for a bold, and spicy flavor.
Another delicious rib rub is Sweet and Spicy Kansas City Rib Rub, which is perfect for baby back ribs!
Be sure to season all sides of the ribs liberally when applying rib rub to your ribs and keep the ribs at room temperature for around 30 mins to allow the rub to bind to the ribs before smoking.