To make Country Ribs on a Traeger pellet grill, preheat the grill to 225°F and add wood pellets. Place the seasoned ribs directly on the grill grates and allow them to smoke for at least 3 hours until they reach an internal temperature of 200°F. Brush occasionally with barbecue sauce during the last hour on the grill.
How to Make Country Ribs on a Traeger Pellet Grill
Tools Needed to Make Country Ribs on a Pellet Grill
To make Traeger-smoked country-style ribs, you'll need to gather a few tools before you begin:
Aluminum foil
Basting brush
Spray bottle
Traeger pellet grill or pellet smoker
Wood pellets
Once you have everything you need, it's time to prep your ribs.
How to Prepare the Ribs for Smoking
To prepare your boneless ribs for smoking, rinse them and then pat them dry with a paper towel.
Trim any uneven parts from each rib and coat them in a thin layer of olive oil.
Next, apply a bbq rub or dry rub on all areas of the ribs.
Let the ribs sit at room temperature for 15 minutes before smoking.
Prepare the Pellet Grill
You'll need to preheat the pellet grill to 225°F. Fill the pellet grill with hickory or pecan pellets to give the ribs a smoky flavor.
Smoke the Country Ribs
Smoke the ribs for about three hours at 225°F. Each hour, baste both sides of the meat with barbecue sauce.
Another option is to spritz the ribs each hour instead of basting. To make a spritz, combine one cup of apple juice with half a cup of apple cider vinegar. Pour into a food-safe spray bottle and lightly mist the ribs.
The country ribs are done smoking once they reach an internal temperature of 200°F.
How Long to Rest the Smoked Country Ribs
Let the smoked meat rest uncovered for 10-15 minutes before serving.
Print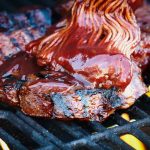 Smoked Bourbon Traeger Country Ribs Recipe
---
Author:

Total Time:

6 hours, 15 minutes
Description
Use a Traeger grill to make these sweet, juicy, meaty smoked country-style pork ribs with ease. The method for this recipe is perfect for beginners. It has a longer cook time, but the result is well worth the wait! You can also use this recipe for bone-in rib varieties like spare ribs, short ribs, and St. Louis-style ribs.
---
2

lbs

boneless pork ribs or beef ribs

1 tablespoon

bourbon

1 tablespoon

brown sugar

1 tablespoon

garlic powder

1 teaspoon

pepper

1 1/2 teaspoon

salt

1 tablespoon

smoked paprika

2 tablespoons

yellow mustard
---
Instructions
Dry the ribs with a paper towel and trim off any membrane from the bone side of the ribs.
Combine dry ingredients in a small bowl to create the dry rub.
Brush the ribs with yellow mustard and then coat them with the dry rub.
Preheat the grill to 225°F and add your wood pellets.
Smoke the ribs for 3 hours. Pull the ribs off the smoker, and create a foil packet using aluminum foil. Pour the bourbon into the packet, and seal tightly. Cook them for 2 more hours.
Remove ribs from the foil and cook for another hour uncovered.
Let the ribs rest for 5-10 minutes before serving.
Prep Time:

5 minutes

Rest Time:

10 minutes

Cook Time:

6 hours
Nutrition
Serving Size:

3 ribs

Calories:

472kcal

Sugar:

3.1g

Sodium:

1085mg

Fat:

37.4g

Saturated Fat:

12g

Carbohydrates:

5.1g

Fiber:

0.6g

Protein:

25.3g

Cholesterol:

127mg
Target Internal Temperature for Traeger Country Ribs
Ribs are safe to eat once they reach an internal temperature of 145°F. However, the ideal internal temperature for tender meat and classic rib texture is 200°F.
Use a meat thermometer to check the internal temperature of the ribs.
How Long Does it Take to Smoke Country Style Ribs at 225?
It takes approximately 4 to 6 hours to cook country-style ribs at 225°F.
What is the Best Temperature for Smoking Country Style Ribs?
The best temperature for smoking country-style ribs is between 225°F-250°F. This range allows the ribs to cook slowly and evenly, which results in tender and juicy ribs.
What is the Best Country Style Rib Rub?
The best country-style rib rub is a homemade one. Homemade rubs are the best because you can customize them.
This dry rub recipe is excellent for different types of pork meat including country ribs, pork loin, and pork shoulder. The brown sugar adds sweetness while the mustard and cayenne give it a little heat. The paprika adds smokiness and the onion and garlic powder add an umami flavor.
Best BBQ Sauce for Country Style Ribs
This Kansas-City Style BBQ sauce recipe is tried and true and is the perfect BBQ sauce for country-style ribs. It provides a classic BBQ flavor by balancing savory and sweet with a hint of heat and is my favorite to eat with country-style ribs!
Top Tips for Smoking Country-Style Ribs
After applying a dry rub or wet rub on the ribs, place the seasoned ribs in a ziplock bag or airtight container and coat them with seasoning. Store them in the refrigerator for 12 to 24 hours to marinate them. This time allows the seasoning to penetrate the meat for deeper flavor.
Soak your ribs in a liquid marinade. Liquid marinades have acidic ingredients that will help tenderize the meat while being infused with flavor!
Wrapping your ribs with aluminum foil and adding liquid to them part way through cooking helps them remain moist, ensuring they don't dry out. Try adding a cup of apple juice, apple cider vinegar, or even a can of rootbeer to add moisture and additional flavor.