The secret to a succulent smoked pork tenderloin is using a dynamite rub and smoking on a pellet smoker at 225°F until you reach an internal temperature of 145 ºF.
What is the Best Way of Smoking Pork Tenderloin on a Pellet Smoker?
Smoking pork tenderloin is simple and takes little prep time. It is important to season your pork tenderloin with oil and a dry rub before you place it in the grill. The best way of smoking pork tenderloin is low and slow with a lot of savory smoke. You can achieve this by keeping your smoker temperature steady at 225°F.
Sit back, relax, and let your smoker do most of the work!
Print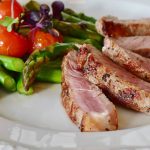 Smoked Pork Tenderloin on a Pellet Smoker
---
Total Time:

1 hour 45 minutes

Yield:

4

1

x
Description
This smoked pork tenderloin recipe is sweet, smoky, and gives you a perfectly pink pork tenderloin that your family will beg you to make again.
---
1

Pork Tenderloin

1/4

cup

Olive Oil

1 tbsp

Dried Parsley

2 tsp

Garlic Powder

2 tsp

Onion Powder

1 tbsp

Paprika

1 tsp

Black Pepper

2 tsp

Kosher Salt

1/4

cup

Dark Brown Sugar
---
Instructions
Set the smoker to an internal temperature of 225°F and preheat the grill with the lid closed for 15 minutes.
Add wood pellets to the grill
Remove the pork tenderloin from the package it came in. Rinse it with cold water. Dry it using a paper towel.
Using a sharp knife, remove excess external fat and any silverskin from the tenderloin.
Once the tenderloin is dry, pour olive oil over the tenderloin, coating it thoroughly.
Mix all of the dry spices together in a small mixing bowl.
Sprinkle your homemade pork rub on all sides of the tenderloin.
After thoroughly covering the tenderloin, use tongs to place the tenderloin onto the grill grates.
Smoke for around 1 ½ hours until the internal temperature reaches 145 degrees F.
Remove the tenderloin from the smoker. Allow it to rest for five minutes for even redistribution of the juices.
Top with sauce, if desired.
Slice into medallions and serve alongside your favorite sides!
Prep Time:

15 minutes

Cook Time:

1 hour 30 minutes

Cuisine:

American
How Many Servings in a Pork Tenderloin?
A 2-pound pork tenderloin serves 2 – 4 people while 4 pounds is enough for 6 -8 people.
How to Season Smoked Pork Tenderloin
Pork grilling recipes such as smoked pork tenderloin are wonderful because they are tasty and inexpensive compared to other meats and the seasoning ingredients are available at any grocery store.
Pork tenderloin is a blank canvas for any type of flavor profile and can fit your preferences!
Saucy – Baste the tenderloin with your preferred BBQ sauce around 30 minutes before the end of cook time. Avoid adding it earlier, as the sugar in the sauce might burn.
Spicy – For a spicy variation, add chili or cayenne pepper flakes to your dry rub.
Sweet – Add some extra brown sugar to the spice rub for sweet pork tenderloin.
Less sweet – If you want your tenderloin to be less sweet, reduce the brown sugar in the BBQ rub.
The Best Wood Pellets to Use for Smoking Pork Tenderloin
A vast array of wood pellet flavors exist to complement pork tenderloin.
Fruit woods such as pecan, maple, or apple are the best choice to pair with pork tenderloin.
Applewood
Applewood and pork go together like peanut butter and jelly. It's fruity, sweet, and delicious flavor complements the rich taste of a smoked pork tenderloin.
Cherry Wood
Cherry wood adds a spicy and sweet smoke to your tenderloin. Use it if you desire a subtly sweet, fruity flavor.
Pecan Wood
Pecan wood is on the milder side and can be mixed with other wood pellets as part of a blend.
Keeping a Pork Loin Moist When Smoking
If you want to ensure a moist end-product when smoking lean meat like pork tenderloin, spritzing is a great way of adding moisture during the smoking process. Use apple cider vinegar or apple juice and spritz the tenderloin every 30 – 45 minutes to keep it moist using a spray bottle.
Another option for keeping smoked pork loin moist is to marinate it in a brine ahead of time. Pork tenderloin that has been brined in a liquid solution of rice vinegar, water, along with spices and salt helps tenderize, moisturize, and add flavor to your pork loin.
Smoked Pork Tenderloin Side Dishes
Pork tenderloin is a pocket-friendly, versatile, and flavorful cut of meat. Ideal for hectic weeknight dinners, it pairs incredibly well with an array of sides.
Try these delicious side dishes to jazz up your smoked pork tenderloin.