This homemade smoked turkey rub is easy to make but it boasts big, bold, flavors. Simply combine rosemary, thyme, and sage with salt, brown sugar, black pepper, cayenne, and chili powder. Mix thoroughly and you're all set! This rub allows you to impart an incredible backdrop of earthiness that complements the smoky flavor of your favorite smoked turkey.
Should You Season Turkey Before Smoking?
The answer is yes. Whether you are smoking a whole turkey, a turkey breast or a turkey leg, seasoning turkey is an excellent way to enhance its flavor. For an authentic BBQ taste and to complement the smoke from the grill, apply a simple Sweet Rub or Smoked Turkey Rub to the surface of your turkey.
Print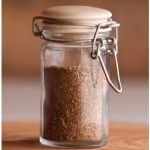 Best Smoked Turkey Rub Recipe
---
Description
There is nothing better than paprika, chili powder, and cayenne when it comes to deep smokey flavor in meats or poultry. With this rub, you can make the most palate-pleasing turkey rub around, combining 7 classic BBQ seasonings with 4 tasty herbs.
---
2 tbsp

brown sugar

1/4 tsp

cayenne pepper

1 tbsp

chili powder

1 tbsp

coarse ground black pepper

1/2 tsp

dried sage

1 tsp

dried thyme

2 tbsp

fine sea salt

1 tbsp

garlic powder

1 tbsp

ground onion powder

1 tsp

minced dried rosemary

1 tbsp

smoked paprika
---
Instructions
Combine all ingredients in a bowl, ensuring they are well incorporated, and no clumps remain.
The turkey rub is ready for immediate use! If you don't intend to use all of it immediately, you can store the rub in an airtight container for up to 3 months.
Notes
The turkey seasoning dry rub recipe can be used on any part of the turkey. You can use it in air fryers, ovens, or grills.

Table salt is much stronger than sea salt or kosher salt, and the recipe will taste too salty if you replace it with these salts.

If you wish to make a sugar-free version, substitute golden erythritol, golden monk fruit, or coconut sugar for the brown sugar. 

Buy spices in small quantities from the bulk section of the grocery store rather than purchasing entire bottles of each spice. This will save you a great deal of money.

Slather olive oil on the turkey before applying the smoked turkey rub to help it stick to the meat.

Apply the rub at least 2 hours before smoking for the best flavor.

Always add dry rub beneath and on top of the skin.
How to Season Turkey
To get the best flavor from your smoked turkey, you should season it twice: once with a dry or wet brine and then again with a dry rub.
Here is a step-by-step guide to seasoning turkey:
Prepare your bird. Remove the giblets and neck from the turkey after it has been defrosted. Keep those for use in your favorite turkey stock or turkey gravy recipe.
Turkey Brine. It is recommended to brine the turkey using a dry brine or wet brining method before applying the turkey dry rub. When the breast meat is brined, it is evenly and thoroughly seasoned, as well as kept juicy during the long smoking process.
Pat dry. Before adding mustard or olive oil and dry rub, pat the brined turkey dry with paper towels to ensure the rub adheres evenly.
Season. Rub the entire bird with mustard, olive oil, or vegetable oil to form an even layer. Slather on the spices and seasonings as they will adhere to the surface. Be sure to get the rub into all the nooks and crannies between the wings and inside the bird cavity for the best results.
How to Keep a Turkey Moist While Smoking
The best turkey is a moist turkey, everyone knows that! When smoking, you have to take steps to safeguard against dryness.
It is best to smoke the turkey directly on the grill grates, using a roasting pan filled with 1 inch of water underneath the grates about 3-4 inches from the meat. It will keep the cooking environment moist while ensuring that the outside of the turkey skin is crispy.
What are the Best Wood Chips for Smoking Turkey?
Depending on your preferences and the type of meat smoker you have, applewood and hickory are excellent woods for smoking poultry.
What Flavor is Best to Smoke a Turkey?
When smoking poultry, avoid wood pellets with strong flavors such as mesquite (unless you enjoy a strong smoke flavor). Smoking with fruitwood (such as apple) goes best with mild meat like turkey.
How Long Should You Smoke a Turkey?
You will need to consider the size of your turkey, the smoked turkey recipe you're using, and the type of smoker you have (whether pellet grill or electric) when figuring out the cooking time for your turkey. It is recommended that you allow 30 – 40 minutes for each pound of meat to smoke but if you set a higher temperature it will take less time. A smoker set to 300 degrees Fahrenheit will smoke a turkey at a rate of about 20 minutes per pound.
Another method that will considerably shorten the smoking time is to smoke a spatchcocked turkey (a turkey that has been butterflied) rather than a whole turkey. Either way, you'll have a delicious smoked turkey with phenomenal seasoning!