To make the perfect smoked turkey burgers Traeger recipe, use cherry, apple, or maple wood pellets and smoke your dry-rubbed burger patties at 250°F until the internal temperature reaches 165°F. Place the patties on toasted ciabatta buns with arugula, avocado, jalapeno, tomato, and mayo for a balanced burger bursting with a smoky flavor.
How to Smoke Turkey Burgers on a Pellet Grill
To create the perfect turkey burger on a pellet grill, it is vital that the temperature is correct and you use high-quality wood pellets to infuse your turkey patties with smoke.
Choose 85/15 turkey meat.
The ideal ratio of meat to fat for turkey should be 85/15. Don't go for anything leaner than that or risk a dry burger that won't easily take in smoke.
Ensure the turkey meat is thawed before smoking.
Thaw your meat slowly before cooking it. Don't let it defrost on the counter.
Form patties that are 1/2" thick.
Make your patties slightly bigger than the burger bun because they will shrink during the cooking process. A good size is 1/2 inch thick with a diameter of 3″ to 4″.
Smoke at a low temperature.
Smoke your meat patties slowly, at a temperature of 225°F to 250°F.
Allow patties to reach 165°F.
Always always check the internal temperature of the meat patties – you have to ensure they've reached 165°F to be safe to eat, per the USDA.
Toast the burger buns.
You can toast the buns on your pellet grill while your burgers cook.
Assemble your burgers.
Assemble your burger by adding the patty to the toasted bun and top with cheese, pickles, or an assortment of your favorite toppings.
Print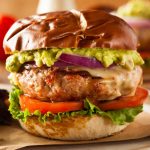 Juicy Traeger Turkey Burger Recipe
---
Author:

Total Time:

30 minutes
Description
As you bite into the juicy patty, you'll be greeted with a burst of flavor from the spicy and creamy toppings and the delicious, moist wild turkey meat. The flavors are perfectly balanced, so every component shines through without overpowering the others.
---
2

lbs

ground turkey

1

cup

arugula

1

avocado (sliced)

2 tbsp

chopped cilantro

1/2

lemon (juiced)

1/3

cup

mayonnaise

1

whole jalapeño (de-seeded and diced)

1

beefsteak tomato, sliced

3 tbsp

Traeger Fin & Feather Rub

5

whole ciabatta buns
---
Instructions
Mix the mayo, lemon juice, and dry rub in a small bowl.
Preheat the Traeger grill to 450°F and keep the lid closed. Add applewood pellets to the Traeger.
Take a large bowl and mix ground turkey, jalapenos, cilantro, and the Fin & Feather rub.
Form the meat patties by taking 5 to 6 ounces of the mixture into your hand. First, make them into meatball shapes and flatten them to ensure they are a patty shape. Aim for 1/2" thick patties.
Place burger patties on grill grates. Cook the patties for 5 to 7 minutes, then flip the patties and cook for an additional 5 to 7 minutes.
Check the internal temperature of the turkey meat patties. They must reach 165°F before you take them off the grill.
During the last few minutes of the burgers cooking, toast the burger buns on the Traeger. Once the burgers are done cooking, and the buns are toasted, assemble your burgers and enjoy!
Prep Time:

15 minutes

Cook Time:

15 minutes
Nutrition
Serving Size:

1 burger

Calories:

540

Sodium:

791mg

Fat:

27g

Saturated Fat:

11g

Carbohydrates:

40g

Protein:

34g

Cholesterol:

122mg
Best Turkey Meat to Buy for Turkey Burgers
You always want to pick turkey meat with the highest fat content for making turkey burgers. Most stores have either a 93/7 ratio of meat-to-fat for their ground turkey meat or an 85/15 ratio.
You should always choose 85/15 turkey ground meat – 85% meat and 15% fat. That way, your meat patties turn out juicier.
Best Temperature to Cook Turkey Burgers on a Pellet Grill
The best temperature to cook turkey burgers on a pellet grill is 450°F.
How Long Does it Take to Cook Turkey Burgers on a Pellet Grill?
If cooking turkey burgers at 450°F, it takes 15 to 20 minutes to cook turkey burgers on a pellet grill. If smoking at a lower temperature of 250°F, it takes 30 to 35 minutes to cook.
The time it takes can vary depending on the thickness of the burger patties, and unlike ground beef made for beef burgers, turkey meat must reach an internal temperature of 165°F.
Target Internal Temperature for Turkey Burgers
The USDA recommends an internal temperature of 165°F for ground turkey meat to make it safe. Anything below that puts you at risk of illness. When it comes to poultry, no risk is acceptable, so don't just eye your meat and take it off the grill when you "think" it's ready. You always have to measure the result by using a meat thermometer.
How to Ensure Moist Pellet Grilled Turkey Burgers
If you want to make sure your turkey burgers are moist and delicious, there are a few things you should do. If your patties have reached 160°F, you can remove them from the grill, and rest them until they reach 165°F. This will help ensure they don't overcook and dry out.
Another thing to be mindful of is not pressing your patties with a spatula. That's a sure way to lose all that valuable juice from inside them.
Best Wood Pellets for Turkey Burgers
What kind of wood pellets should you use for turkey burgers? It depends on what type of flavor you're going for. For turkey burgers, the milder, the better.
Here are a few different ones to try:
Maple
This sweet and mild-flavored wood will give your burgers a hint of sweetness without overpowering them with other flavors. It's great for smoking foods like chicken and turkey!
Apple
Applewood has a fruity aroma that makes it perfect for smoking foods like salmon or other seafood. It'll add an exciting twist to your turkey burgers without overshadowing them.
Cherry
The sweet smell of cherry wood is perfect for smoking foods like poultry, so it's no surprise that it goes well with turkey burgers! It adds a mildly sweet aroma that makes your turkey shine.
Favorite Toppings for Smoked Turkey Burgers
Smoked turkey burgers are already great as a main course, but you can take it to the next level by adding a variety of fun toppings!
The sweet, minty, and musky combination is lovely and will give your burgers a unique twist—you'll be amazed at how much flavor these two ingredients can add!
The sweetness of the pineapple goes excellent with the smokiness of the turkey. Add bacon slices for extra crunch!
This combination is perfect if you want a Mediterranean feel to your meal. The pesto adds an extra layer of flavor, while the sun-dried tomatoes add a sweet tanginess that pairs nicely with the soft cheese.
If you're looking for something crunchy and satisfying, try these fried eggplant slices on your smoked turkey burger. They're also great if you want something more substantial.