To smoke a turkey in an electric smoker, brine, season, and stuff your turkey (if desired). Set your electric smoker to 225°F and add wood chips. Smoke the turkey breast side down, basting with butter and drippings every hour until the internal temperature of both the breast meat and legs reaches 165°F.
What is The Best Way to Smoke a Turkey in an Electric Smoker?
Smoking a turkey in an electric smoker is simple to do. Follow this step-by-step guide for the perfect smoked turkey!
Tools Needed to Make Turkey in an Electric Smoker
Aluminum foil
Bowls
Butcher's twine
Electric smoker
Meat thermometer
Paper towels
Turkey injector or baster (optional)
Wood chips (hickory, oak, or cherry)
How to Prep Turkey for Smoking
Start by buying a whole turkey from your local butcher. If you wish to brine the turkey, do so the day before you smoke it. Remove the turkey from the brine, then pat it dry.
Fill the turkey's cavity with aromatics such as a bundle of fresh herbs and quartered lemons if desired. Tie the turkey legs together with the butcher's twine.
If you wish to inject it with marinade or butter, you can do so, or simply cover the bird with butter and a dry rub under the skin and on the outside of the turkey. You can keep the turkey rub simple. A typical mix includes kosher salt, black pepper, paprika, garlic powder, and onion powder.
After seasoning the bird, ensure you bring the turkey to room temperature before smoking.
Prepare the Electric Smoker
Preheat the electric smoker to 225°F. Once preheated, add the wood chips to the tray or box designated for them. Place the tray or box of wood chips in the smoker.
Smoke the Turkey
Place the turkey on the rack in the smoker. Close the lid and smoke the turkey until the internal temperature reaches 165°F – check by using a temperature probe. You can baste the turkey with a mixture of butter and seasonings halfway through the smoking time.
How Long to Rest Smoked Turkey
Once the turkey has reached the desired internal temperature, remove it from the smoker and let it rest for at least 20-30 minutes before slicing and serving. This will allow the juices to redistribute and make the meat more tender. You can cover the turkey with aluminum foil to keep it warm while it rests.
Print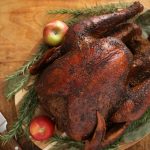 Apple-Pecan Stuffed Turkey Electric Smoker Recipe
---
Author:

Total Time:

7 hours, 45 minutes
Description
If you're looking for a way to elevate your Thanksgiving dinner this year, look no further than this perfect smoked BBQ turkey recipe. The best part? It's got all the fixings: sweet and savory, crunchy and tender!
---
Smoked Turkey
1

12-17lb turkey with giblets removed

4

–

6

oz

Tony Chachere's Praline Honey Ham Injectible Marinade

1/2

cup

vegetable, olive oil, or canola oil
Candied Pecans
1

cup

whole pecans

4 tbsp

water

3 tbsp

brown sugar

1 tsp

Tony Chachere's Original Creole Seasoning
Apple Stuffing
1

loaf wheat bread cut into

1/2

" cubes

2

tart apples (peeled, seeded, and diced)

8 tbsp

butter

1 1/2

white or yellow onion (diced)

2

stalks of celery (diced)

4

cloves minced garlic

2 tbsp

fresh chopped parsley

1 tbsp

fresh chopped rosemary

1 tsp

fresh thyme leaves removed from the stem

1/2

cup

quick candied pecans (chopped)
Fresh parsely for garnish
---
Instructions
Make the Candied Pecans
Heat a skillet on high heat and place pecans inside for 3 to 5 minutes, until toasted.
Mix Tony's Original Creole Seasoning in a small bowl with water and brown sugar.
Take the pecans out of the pan and place the mixture over them until covered.
Let them cool on a baking sheet.
Store them in an airtight container before using them.
Make the Apple Stuffing
Let the bread sit out until it becomes stale – this will take about 4-6 hours.
Heat a skillet to medium temperature and coat it with butter.
Saute onion, apple & celery for about 5-7 minutes
Add garlic, rosemary, parsley, and thyme to the sauteed mix and cook for another 30 seconds.
Take a large bowl and combine bread with this mixture, spreading it on the pieces.
Chop the candied pecans and add them to this mix, then set the bowl to the side.
Make the Smoked Turkey
Preheat the smoker to 200-225 degrees F.
Pat the turkey dry by using paper towels
Place turkey in an aluminum or rimmed roasting pan.
Put the turkey wings behind the body and tie them with twine. Make sure to leave an opening where you're going to place the stuffing.
Fill the injector with Tony's Praline Honey Ham Injectable Marinade.
Inject the marinade at a distance of 1/2 – 1″ from each other
Place the turkey pan into the electric smoker and let it cook for about 3 hours.
Remove the turkey from the smoker slowly.
Gather the drippings from the pan and place them in a separate bowl.
Place the turkey on the cutting board with the breast side up. Stuff with the onion, pecan, and apple mixture
Take another bowl and combine the oil and seasoning.
Brush this mixture over the turkey.
Smoke for an additional 3 hours. During this time, keep basting the turkey every 30 minutes with the drippings and oil mixture.
Once it reaches an internal temperature of 165°F, take the turkey off the grill.
Cover the turkey and let it rest for 25-30 minutes
Additionally, you can use the leftover drippings and giblets to make gravy.
Serve and carve your turkey as desired!
Enjoy your Thanksgiving turkey next to your favorite side dishes!
Notes
You can replace injecting the turkey by brining it beforehand with a turkey brine recipe containing apple juice, brown sugar, salt, and cold water.
You can make the stuffing and pecans ahead of time for convenience. Simply store the prepared items in airtight containers in the refrigerator.
The cooked turkey will last 3-4 days in the fridge and 2-3 months in the freezer. The stuffing will last 3-4 days in the fridge and 1 month in the freezer. The candied pecans will last 2 weeks in the pantry, 1 month in the fridge, and 2 months in the freezer.
If you want to reheat cooked frozen turkey, ensure it is thoroughly defrosted before warming it.
Prep Time:

25 minutes

Rest Time:

20 minutes

Cook Time:

7 hours
Nutrition
Serving Size:

10 ounces

Calories:

918kcal

Sugar:

10g

Sodium:

586mg

Fat:

53g

Saturated Fat:

13g

Carbohydrates:

15g

Fiber:

2g

Protein:

80g

Cholesterol:

325mg
What Wood is Best for Smoking Turkey in an Electric Smoker?
Many different types of wood can be used for smoking turkey.
Pick maple if you want a mild flavor that won't overpower your turkey. Applewood and cherry are sweet, fruity, and soft types of wood that work great with poultry. Pecan is a nutty and sweet type of wood that is also a good choice for poultry.
Mesquite and hickory can be a little overpowering for white meat, as they can add a robust smoky flavor that can be overwhelming for mild meat.
It is important to note that some electric smokers do not have the option to add wood chips. You can skip this part if your electric smoker does not have this feature.
Target Internal Temperature for Smoked Turkey
Unlike other types of meat, poultry meat has to reach a higher temperature to ensure it's safe to eat. Turkey meat has to have an internal temperature of 165°F.
Leave no room for error, and always check the internal temperature using a meat thermometer.
How Long Does it Take to Smoke a Turkey in an Electric Smoker?
Smoking time can vary depending on factors like the size of the turkey and the temperature of your smoker. Here are some estimates:
| | |
| --- | --- |
| Turkey Weight (pounds) | Smoking Time (hours) |
| 10 pounds | 5-6 hours |
| 12 pounds | 6-7 hours |
| 14 pounds | 7-8 hours |
| 16 pounds | 8-9 hours |
| 18 pounds | 9-10 hours |
| 20 pounds | 10-11 hours |
Best Electric Smoker Temperature for Turkey
Typically, a low and slow cooking method is best for smoking turkey in an electric smoker. The best temperature range is between 225°F and 250°F.
Should Turkey Be Brined Before Smoking?
It is recommended to brine a turkey before smoking it, as brining helps to keep the meat moist and flavorful during the smoking process.
The salt in the brine helps to break down the proteins in the meat, making it more tender and moist and preventing it from drying out during the long smoking process. Additionally, a brined turkey will also help to reduce the amount of time it takes to cook.
Should Turkey be Wrapped While Smoking?
Wrapping turkey like brisket is not recommended as it can cause the skin to become soggy and prevent it from becoming the golden brown and crispy skin you're looking for in poultry.
How Large of a Turkey Can You Fit in an Electric Smoker?
The size of a turkey that can fit in an electric smoker will depend on the specific model and size of the smoker.
Most electric smokers are generally designed to accommodate turkeys up to 14-16 pounds in size. Some larger electric smokers may be able to accommodate even bigger turkeys. Check the capacity of your smoker or size it up with a ruler.
You can also smoke a much larger turkey in your electric smoker by cutting it into smaller pieces and smoking the parts separately.