300°F is the optimal temperature for smoking turkey. Turkey cooks at a rate of around 20 minutes per pound at this temperature and will take around 4 hours to smoke. If you spatchcock a whole turkey before smoking it, this reduces the smoking time significantly, reducing it to a mere 2 hours.
Whole Smoked Turkey Temperature Chart
Although you may set a lower smoker temperature, 300°F is the best temperature because it keeps the meat moist while cooking and doesn't take all day. It only takes around 4 hours to smoke turkey at 300°F. To reduce the overall cooking time, consider spatchcocking your bird before smoking.  
Better yet, instead of cooking based on time, you should smoke turkey to the right internal temperature. Make sure the temp in the thickest section of the bird is between 170°F to 175°F.
Here's a general guideline for the temperatures and times for smoking turkey at 300 degrees. Generally, plan to smoke turkey at 15 to 20 minutes per pound.
| | |
| --- | --- |
| Weight of Turkey  | Smoking time  |
| 8 to 10 lbs | 2 to 3½  hours |
| 10 to 12 lbs | 2½ to 4 hours |
| 12 to 14 lbs | 3 to 4½ hours |
| 14 to 16 lbs | 3½ to 5 hours |
| 16 to 18 lbs | 4 to 6 hours |
| 18 to 20 lbs | 4½ to 7 hours |
How to Smoke Turkey
Here's an easy step-by-step guide on how to smoke a turkey for a juicy and mouth-watering result every time. 
Prepare the Brine
Brining your turkey will produce tender, juicy, and flavorful meat. To prepare brine for smoked turkey, mix brine ingredients in a kettle and bring to a boil.
Remove the mixture from the heat once the kosher salt is fully dissolved and add ice water to bring it to room temperature.
Brine the Turkey
Place the turkey in roasting bags to prevent leaks. Submerge the meat in brine, then place in a roasting pan in the refrigerator for 8-12 hours. 
Fire Up the Smoker
Soak wood chips in water for 30 mins. This will make them smolder and produce that delectable smoky flavor. Preheat your smoker or grill to 300°F in readiness to smoke the turkey over indirect heat.
Drain the chips and put them in the smoker box based on the manufacturer's instructions. We recommend mesquite for smoking turkey, but applewood, cherry, or hickory will also work well. 
Seasoning
Before smoking the turkey, it's necessary to season it. Combine kosher salt, brown sugar, smoked paprika, garlic powder, onion powder, and black pepper in a bowl. Pat the bird dry and rub the mixture all over the bird.
Note: Like the brine, adding a dry rub is a great way to season your bird.
Smoking
Put the turkey with breast side up in nested-foil roasting pans and place in the grill or smoker. Smoke over indirect medium-high heat for 3 to 3½ hours. If you have a larger bird, it may take more time.
Rotate the roasting pan during the cooking process to ensure more even cooking. You can tell the meat is done when the internal temperature reaches 165°F.
Resting
As with other turkey-cooking methods, the last step is to allow the turkey to rest for around 15 mins, covered with aluminum foil. This will help the bird remain warm and allow the juices to reabsorb into the meat to make it moist and juicy. After resting, the bird is ready for carving.
Print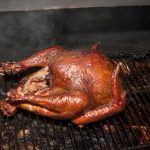 Succulent Smoked Turkey Recipe
---
Total Time:

6 hours 25 minutes

Yield:

1

2

1

x
Description
This smoked turkey recipe is perfect for Thanksgiving or any other special occasion. This smoked turkey is tender and delicious, and it tastes like it was bought from a high-end restaurant. You can rest assured that this smoked turkey recipe is easy to make and guaranteed to impress your guests.
---
10

–

12

lb

Turkey (neck and giblets removed)

1/2

cup

barbecue rub

1

orange quartered

1

lemon quartered

4

cloves whole garlic with skin removed

1

onion quartered

3

cups

low sodium chicken broth (for basting)

2

sprigs fresh rosemary (stems removed)

2

sprigs fresh thyme (stems removed)

2

sprigs parsley (roughly chopped)

2

leaves fresh sage (roughly chopped)
---
Instructions
Preheat your smoker to 300 degrees F. Put wood chips of choice in the smoker box.
Use cooking spray to coat an aluminum pan. Put the bird in the pan, with the wings tucked.
Stuff the turkey with herbs, orange, lemon, garlic, and onion, then tie the bird's legs together with the butcher's twine.
Use your favorite BBQ rub to coat the body of the bird with seasoning.
Place the bird in the smoker and cook for 6 to 7 hours. Baste with broth every 30 minutes until a meat thermometer stuck into the thickest section of the thighs reaches 165 degrees F, refilling the wood chips if necessary. If the bird starts to get dark, tent with aluminum foil. 
Remove from the smoker and let it rest for 10 to 15 minutes. Transfer to the cutting board and carve. Serve with your favorite side dishes and dig in!
Prep Time:

10 minutes

Cook Time:

6 hours

Cuisine:

American
How Do You Know a Smoked Turkey is Done?
A higher temperature is ideal for smoked turkey because it has a low-fat content which means you don't want to smoke for a long period of time because you run the risk of the turkey drying out.
When smoking a whole turkey, it is important to ensure it reaches a safe temperature while getting a lot of smoke flavor.
The best way to know when a smoked turkey is done is to check the internal temperature using a digital meat thermometer. According to the USDA, the internal temperature of smoked turkey must reach 165°F to be considered safe to eat. However, you can still cook the dark meat until it reaches a higher temperature.
Appearance-wise, the meat should be a nice brown color on the outside, and there should be no pinkness in the bird.
Once the turkey is done, let it rest for 10 to 15 minutes before carving. The rest period allows the juices to settle into the meat.
Measuring the Internal Temperature of Smoked Turkey
Taking the internal temperature is the surest way to know your smoked turkey is properly cooked. Insert an instant-read meat thermometer in the thickest part of the turkey thighs. It must be at a minimum temperature of 165°F.
How Long Does Smoking a Stuffed Turkey Take?
It takes around 25 to 30 minutes per pound to smoke stuffed turkey at 300°F.
Your stuffed turkey cooks slowly, so you must cook it for an extended period. Moreover, you must monitor the bird carefully, or you will end up with dried-up meat.
Follow the recipe instructions carefully and ensure both the meat and stuffing reach 165°F, so you don't end up with an undercooked turkey.
It is always a good idea to periodically check the internal temperature of the turkey before removing it from the smoker, regardless of the expected cooking time.
How Long Does it Take to Smoke Turkey Breast at 300?
Turkey breast cooks at a rate of around 20 mins per pound at 300°F. For faster smoking, consider spatchcocking the bird beforehand. Ensure the internal temperature is 165 degrees F in the thickest part of the breast meat.
How Long to Smoke Turkey Legs at 300?
To save time and provide your guests with the best turkey during your next BBQ cookout, try smoking turkey legs. The average weight of a turkey leg is 1 pound, which is more than enough per person.
Turkey legs won't take as long to cook as a whole turkey because they are individual cuts. At 300°F, turkey legs take 2 to 3 hours to finish cooking, depending on their size.
As always, make sure to smoke this dark meat based on temperature instead of time. Since it is risky to eat poultry at temps lower than 165°F, it is important to cook turkey legs properly.
Turkey legs will be done once they reach an internal temperature of about 180°F. Remove them from the smoker and allow them to rest for 10-15 minutes. At this point, the temperature will climb to around 185°F, and the meat should be juicy and succulent.
How Long to Smoke Turkey Wings at 300?
Smoke turkey wings until they reach 165°F. Plan to spend around 20 minutes per pound smoking turkey wings.
How Long to Smoke Turkey Burgers at 300?
Turkey burgers need to be smoked over medium-high heat for around 30 minutes a side. The burgers should have crispy skin at the end of the smoking process.
Test for doneness using an instant-read meat thermometer. Insert the thermometer probe in the thickest part of the burger. You can remove the turkey burger from the pellet smoker once they reach 160°F because the temperature will continue to rise as it rests.
During rest, make sure to cover with aluminum foil. The temperature should continue to increase during this rest period. Burgers are ready to eat once the internal temperature reaches 165°F.