To make smoked turkey legs, you will make a turkey brine and soak the legs overnight. The next day, set your smoker to 250°F and add some hickory chips. Pat the turkey legs dry, then smoke for 5 hours until they reach an internal temperature of 165°F.
Nothing says medieval times quite like a smoked turkey leg. It is a dish that kids and adults love to eat. Instead of serving up ordinary chicken legs at your next backyard party, surprise your guests with this delicious smoked turkey recipe that is better than what you can get at any theme park!
How Do You Smoke Turkey Legs?
First, you will prepare a brine for your turkey legs, boiling all the ingredients together before cooling. The brine should include 4 quarts of water, a cup of Kosher salt, a cup each of white sugar and dark brown sugar, 2 tablespoons of steak seasoning, and 1 bay leaf.
Once the brine is cool, place the turkey legs in the brine and refrigerate them in a covered container overnight.
The following day, dispose of the brine, pat your turkey legs dry, and prepare the grill for smoking by preheating it to 250°F. Season the turkey legs with a dry turkey rub.
Place the turkey legs on the grill and smoke for 4 to 5 hours or until the internal temperature reaches 165°F.
Print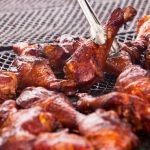 Royal Smoked Turkey Legs
---
Author:

Total Time:

5 hours, 30 minutes
Description
If you want to make and serve smoked turkey legs fit for a king, the smokey flavor and crispy skin with grill marks will look like it belongs on a banquet table and taste so delicious, your guests will be circling for seconds! You can prepare these turkey legs on a pellet grill or in an electric smoker using applewood or hickory pellets.
---
4

turkey legs

5

cups

cold water

4

allspice berries

1/2

cup

Diamond Brand kosher salt

1/4

cup

honey

1

cup

ice cubes

1/2 tablespoon

black pepper

1/2 teaspoon

cayenne pepper

1/2 tablespoon

garlic powder

1/2 tablespoon

onion powder

1 tablespoon

paprika
---
Instructions
Fill a large pot with brine ingredients: 3 cups of water, salt, honey, paprika, onion powder, garlic powder, black pepper, cayenne pepper, and allspice, and bring to a boil.
Stir in the remaining 2 cups of cold water and ice cubes. Stir until the ice melts and the mixture reaches room temperature. If necessary, add more ice.
Put the turkey legs in gallon-sized resealable plastic bags with two legs per bag, and divide the brine equally among them. Place the sealed bags in the refrigerator overnight to brine.
The next day, pour the brine down the drain, rinse the turkey legs, and pat them dry with paper towels.
Preheat your grill to 250°F and add your hickory or applewood chips.
Put the turkey legs in the smoker. The turkey legs should be smoked until the internal temperature registers 165°F, approximately 2 1/2 to 3 1/2 hours.
After the turkey legs have been smoked, remove them from the smoker and allow them to rest for at least five minutes before serving.
Serve with your favorite rustic side dishes!
Prep Time:

30 minutes

Cook Time:

5 hours
Nutrition
Serving Size:

8 ounces

Calories:

352

Sodium:

1672mg

Fat:

16.8g

Saturated Fat:

5.1g

Protein:

47.2g

Cholesterol:

144mg
How Long Does a Turkey Leg Take to Smoke?
Turkey legs will need 4-5 hours to smoke. Using a meat thermometer, make sure the internal temp is 165°F before you take the drumsticks off the grill or smoker. Insert the thermometer into the thickest part of the meat.
Undercooked turkey meat can be dangerous, so it is vital to take the temperature.
What is the Best Temperature to Smoke Turkey Legs?
The ideal temperature for smoking turkey legs is 250°F. The longer you smoke the legs, the better the turkey flavor, but smoking too long can dry out the meat. The temperature of a smoker can be set as low as 225°F, but the turkey will cook much faster if it is smoked at 275°F or higher.
How Can You Tell When Smoked Turkey Legs are Done?
Use an instant-read thermometer to determine the internal temperature of the turkey. When it reads 165°F it is done.
What Types of Wood Pellets are Best for Smoking Turkey Legs?
Grill experts recommend a fruitwood like applewood or hickory for smoking turkey legs. These woods leave you with a gorgeous smoky flavor that takes you back to being a kid at a Disney park. In addition to the smoke flavor from the wood, you can augment the meat by serving these legs alongside your favorite bbq sauce from the grocery store.
Should You Brine Turkey Legs Before Smoking?
It is recommended to brine turkey legs overnight before smoking.
What Should You Serve with Smoked Turkey Legs?
These sides are surefire winners to serve with your delicious smoked turkey legs:
How to Store Smoked Turkey Legs
Store smoked turkey drumsticks in the refrigerator or freezer by wrapping them in plastic wrap or foil and placing them in an airtight container. If stored properly, they will last three to four days in the refrigerator and three to six months in the freezer.
Reheating Smoked Turkey Legs
It's recommended to use a rack in your roasting pan when reheating. Cover the smoked turkey with foil and add a little water to the bottom of the pan. Bake in an oven at 325°F for approximately 15 minutes. The meat should be cooked for ten minutes per pound, or until the meat thermometer reaches 165°F.