Flanken style or crosscut ribs are best when soaked in a marinade overnight made from 1 cup soy sauce, grated ginger, brown sugar, salt, pepper, and sesame oil. The ribs should be patted dry, then smoked on a pellet grill set to 225°F until the ribs reach 195°F.
Have you ever tried flanken-style crosscut ribs before? This cut of meat is commonly used in Asian cuisine, has excellent fatty marbling, and yields fantastic flavor.
What Makes Crosscut Ribs Special?
Cross-cut short ribs are beef short ribs that have been cut differently.
This piece of meat is typically cut across the rib bones, producing thin strips of meat with several ribs.
Cross-cut ribs are also known as flanken-style ribs, thin-cut beef short ribs, or Korean short ribs (kalbi). This cut of meat has excellent fatty marbling and fantastic flavor. 
When looking for the best beef ribs that will produce melt-in-your-mouth deliciousness, make sure to choose ribs that have a good amount of fatty marbling.
Print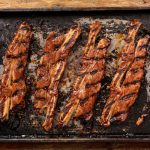 Smoked Crosscut Ribs Recipe
---
Author:

Total Time:

4 hours, 20 minutes
Description
These crosscut ribs are brined, smoked, and paired with a flavorful sauce. This crosscut ribs recipe is easy to make and is prepped for smoking in 10 minutes!
---
4

lbs

crosscut ribs or chuck short ribs, 1/4 to 1/2-inch thick

1

cup

Worcestershire sauce

3 teaspoons

kosher salt

2 tablespoons

yellow mustard
---
Instructions
Place the rib strips on a rack and apply kosher salt all over the meat.
Brush the meat with yellow mustard, place it in an airtight container and refrigerate overnight.
Pour a 1/2 cup of Worcestershire sauce in a foil pan.
Put the ribs in the foil pan, ensuring there's some space between each rib.
Pour an additional 1/2 cup of Worcestershire sauce over the tops of the ribs to wet them and give them a little more moisture as they cook.
Preheat the smoker to 225°F with indirect heat.
Place the pan of crosscut ribs with the sauce on the grate to infuse them with the flavor of the Worcestershire sauce as they smoke.
If you have a pellet smoker, smoke the meat at the smoke setting or the lowest setting for one hour and then crank up the heat to 250°F for the remaining duration.
Once the ribs are done, pull them off the smoker and serve immediately!
Prep Time:

10 minutes

Rest Time:

10 minutes

Cook Time:

4 hours
Nutrition
Serving Size:

2 ribs

Calories:

272

Sugar:

3g

Sodium:

575mg

Fat:

18g

Saturated Fat:

6g

Carbohydrates:

4g

Fiber:

0.1g

Protein:

22g

Cholesterol:

65mg
How to Trim Cross-Cut Ribs Guide
Bone-in crosscut ribs are usually already cut into ½-thick pieces, and you don't have to trim them.
You may also buy large boneless crosscut ribs and trim them yourself. When trimming boneless crosscut ribs, remove any excess layers of fat and silver skin using a boning knife.
Simply insert the tip of the boning knife underneath the skin membrane and lift it. Remove the membrane by lifting and cutting as necessary. Avoid removing any of the meat.
Cut the ribs into thin pieces. You want to slice meat against the grain to end up with half-inch thick pieces. Cutting the meat against the grain will help maintain the cells, which adds to the flavor. It's also essential to trim the meat into thin slices to make it easier to infuse them in marinade to soak up flavor and moisture.
How to Tell Crosscut Ribs are Done
Crosscut ribs are done once their internal temperature reaches 195°F.
To know if the ribs are done, simply grasp the middle of the rack with a good pair of tongs and bounce them a little. If they start to droop or bend, they are cooked.
Are Crosscut Ribs the Same as Short Ribs?
Crosscut ribs are short ribs that have been cut differently. They are cut horizontally to create thin slices of meat with several ribs.
Crosscut ribs are also known as flanken short ribs, Korean-style ribs, or kosher ribs.
What is the Difference Between Spare Ribs and Crosscut Ribs?
Beef spare ribs and crosscut ribs are the same pieces of beef. The only difference is how they are cut. Crosscut ribs are cut horizontally to produce thin pieces with numerous ribs.
What is the Difference Between Crosscut and Flanken Ribs?
Crosscut ribs and flanken short ribs are the same. This cut of meat is sliced thinly across the rib part.
Each piece of meat comprises three to four small bones. This cut of meat is well-marbled and consists of connective tissues and fat.
Short Ribs vs Spare Ribs
The major difference between spare ribs and short ribs is that spare ribs are pork and short ribs are beef.
Short ribs come in two cuts namely the English short ribs and flanken style ribs. On the other hand, spare ribs are commonly referred to as baby back ribs. 
Both cuts of meat are rich in protein, vitamins, and minerals. However, both spare ribs and short ribs are not considered lean meat and should be eaten in moderation.
How to Keep Crosscut Ribs Moist When Grilling
When grilling crosscut ribs on the bbq, you should use low heat (around 225°F). This will help break down the connective tissues while keeping the meat moist.
Do not overcook crosscut ribs since this can make the meat dry and tough, so keep an eye on it as it grills. The thin strips of meat will overcook easily if cooked on high heat.
By following these tips, you will enjoy moist and flavorful crosscut ribs!