When smoking beef ribs, the smoker's temperature should be between 225°F - 250°F. This temperature ensures that collagen breaks down and the fat melts, resulting in tender, juicy ribs. Beef ribs are done smoking when they reach an internal temperature between 200°F – 205°F.
The Best Temperature for Smoking Beef Ribs
When it comes to smoking beef ribs, you want to ensure the smoker's temperature stays between 225°F – 250°F. Ribs smoked at this temperature will take between 8 and 13 hours to smoke, depending on the thickness of the ribs, your smoker, and the temperature outside.
Should Ribs Be Smoked at 225°F or 250°F?
Smoking beef ribs at 225°F will ensure enough time for the collagen inside to break down. While it takes a little longer to cook at a lower temperature, they will have more moisture and will be incredibly tender.
Cooking at a slightly higher temperature of 250°F will give the surface of your ribs a brown, crusty bark. You will still have that bark at 225°F, but it will be less noticeable.
Both of these temperatures can make a fine rack of ribs. It just depends on the qualities that are most important to you.
How Long Does it Take to Smoke Beef Ribs?
It can take 8 to 13 hours to smoke a full rack of bbq beef ribs, depending on the size of the ribs. The best way to tell when your ribs are done is by checking their internal temperature with a meat thermometer (beef ribs should have a finished temperature between 200°F – 205°F).
How to Pick the Right Ribs For Smoking
There are many types of beef ribs. Usually, ribs are split into smoked beef back ribs or smoked beef short ribs.
Plate ribs are the best for smoking, especially if you're thinking of a classic-style BBQ. They're closely followed by chuck ribs, which may be easier to find. Back ribs are also a great choice because they have a higher fat content than the rest.
Print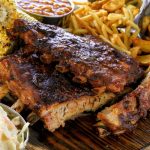 Smoked Beef Chuck Ribs Recipe
---
Author:

Total Time:

9 hours, 15 minutes
Description
Smoked Beef Ribs are the ultimate comfort food. The juicy meat, the tender fat, and the crispy salty exterior are everything you want from a meal, all in one bite.
---
Rack of beef chuck ribs (4 to 5 pounds)

2 tbsp

Dijon mustard with horseradish

1/4

cup

brown sugar

1/4

cup

white sugar

1/4

cup

paprika

3 tbsp

salt

1 tbsp

onion powder

1 tbsp

cayenne pepper

1 tbsp

ground black pepper

1 tbsp

garlic powder

1 tbsp

chili powder

1

cup

apple cider vinegar/apple juice

1/4

cup

hot sauce
---
Instructions
Trim the membrane on the back side of the ribs (across the rib bones) and the silver skin. Use a butter knife for this.
Pat the meat dry with a paper towel.
Preheat your smoker to 250 degrees F.
Add wood pellets to your smoker. Mesquite, applewood, and hickory are excellent choices for this recipe.
Mix the dry rub ingredients in a bowl.
Spread the Dijon mustard across the ribs and season them with dry rub.
Put your ribs in the smoker meat side up and bone side down. Place an instant-read thermometer probe inside the center. Ensure it notifies you when it reaches 203°F.
Cook the ribs with the lid closed for 3 hours.
Make the rib spritz by mixing the apple cider vinegar or apple juice and hot sauce in a spray bottle.
After the 3-hour time mark, start spritzing the ribs every hour – until they reach the internal temperature of 203°F (about 8 to 10 hours).
Get your ribs out of the smoker, wrap them up (like a beef brisket) in aluminum foil or butcher paper and allow them to rest for 1 hour.
Slice the rack into individual ribs and serve with your favorite side dish!
Notes
You can substitute different types of beef ribs for this recipe if you can't find chuck ribs. They will be equally delicious!
Prep Time:

15 minutes

Rest Time:

1 hour

Cook Time:

8 hours
Nutrition
Serving Size:

3 ounces

Calories:

301

Sodium:

235mg

Fat:

22g

Saturated Fat:

8.7g

Carbohydrates:

7.4g

Fiber:

0.2g

Protein:

18g

Cholesterol:

65mg
Ideal Internal Temperature for Beef Ribs
Beef ribs should be smoked until they reach an internal temperature of 203°F.
Are Beef Ribs Done at 165°F?
The USDA says that the recommended minimum internal temperature of beef and pork ribs is 145°F, but ribs are usually cooked to a much higher temperature so the fat renders and the meat becomes tender. They are safe to eat at 145°F but should continue to smoke until they reach 203°F for the best texture and flavor.
Keep in mind the connective tissue in beef starts to break down when the meat has reached 140°F. It must reach a higher temperature for the meat to pull away from the bones easily.
Tips for the Best Smoked Beef Ribs
The best-smoked beef ribs follow these guidelines:
They're cooked low-and-slow over indirect heat until they can easily be pulled apart. Making smoked ribs is a long process, and while it's tempting to rush the cooking process – don't do it!
Beef ribs should be marinated for at least 4 hours, so they have time to absorb the flavor of the smoke.
Buy local, quality beef ribs from the local butcher rather than frozen whenever possible.
When to Season and Sauce Beef Ribs
Always season beef ribs before you place them into a smoker (ideally, let the dry rub sit on them for several hours ahead of time).
Saucing can happen before smoking or right at the end when you're looking to glaze them. If your bbq sauce has a lot of sugar, this can cause ribs to burn, so it is important to save sugary sauces for the end of the smoking process.
How to Develop Caramelization on Beef Ribs
The best way to ensure beef ribs are caramelized is to smother them in barbecue sauce at the end of the cooking time.
Should Ribs be Spritzed While Smoking?
You can spritz your ribs if you want to but it isn't required. If you're wrapping your ribs, you don't have to spritz them.
Benefits of spritzing include:
Adding moisture to the meat makes them juicier.
Enhancing the flavor of the ribs.
Can help smoke penetrate more easily into your meat.
The disadvantage of spritzing is that it stops the bark from developing on your ribs.
Should Ribs Be Wrapped While Smoking?
It's recommended that you wrap your ribs halfway through smoking, the same as with brisket.
You can wrap your ribs in aluminum foil or butcher paper. When wrapping meat, you're trapping moisture and smoke inside, ensuring the meat is flavorful and tender. Another reason you might want to wrap your ribs is because it can speed up the smoking process.
What is the Difference Between Smoking and Barbecuing Beef Ribs?
When it comes to smoking and barbecuing, there are numerous differences but the most significant difference is flavor. Smoked meat tends to have a bolder flavor than barbecue-style meat because of the method used to prepare it.
If you're smoking beef ribs, they'll cook at a low temperature for an extended period to become moist and tender without adding extra moisture. It will take much longer to smoke ribs.
If you're barbecuing ribs, they will need marinade or sauce brushed on them to help keep them moist as they cook. Barbecuing is best when you're short on time but still want a great grill flavor.
Is it Better to Smoke or Barbecue Beef Ribs?
Smoking gives you a smoky flavor that you can't replicate in any other way while barbecuing gives your meat more char. Barbecuing tends to be quicker, but smoking adds more flavor and tenderness. For this reason, smoking beef ribs is better than barbecuing.