It takes 6 to 8 hours to smoke a rack of beef ribs. The cooking time varies depending on the size of the rack, and the temperature they are smoked at. If you're short on time, smoke them at a hotter temperature, around 250°F.
Nothing beats the tender, mouth-watering taste of smoked beef ribs. Knowing the timing for smoked beef ribs is important for a juicy and tender rack.
How Long Does it Take to Smoke Beef Ribs
How long smoked beef ribs take to cook will vary depending on how large the ribs are. Beef ribs are thicker than pork ribs, so you can expect them to take longer to cook through.
An average amount of beef ribs is 4 to 5 pounds, and it should take approximately 7 hours to smoke them at 250°F.
The most important thing is the internal temperature of the BBQ beef ribs. When the internal temperature reaches 205° Fahrenheit, they are done.
So be sure to keep in mind that the internal temperature is more important than the smoked beef ribs cooking time. Depending on how big or thick the ribs are, the expected cooking time will vary. Use an instant-read thermometer to test for doneness.
How to Smoke Beef Ribs
This method for making smoked beef ribs is only 5 easy steps!
Prep your ribs: Dry off the ribs and then remove the back membrane of the ribs.
Season: Coat your ribs using mustard and then rub with beef rub (or black pepper and kosher salt).
Smoke: position the beef ribs in the middle of the smoker, close the lid, and smoke for 3 hours.
Spritz: once they have smoked for 3 hours, spritz the ribs with a spray bottle filled with apple cider vinegar until the internal temp reaches around 203°F -205° F in the thickest part of the beef ribs.
Rest: Wrap the ribs with two pieces of heavy-duty aluminum foil and place them in a cooler for one hour before serving.
Pitmaster Tips for Perfect Beef Ribs
Use wood chips made from hickory, pecan, and mesquite as these pair nicely with beef ribs.
During prep, remove the silverskin from the back side of the ribs. This connective tissue can become tough once cooked, so it's important to cook your ribs without it.
Low and slow is the way to go! You may be tempted to increase the internal temperature to reach doneness faster, but your ribs will be juicer if you cook at a low temperature for a longer period.
If you love spicy ribs, mix some hot sauce with apple cider vinegar to increase the heat.
Do not skip the resting period. Rest your ribs for at least one hour before slicing them to help redistribute the juices in the meat so it is juicy and tender.
Print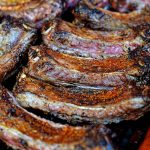 Smoked Beef Ribs Recipe
---
Total Time:

5 hours 15 minutes

Yield:

3

1

x
Description
These perfectly flavored smoked beef ribs are cooked low and slow until they achieve the finest juicy and tender texture. The layers of flavor include mustard and dry rub, apple cider spritz, and a generous slather of your favorite BBQ sauce.
---
1

Full Rack Beef Back Ribs

8 tbsp

BBQ Sauce

2 tbsp

Unsalted butter

2

tbsp Apple Cider Vinegar ((or apple juice))

2

tbsp Dark Brown Sugar

2 tbsp

Brown Mustard

1/4

cup

Hot Sauce ((optional))

2 tsp

Paprika

2 tsp

Garlic Powder

2 tsp

Onion Powder

1 tsp

Black Pepper

2

tsp Kosher Salt
---
Instructions
Prep the ribs by removing the back membrane (silver skin). Use a butter knife to shave off the edges and remove the membrane from the backside of the ribs.
Preheat the smoker to 250°F and load in your desired wood chips.
Mix your dry rub ingredients together: salt, pepper, garlic powder, onion powder, and paprika.
Place your ribs on a plate or some butcher paper to prep and coat the rib rack with mustard and dry rub.
Position the coated ribs uncovered in the middle of the smoker with the bone side pointing down and smoke for three hours.
Remove the rib rack from the smoker. Add apple cider vinegar, butter, and brown sugar to your ribs, and wrap them in large sheets of aluminum foil.
Return the wrapped ribs to the smoker and smoke for another two hours.
Remove your ribs from the smoker, unwrap, and coat them with BBQ sauce.
Return the ribs to the smoker and position them in the middle with the bone side of the ribs pointing down.
Continue smoking until the internal temperature reaches around 203°F – 205°F. Use an instant-read meat thermometer to test your beef ribs for doneness.
Rest for 10 minutes. Slice, serve, and enjoy!
Prep Time:

15 minutes

Cook Time:

5 hours

Cuisine:

American
Should You Smoke Your Ribs at 225 or 250?
For the best results, smoke your beef ribs at 250°F. This temperature will help make them juicy, tender, and flavorful.
What are Beef Ribs and Where to Buy Them?
Beef ribs are a favorite among the BBQ community since it's similar to enjoying beef brisket. One serving of beef ribs is a great source of vitamin B6, vitamin B12, niacin, and riboflavin.
Like the ribeye, these ribs are from the center of the cow. Butchers usually carve near the rib bones to avoid leaving meat, which makes these cuts of beef highly affordable.
Since the butchers are removing the rib-eye from the bones, you can enjoy the same amazing flavor from your smoked beef ribs.
Beef ribs can often be found in grocery stores. Beef ribs should also be available from any butcher shop though you may pay a bit more for the higher quality at specialty meat stores.