To make smoked beef riblets, season them first with dry rub. Preheat the pellet grill to 225°F using hickory wood pellets and smoke for 2½ hrs. The beef riblets will be done once they reach an internal temperature of 200°F.
What are Beef Riblets?
Beef riblets are small pieces of meat cut off from a large rack of beef short ribs.
They are inexpensive, take far less cooking time than beef short ribs, and make an easy side dish for any cookout or BBQ. They are often sold in the form of small, individual ribs.
Print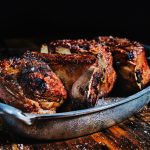 Traeger Smoked Beef Riblets Recipe
---
Author:

Total Time:

3 hours
Description
These beef chuck riblets are seasoned with a flavorful dry rub and then smoked at 225°F for 2½ hours until they are tender and juicy! This recipe is simple to make and a winner on the plate!
---
1

package (2.5 lbs) Beef Chuck Riblets

1/3

cup

red wine

1 tablespoon

black pepper

1 tablespoon

chili powder

1 tablespoon

dried or fresh minced garlic

3 tablespoons

kosher salt

1 teaspoon

brown sugar

1 teaspoon

granulated onion
---
Instructions
Combine all of the dry rub ingredients.
Trim off any excess fat, cartilage, or membrane from your beef riblets. Baste them with red wine, then season the riblets by tossing them in the dry rub mixture.
Preheat the pellet grill to 225°F using hickory or your favorite wood pellets.
Smoke your beef riblets for 2½ hours, regularly testing for doneness.
The riblets will be done once the internal temperature of about 200°F is reached and the meat has considerably pulled away from the bones.
Notes
Beef short ribs and beef riblets are best cooked low and slow. If you set your pellet smoker at 225°F, your riblets should be done within three hours. The internal temperature you should be aiming for is about 200-205°F.
Prep Time:

30 minutes

Cook Time:

2 hours, 30 minutes
Nutrition
Serving Size:

3 ounces

Calories:

430kcal

Sodium:

55mg

Fat:

41g

Saturated Fat:

18g

Protein:

16g

Cholesterol:

85mg
Are Beef Riblets the Same as Short Ribs?
Beef riblets and short ribs are similar cuts of meat, but they are not the same. Beef riblets are typically smaller and more slender than short ribs, and are usually cut from the rib roast or the ribeye. They are small, single pieces of meat just a few inches long.
Short ribs, on the other hand, are cut from the brisket, plate, chuck, or rib sections of a cow, and are usually cut into square or rectangular-shaped slabs. Beef short ribs are usually thicker and larger than riblets.
Both cuts are known for their rich, beefy flavor and tender texture, and are often braised, smoked, or slow-cooked to bring out their full flavor. However, beef short ribs are typically considered a more premium cut of meat and are far more expensive than riblets.
Key Difference Between Ribs and Riblets
Ribs are larger and cooked as a full rack, while riblets are small pieces of ribs typically cut into individual pieces between bones.
Riblets are the beef equivalent of chicken wings – tiny, single cuts with the bone left in. Riblets usually are cheaper than ribs because they are smaller in size.
Target Internal Temperature for Beef Riblets
The target internal temperature for beef riblets is 200-205°F – the same as that of a full rack of beef ribs.
The most accurate way to tell when the riblets have reached doneness is to use a digital meat thermometer. Simply insert the meat thermometers into the thickest section of the meat, avoiding the bone.
How Long Does it Take to Smoke Beef Riblets?
It takes about 2½ hours to smoke beef riblets at 225-250°F. If you were smoking a whole rack of beef back ribs, you would follow the 3-2-1 ribs method, which takes around 6 hours. However, the riblets are smaller pieces of meat than BBQ ribs, so they cook much faster.
Are Riblets Easier to Make than Ribs?
Beef riblets are the leftover pieces of meat when a butcher cuts beef short ribs to remove the curved end. This is typically done to ensure easier cooking and better presentation.
Their flavor is excellent, and their small size makes them easier to fit in a slow cooker, instant pot, or crockpot. They have less meat than beef ribs and cook much faster.
How to Keep Riblets Moist
Here are a few tips for keeping your beef riblets moist while making this ribs recipe:
Marinate or rub the riblets. Marinating the riblets with BBQ sauce before smoking can help to make them fall-off-the-bone tender. Consider marinating your riblets in the refrigerator overnight.
Baste your beef riblets. During cooking, baste your riblets with a tasty liquid such as a combination of broth, butter, and seasonings, or your favorite barbecue sauce to add more moisture and flavor to the meat.
Cook to the right internal temperature. Use a meat thermometer to regularly check the internal temperature and ensure it reaches at least 200°F. This will help to avoid drying out the riblets.
Wrap the riblets in aluminum foil. Tenting the riblets with heavy-duty aluminum foil will help them retain moisture while cooking.
Allow the riblets to rest. Allowing the riblets to rest after the cooking process will help redistribute the juices, keeping the meat tender and moist.
Seasoning Variations for Smoked Riblets
Many different seasoning variations can be used to add flavor to smoked riblets. Here are a few options:
Mexican Street Corn (Elote): After smoking the riblets, season them with 1 tsp of garlic powder, 1 tsp of lemon pepper, and 1 tsp of chili powder seasoning. Drizzle them with lime juice and finish them by sprinkling them with Cotija cheese.
Sweet: Mix 1 tablespoon of brown sugar, 1 tsp of sweet paprika, and 1/2 teaspoon of cinnamon to add a sweet flavor to the riblets.
Jamaican: Add a touch of island flavor by mixing 1/2 tablespoon of jerk seasoning with melted butter and pour over the riblets.
Teriyaki Glaze: Brush the riblets with teriyaki sauce and sprinkle with sesame seeds for a sweet, island-inspired flavor.
Spice: If you want a little heat, try adding 1/2 tsp chili powder and 1/2 tsp of red pepper flakes to a little bit of soy sauce and toss your riblets in this mixture. The soy sauce adds salt and the chilis give them a much-needed kick.