It takes 50 minutes to smoke a ribeye steak at 225°F. A smoked ribeye should be reverse-seared at the end of the smoking time to develop a beautiful, caramelized crust. By searing steak for a few minutes on each side at high heat after smoking them, the steak is more tender and has a perfect crust.
There is no better way to cook a smoked ribeye steak than finishing with a reverse sear.
What is Reverse Searing?
To create a beautiful and flavorful crust, you first smoke the meat at a low temperature to absorb the smoke flavor and then sear the meat over high heat towards the end of the cooking time to get a flavorful, golden crust.
How Do You Smoke Ribeye Steak?
Follow these three steps to get a perfect ribeye steak:
Allow the meat to come to room temperature and season with salt and pepper.
Smoke the meat at 225°F until it reaches your desired internal temperature. Most ribeye steaks take between 50 minutes and one hour to smoke.
Remove steaks from the smoker and sear both sides until a nice crust forms.
The perfect smoked ribeye can be achieved whether you use a pellet or wood chip smoker.
When smoking meat, there are a few important things to remember. Ensure that the meat is cooked to the appropriate temperature by taking the internal temperature regularly until you get close to your desired doneness before searing. Additionally, meat should be smoked at a lower temperature for longer than grilling or baking to absorb all of the delicious smoke.
It is essential to control these two factors to have delicious, juicy steaks.
Print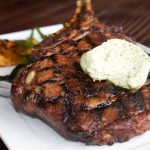 Perfectly Seared Smoked Ribeye Steak Recipe
---
Author:

Total Time:

1 hour
Description
This mouth-watering, juicy smoked ribeye recipe is simple. All you need is ribeye steak, salt, pepper, and butter. The perfect sear finishes this beautiful smoked ribeye beautifully, letting the meat truly shine.
---
Equipment Needed
pellet smoker or pellet grill (Traeger or similar)
meat thermometer
Pellets or Wood Chips (hickory or mesquite)
Ingredients List
Ribeye steak

1

and a half to 2 inches thick

4 tbsp

butter

1/2 tsp

black pepper

1 tsp

Kosher salt
---
Instructions
Remove your steaks from the refrigerator 60 minutes before the desired smoking time and sprinkle them with salt. Allow the steaks to come to room temperature before smoking.
Preheat your smoker by getting it to smoke well and stabilizing the temperature between 225°F and 235°F.
Your ribeye should be smoked while sitting on the grill grates until it reaches a temperature of 10°F – 15°F below your preferred final temperature. To achieve medium rare, remove the steak from the oven at 115°F.
Prepare your grill or cast iron skillet with a bit of oil, then sear the ribeye steak on each side until a nice crust is formed. Once the internal temperature reaches your desired eating temperature, remove it from the heat.
It is recommended to baste your ribeye with hot butter during the reverse-searing process for extra flavor.
Notes
If you prefer different flavors with your steak, a well-rounded steak seasoning can be used along with salt and pepper. Popular seasonings for ribeye include garlic, thyme, and tarragon, and for those who enjoy spice, a light dusting of cayenne.
Prep Time:

5 minutes

Rest Time:

5 minutes

Cook Time:

50 minutes
Nutrition
Serving Size:

3 ounces

Calories:

199

Sugar:

0g

Sodium:

50.2mg

Fat:

10.8g

Carbohydrates:

0g

Fiber:

0g

Protein:

23.8g
Is Ribeye Good for Smoking?
In my opinion, ribeye is the best steak to smoke. Smoking the steak low and slow gives it a great flavor, but increasing the temperature at the end ensures that the steak remains juicy. The first time you smoke a steak, you will never go back to grilling them again because the smoky flavor is out of this world.
What is the Best Temperature for Smoking Ribeye?
A ribeye steak should be dry brined, seasoned, and smoked at 225°F for 45 to 60 minutes. Then the gas grill temperature should be brought up to 500°F, and the ribeye should be seared until it achieves a medium-rare temperature of 130°F to 140°F (or your desired temperature).
Use a thermometer to gauge the readiness as each cut of meat is different in size. For the reverse sear ribeye, remove and sear over high heat at the end on all four sides to lock in that smoky flavor and achieve the crust over the edges of the marbling. After it is completely seared, let the steak rest for 5 minutes.
What is the Best Way to Cook Smoked Ribeye?
The best way to cook ribeye steak is to cook it to a medium rare or medium degree of doneness which is between 130 and 140 degrees Fahrenheit. It has a rich marbled fat which makes it flavourful and tender. By bringing the meat to the proper temperature, the fat will have time to melt, resulting in the most flavor and juiciness.
For reverse-searing, you will want to leave the steak on high heat for the following amount of time depending on your desired doneness:
| | |
| --- | --- |
| Desired Doneness | Sear Time |
| Rare | 2 to 2.5 minutes per side |
| Medium | 3 to 4 minutes per side |
| Well-done | 5 to 6 minutes per side |
How Long Does it Take to Smoke Ribeye Steak?
It should take an hour to smoke your ribeye. If you plan to reverse-sear the ribeye, take it out at the 50-minute mark, and sear it on the grill over high heat.
What to Serve with Smoked Ribeye
These side dishes and sauces are the perfect accompaniments to smoked ribeye!