When using a Weber gas or Kettle grill to make Weber grill burgers, prepare 1/2" burger patties and preheat the grill to 450°F. Season patties with salt and pepper and place them on the grill for 5 to 7 minutes before flipping them. Allow them to reach an internal temperature of 160°F, and rest for two minutes before serving.
Weber grill burgers are one of the most popular BBQ foods in summer cookouts and backyard parties, and they can be made in less than an hour.
How Do You Make Burgers on a Weber Grill?
Step 1: Start by choosing quality meat.
The first step for making the best Weber grill burgers is selecting the meat quality. Choose your favorite chuck ground beef in an 80/20 ratio (meat to fat). More fat in the meat means more flavor.
Step 2: Use simple seasonings.
When making your ground beef burger mixture, I recommend keeping it simple with black pepper, kosher salt, and Worcestershire sauce.
Step 3: Form your burger patties.
Form the beef into 1/2-inch or 1-inch thick patties, with a 4-inch diameter.
Make an indent in the center of each of the formed patties. This is to prevent 'puffing' during the cooking process.
Step 4: Grill the burgers.
Brush each burger with olive oil before cooking to prevent them from sticking. A thin coating of olive oil on the burgers will also create a nice sear, locking those coveted juices inside.
Preheat the grill to get it hot. Aim for high heat with a temperature between 400°F and 450°F. 
Meanwhile, season the exterior of your burgers with a light dusting of pepper and salt.
Place your burgers on the cooking grates and avoid pressing them down. If you keep touching or pressing them down, you'll lose those precious juices and end up with crumbly burgers.
Flip the burgers once – after 5 minutes on the grill. Avoid frequently flipping the burgers.
After flipping the burgers once, close the grill lid, and continue to cook until they reach your desired level of doneness. You'll know when your hamburgers are done by checking the internal temperature.
Keep the following guidelines in mind when cooking burgers in a Weber grill.
| | |
| --- | --- |
| Desired Doneness | Internal Temperature |
| Medium-rare | 130°F to 135°F |
| Medium | 135°F to 150°F |
| Medium-well | 150°F to 165°F |
| Well-done | 165°F and up |
Add cheese one minute before the burgers are done if you want to make cheeseburgers, and once the cheese has melted, remove the burgers from the grill.
Step 5: Let the burgers rest.
When your burgers are done, remove them from the heat and let them rest for one or two minutes before serving. This allows the juices to redistribute, making your Weber grill burgers juicy and flavorful.
Good options for toppings on your grill burgers include ketchup, mayonnaise, mustard, onion, tomato, and pickles.
Ready to hit the grill? Now that you know how to grill burgers in a Weber kettle grill, it's time to make them!
Print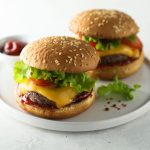 Classic Weber Grill Burgers with Cheese
---
Author:

Total Time:

38 minutes
Description
Learn how to cook the best burgers on a Weber gas grill with this easy-to-follow recipe. Great for any night of the week and done in less than an hour! All you need is your grill a few simple ingredients, and a meat thermometer!
---
1

–

pound

80/20 ground chuck

4 tablespoons

butter

4 tablespoons

cooking oil

2 tsp

Black pepper

2 tsp

Kosher salt

4

-pack of Brioche burger buns

4

slices of cheddar cheese

1

large onion

1

large beefsteak tomato
Bread and butter pickles
---
Instructions
Turn all burners to a high-heat setting (450°F).
Let the gas grill sit for about 5 to 10 minutes before grilling to burn off any food residue.
After that, clean the grill grates using a bristle-free grill brush.
Season the ground beef with pepper and salt.
Shape the meat into four balls to create 1-inch thick hamburger patties, with a 4-inch diameter.
Season the outer surface of the patties with pepper and salt. Then, gently brush with vegetable oil on all sides.
Place your burgers on the cooking grates over high heat. Don't flip the burgers too often or press down on them. After 3 to 5 mins, carefully check the burgers to see if they are browned, and flip them just once.
Continue to cook for a further 3 to 5 mins until the internal temperature of the burgers reaches 160°F on a digital meat thermometer.
During the last minute of grilling, place cheese on the patties and close the grill lid to melt the cheese.
Take the burgers off the grill and allow them to rest for 2 to 3 minutes.
Spread butter on the hamburger buns and arrange them on the grill rack for a few minutes until they are toasted.
Slice onion and tomato into 1/8" slices.
Take your burgers and buns off the grill, and assemble them, adding the pickles, onions, tomato, and any other condiments of your choice! I recommend ketchup, mayonnaise, and mustard.
Prep Time:

20 minutes

Cook Time:

18 minutes
Nutrition
Serving Size:

372g

Calories:

910

Sugar:

8g

Sodium:

970mg

Fat:

59g

Saturated Fat:

23g

Carbohydrates:

40g

Fiber:

1g

Protein:

50g

Cholesterol:

160mg
How Long Does it Take to Make Burgers on a Weber Gas Grill?
Many factors can influence the total cook time, including the thickness of your burgers and the grill temperature. Searing takes 3-5 minutes per side when the grill temperature is set to 400°F.
Once seared, continue cooking for 3 to 7 minutes until you reach your desired doneness. According to the USDA, ground beef must be cooked to 160°F for food safety reasons. The best way to know they are done is to use a meat thermometer and take the internal temperature.
Tips for Juicy Grilled Burgers
Cooking Weber grill burgers is a great way to prepare an easy and quick meal for your family. Here are some tips to help you ensure your grilled burgers are juicy, tender, and delicious every time.
Choose 80-20 ground beef.
This is the best ratio of meat to fat and is guaranteed to give your grilled hamburgers the flavor and juiciness you want.
Season the burgers.
Coat the burgers liberally with pepper, salt, Worcestershire sauce, and any herbs or spices you love.
Grill the burgers over high heat.
Grilling the burgers over high heat (between 400°F and 450°F) is recommended to ensure they develop a good char while staying juicy.
Flip burgers once and don't press them.
If you flip burgers often, the juices drain, and the drippings may cause flare-ups. Leave them alone during the grilling process, and you'll get tastier and juicer burgers. 
Don't overcook the burgers.
Be sure to use a digital meat thermometer to get the temperature of the burgers right every time.
Rest for 5 minutes.
Resting the burgers before serving allows the juices to redistribute throughout the meat, resulting in the best-tasting burgers.
What are the Best Burger Buns for Weber Grill Burgers?
There are numerous ways to spice up your Weber grill burgers including using the best hamburger buns! Here are some recommendations:
Brioche buns are the go-to favorite for various things, including backyard burgers and pork sandwiches.
When you add rich brioche buns to your juicy Weber grill burgers, they soak up all that flavor and the buttery notes in the brioche comes out. Toast them to add crisp edges!
This square-shaped bun has a soft texture and crisp crust that makes it the perfect burger holder. With its porous interior, none of the juices of the burger are lost.
Hawaiian burger buns are a sweet addition to your backyard burgers and complement the flavors of island-style and spicy burger recipes.
This burger bun stays true to the classic pretzel dough and is packed with flavor. Keep it simple by stacking it with lettuce, onions, and tomatoes.
Benefits of Making Burgers on a Weber Grill
There are many reasons why you should consider making burgers on a Weber grill. When you grill burgers on your Weber gas grill, it produces an incredible charred flavor that is hard to beat.
Additionally, many beginners prefer Weber grill burgers over charcoal grill burgers because the Weber grill is:
Easier to clean
Requires 10 minutes to preheat
Maintains a consistent temperature
Side Dish Ideas for Weber Grilled Burgers
Everyone loves french fries with grilled burgers, but if you want to impress your friends and family when serving hamburgers, you need unique options.
Whether you are making Weber grilled burgers for your guests or family, consider these creative side dish ideas for a memorable experience.
Pimiento pasta and burgers are a winning combination. The rich flavor of burgers pairs well with the cheesy flavors of Pimiento pasta salad. The only thing you need to cook is the macaroni noodles. Simply combine the ingredients and place them in the refrigerator to cool.
This classic pairs perfectly with burgers thanks to its rich, creamy flavor.
Elote is a side dish that can be served with any type of bbq but shines when paired with burgers.
Take your basic veggies to new heights with this fantastic mixed grill smoked vegetable recipe!
Grilled Burger Topping Ideas
While lettuce, tomato, mustard, and ketchup are no-brainers when it comes to toppings for grilled burgers, the following unique topping ideas are sure to take your burger patties to a whole new level!
Onion straws add much-needed crunch and texture to burgers while having a sweet flavor that pairs well with nearly any burger recipe.
Rich bacon jam is salty, sweet, and a crowd-pleaser.
For a non-traditional twist, hoisin sauce adds umami to any burger!
Pickled sweet peppers add texture and unforgettable flavor without too much heat.
Topping meat… with more meat? Both the burger and the smoked brisket enhance each other in a way only true carnivores will understand.
How to Store and Reheat Weber Grilled Burgers
Refrigerate any leftover burgers within an hour. They should be eaten within 2 days.
You may also freeze any leftovers by wrapping them in plastic wrap. Be sure to place it in an airtight container or ziplock bag and mark the use by date. For good texture and flavor, enjoy frozen leftover burgers within 3 to 4 months. 
The best method for reheating your burgers is using an oven.
With the temperature set to 400°F, place the burgers on a rack with a baking sheet underneath it.
Place the rack in the preheated oven and bring the burgers to an internal temperature of 160°F.