For the best taste and flavor, cooking a brisket at 225 F typically takes about two hours per pound. However, this length of time varies depending on the brisket size and the type of smoker you have.
There are few foods more satisfying than mouthwatering brisket. The process of cooking brisket requires time, patience, and attention to detail. Properly cooked brisket is guaranteed to satisfy.
How Long Do You Cook a Brisket per Pound at 225 Degrees?
Usually, it takes around 1.5 to 2 hours to cook a single pound of brisket at 225 degrees Fahrenheit. That means it takes around 10 to 12 hours to cook a 10lb brisket at 225 degrees.
Cooking time varies depending on brisket size. A whole brisket can weigh between 12 and 18 pounds. Therefore, the length of time it takes to cook brisket can vary.
It is advisable to first figure out the time to cook just one pound of beef brisket. You can determine an approximate total cooking time depending on how much your brisket weighs.
It's essential to keep a meat thermometer or a temperature probe on hand to keep an eye on the smoker temperature and the internal temperature of your brisket. These thermometers are an integral part of the cooking process. We strongly recommend having one with you as it will help you smoke your brisket properly.
Why is Time so Important when Cooking Brisket?
The amount of time it takes to cook brisket influences texture and flavor. Cooking your beef brisket for too long can make it tough. As a result, it won't be as tender and flavorful as it should be.
If the cooking time is too short, the brisket won't get the tender texture you desire. Learning how long to cook brisket at 225 is important so your brisket has all the characteristics you want: juicy, tender, and with a smoky crust.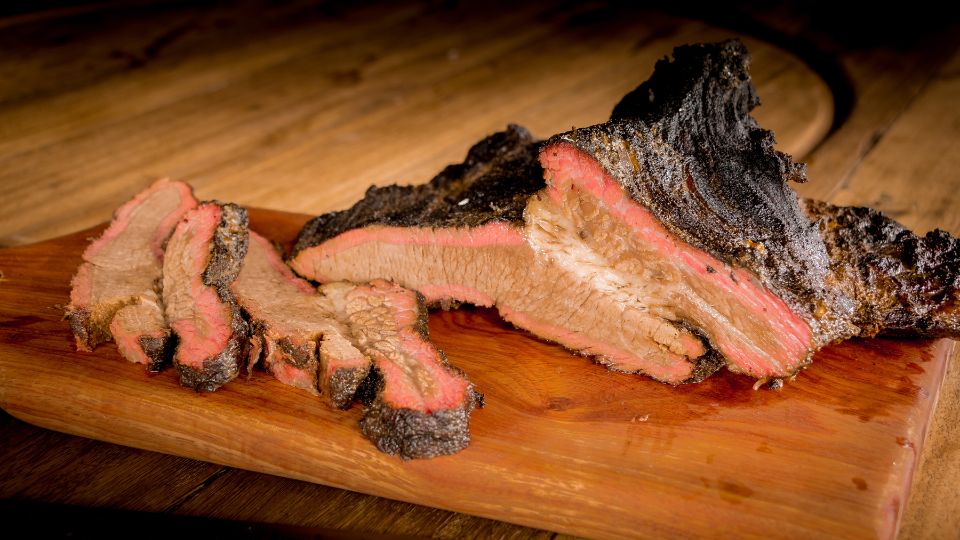 Cooking Brisket in an Oven
Cooking brisket in an oven is quite simple but it still takes time to prepare properly.
It's essential to buy a flat-cut beef brisket instead of corned beef brisket for this method.
Print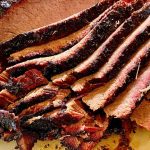 Low and Slow Oven Brisket at 225
---
Description
The key to an awesome brisket is time, patience, and cooking temperature management.
Remember, a rich, tasty brisket is what you're looking for, so keep warm and moist before serving.
---
4

lbs

Cut of Beef Brisket (excess fat removed)

1

bottle Natural hickory smoke ((Liquid Smoke))

1/4

cup

Worcestershire Sauce
Garlic Salt
Celery Salt
Onion Salt
---
Instructions
Prepare the brisket the day before cooking.
Put the brisket on aluminum foil
Rub the sides thoroughly with celery, garlic, and onion salts
Put the brisket in a two-gallon freezer bag
Pour Worcestershire and natural hickory smoke over the brisket
Marinate overnight
Cooking Day Steps
Preheat the oven to 225°F.
Line the roasting pan with aluminum foil.
Put the brisket in the pan with the brisket fat side up.
Cover the pan with aluminum foil, sealing all edges properly.
Cook for 8 hours.
Remove brisket from the oven (careful not to spill the juices).
Let brisket rest for about one hour before removing the foil.
Unwrap the foil
Remove and discard the fat
Slice the brisket into pieces
Pour the au jus over the meat
Wrap to hold in the juices
Keep warm before serving
Prep Time:

12 hours

Cook Time:

8 hours
Tools for Cooking Brisket
Essential tools for cooking brisket include:
A smoker
Charcoal briquettes
Wood chips/chunks
Aluminum foil
Plastic wrap
Temperature probe (or an instant-read thermometer)
A carving knife
A trimming knife
A chimney starter (optional) for lighting the briquettes
Covering a Brisket
Covering a brisket is necessary to hold in the liquid and avoid overcooking the brisket. This is important for beginners who are not skilled at ideal temperature management.
Wrapping will help prevent the brisket from becoming smoky, which could ruin your piece of meat.
You can use either food-grade butcher paper or aluminum foil to wrap it. Pitmasters recommend covering a brisket once the internal temperature reaches 165°F to 170°F.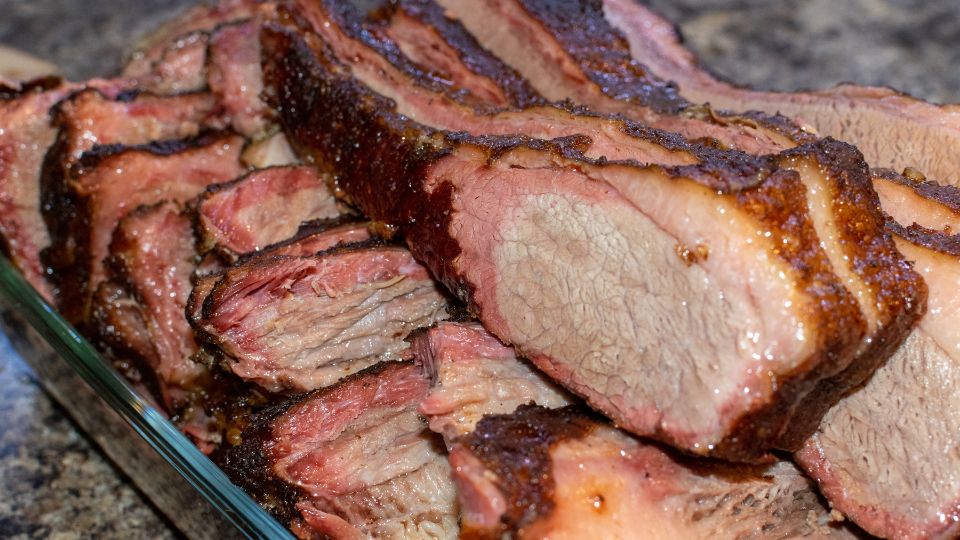 How to Smoke a Brisket
Smoking brisket shouldn't be overwhelming, but it can be time intensive. Here's a step-by-step guide to help you get the finest brisket meal you've ever tasted!
Brisket Preparation
The most important thing is to choose a high-quality piece of meat. Buy a brisket that is well-trimmed and has proper marbling. This will help you maintain its juice and prevent it from drying out during the cooking process.
Once you've chosen a good brisket, you can start preparing it for smoking. Trim off the excess fat, and apply a dry brisket rub generously to the meat to help add extra flavor to your piece of meat.
Cuts of Brisket
Prime cut is ideal, but you can also opt for choice cut. Get a whole-packer brisket that has the lean brisket flat cut and the fat point cut.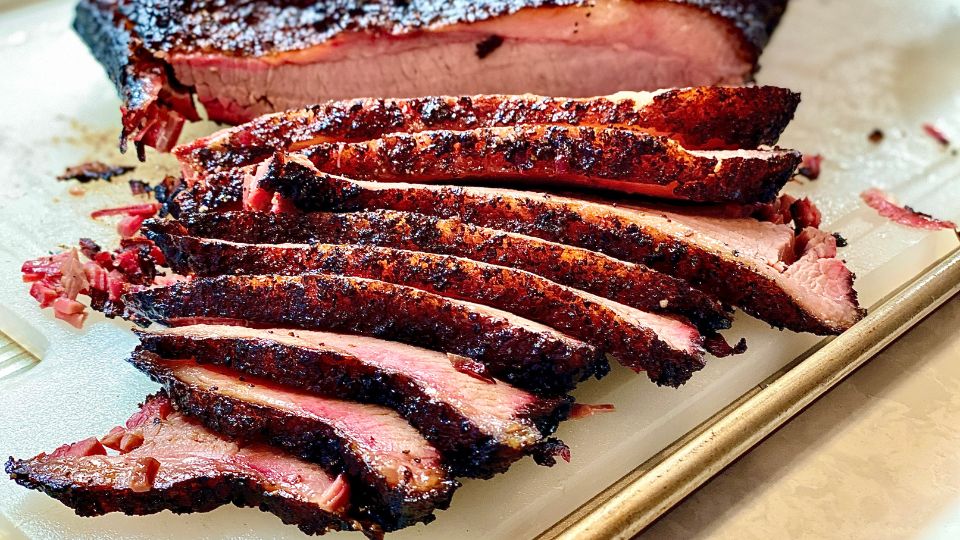 Print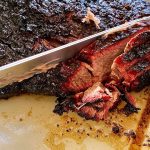 Ultimate Smoked Brisket
---
Total Time:

15 hours 30 minutes

Yield:

18

people

1

x
Description
This Texas-style recipe will help keep your brisket moist and also speed up the cooking process.
Prior to seasoning, trim excess fat from the brisket using a sharp blade or a fillet knife remembering to remove the silver skin.
The most important thing to do is to dry rub the brisket and allow it to reach room temperature before placing it on the smoker.
---
12

–

14

lbs

Brisket

2 tbsp

Kosher Salt

2 tbsp

Ground Black Pepper

2 tbsp

Garlic Powder
---
Instructions
Mix the black pepper, garlic powder, and kosher salt in an empty container.
Spread the spices out, evenly distributing them over the meat surface.
Preheat the smoker to 225°F using an indirect heat source.
Put the brisket on your smoker with the thickest part of the brisket (fat cap) pointing to the heat source.
Close the lid and wait until the internal temp reaches 165 degrees F (typically takes 8 hours).
Spread a large piece of aluminum foil/butcher paper on a large surface and place the meat in the middle.
Wrap the meat carefully to seal all the edges properly.
Place the wrapped brisket on your smoker again, with the seam side facing down.
Close lid.
Maintain the smoker temperature at 225°F
Continue reheating until the internal temperature of the meat reaches 202°F on the thicker section of the brisket (this should take around 5 to 8 hours).
Rest brisket for 1 hour.
Prep Time:

30 minutes

Cook Time:

15 hours