Smoker appetizers can range from simple smoked cheeses and nuts, to smoked sausage sliders, pork belly burnt ends, or cheesy caramelized onion dip with pretzels! Most cooked or cured foods can be cold-smoked, while hot smoking works best if you want to infuse smoke as your appetizers cook.
Tailgate Smoker Appetizer Ideas
These handheld, portable smoker appetizers are perfect for tailgate parties at the big game!
Sometimes called 'party wings' these wings are coated with a dry rub and slow-smoked to perfection.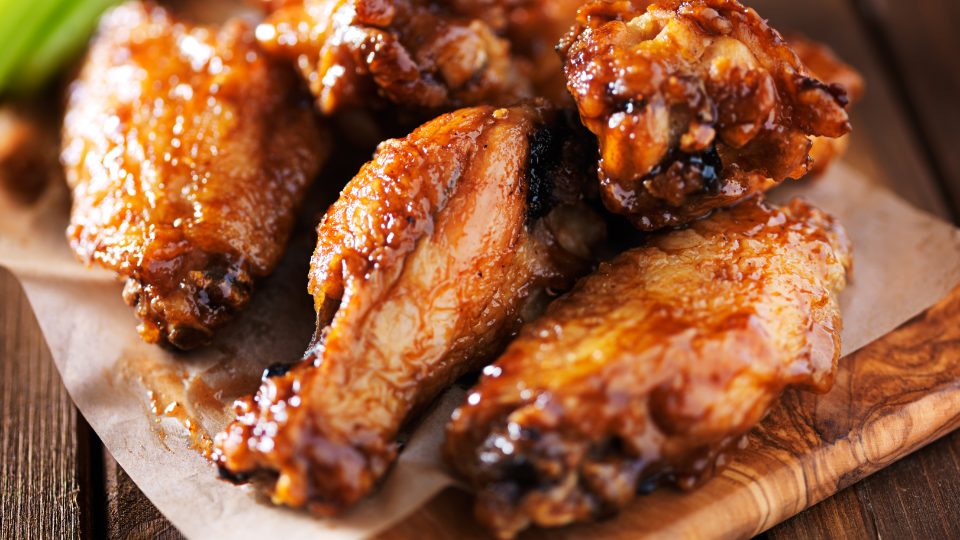 This game day appetizer is bursting with flavor from the smoked sausage with peppers and onion atop soft french bread.
Did you know you can smoke a whole pizza? Serve up crispy, cheesy pizza on your Traeger by the slice for a surefire-winning appetizer.
Smoked shredded pork butt mixed with your favorite BBQ sauce make great mini sandwiches! Use a Hawaiian bun to make sweet sliders!
You'll need St. Louis-style ribs, Chinese 5 spice, and a bbq rub for these ribs. They are worth the effort!
Smoke your chicken breast on your pellet smoker and combine it with hot sauce and cream cheese, then sprinkle more cheese on top! Serve with toasted bread or veggies.
No one will turn down this homemade beef jerky. Tender and chewy at the same time, this protein-packed snack doubles up as a tailgate appetizer!
Smoked mini burgers with cheese, onions, lettuce, and pickles are hard to beat. It's the perfect bite, and bursting with a smoky flavor!
Bite-Sized Smoker Appetizers
These bites are perfect for any celebration or occasion and are tried and true crowd-pleasers!
Start by smoking your favorite bacon. Fill halved jalapeños with cheddar cheese, cream cheese, onions, and smoked bacon. Smoke the poppers and serve these bite-sized appetizers to your crowd.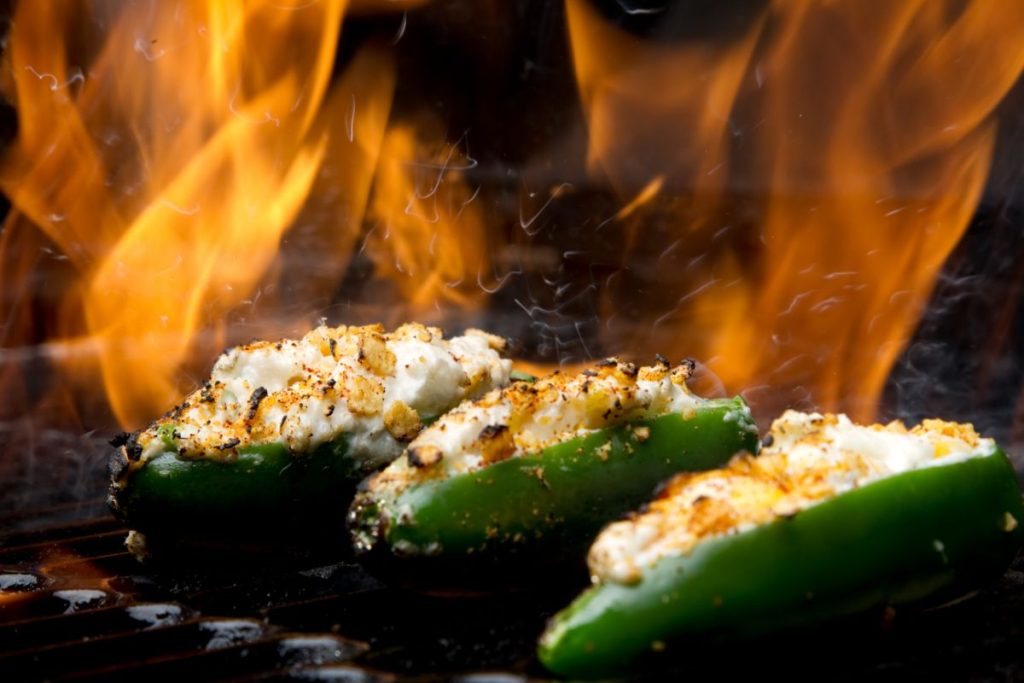 Take your meatball recipe to the next level by smoking them on your pellet grill. Serve with marinara dipping sauce.
These are the ultimate party food. Who doesn't love a corndog?
These hearty sweet potatoes are sweet, smoky, and perfect for dipping in small saucers of garlicky, tomato aioli!
Stuff portabella mushrooms with bacon, cheese, breadcrumbs, and jalapeños. Smoke them for 10-20 minutes and devour them. Most people want seconds so be sure to prepare plenty!
Rub these small pieces of meat with a dry rub, smoke them, toss them in sauce and then place a toothpick in each piece for the perfect appetizer!
What's better than a pig in a blanket? These meat-on-meat smoked appetizers are perfect for the carnivores in your crowd!
Upscale Smoker Appetizers
If you're having a fancy party or want to serve elegant bites, these upscale smoker appetizers won't let you down.
This cheese ball is made from smoked cream cheese and cheddar cheese. Coat it in almonds and green onions and serve with crackers or veggies for a simple smoked appetizer with class.
This guacamole is taken to the next level with smoky bacon and tomatillos. Serve with melba toast for an elegant bite.
These keto pork bites are wrapped in bacon and served with cream cheese. Make sure your spice rub is sugar-free so you've got a keto-friendly appetizer!
This recipe is so simple! Marinate your shrimp, place it on skewers, and smoke to perfection.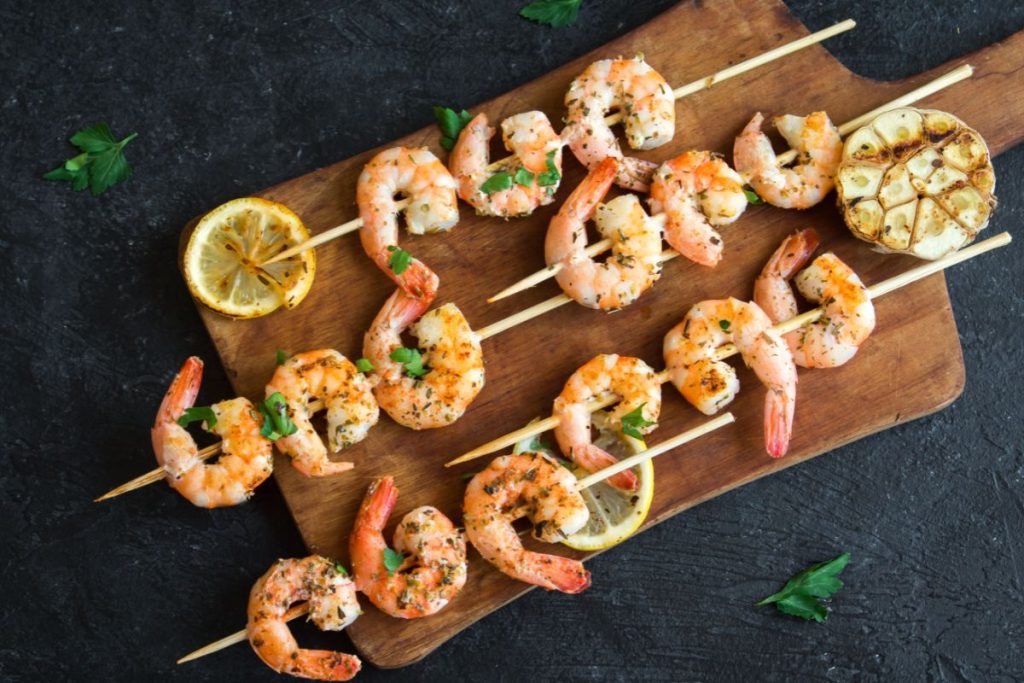 Create a unique version of this classic, boozy drink by smoking the tomatoes before making the cocktail!
Smoke salmon filets with brown sugar, salt, and pepper. Once smoked, serve with sliced cucumbers, cream cheese, and dill.
Smoke brie until warm and creamy, let it cool slightly, and slice it into small triangles. Serve on top of crackers.
Backyard BBQ Smoker Appetizers
Having some friends and family over for a casual cookout? Try serving some of these BBQ smoker appetizers!
Instead of cooking them in the oven, place them in a basket on your smoker! Portion the smoked tots into mini shot glasses for a perfectly portable smoked appetizer!
Velveeta cheese, sausage, and tomatoes are the main ingredients in this dip. Smoke a large tray and let guests serve themselves with tortilla chips. This is sure to be one of your guests' favorite appetizers.
Smoke these brined chicken wings with a dry bbq rub for a great low-carb appetizer.
Smoke whole potatoes and create a potato bar for your guests with cheese, green onion, sour cream, bacon bits, olives, tomatoes, and jalapeños as topping choices!
Cook the macaroni on the stove first, then combine it with milk, gouda cheese, cheddar cheese, and butter in a pan on your smoker. Let cook until thick and full of smoky flavor!
Cut peaches in half and sprinkle with brown sugar. Place peaches cut side down on an oiled grill grate and smoke for 10 minutes.
Go back in time and kick your Chex party mix up a notch with this smoker recipe. Mix your ingredients as usual, place in a pan over your smoker, and smoke until warm.
What is the Best Appetizer to Smoke?
The best appetizers to smoke are ones that contain high amounts of fat. Burgers, brats, and brisket smoke beautifully because they are fattier meats.
Chicken wings and thighs are also excellent choices because these poultry pieces are higher in fat.
What is the Difference Between an Appetizer and a Starter?
Appetizers and starters are functionally the same. They are small amounts of food meant to stimulate your appetite. They are designed to be the first course of the meal and can be eaten as finger food or with utensils.
What Type of Smoker Do You Need for Appetizers?
Any type of smoker can be used to smoke appetizers. Use a Traeger or Pit Boss pellet smoker, or even an electric smoker! Reverse-flow smokers are excellent for beginners.
Try out this fantastic smoker recipe below using any smoker you have for a guaranteed crowd-pleaser!
Print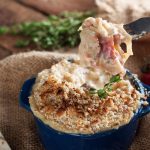 Smoked Cheesy Caramelized Onion Appetizer Recipe
---
Author:

Total Time:

1 hour, 45 minutes
Description
Look no further for the perfect recipe to serve at your next cookout. This Traeger smoked cheesy caramelized onion dip is a crowd-pleaser! You can even smoke the cream cheese alongside the onions for an extra dimension of flavor!
---
3

cups

Vidalia onions, thinly sliced

1/4

cup

butter

1/4 teaspoon

salt

1/8 tsp

ground black pepper

8

ounces

cream cheese, room temperature

8

ounces

sharp cheddar cheese, cubes

1/4

cup

diced chives

1 tbsp

red wine vinegar

2/3

cup

sour cream or greek yogurt

1/3

cup

parmesan cheese
---
Instructions
Preheat the smoker to 350°F.
Mix onions, butter, salt, and pepper in an aluminum pan or grill-safe basket.
Place the pan on the grill and smoke for 30 minutes.
Stir onions and cook for 20 to 30 more minutes until onions are soft and golden brown.
Add the cream cheese and cheddar cheese to the pan and lower the temp to 185°F. Cook for 20 minutes until the cheese is melted and the mixture combines.
Stir in the remaining ingredients and cook for 15-20 more minutes until the dip is heated.
Serve with crackers, bread, or veggies and enjoy!
Prep Time:

5 minutes

Cook Time:

1 hour, 40 minutes
Nutrition
Serving Size:

1 ounce

Calories:

180kcal

Sugar:

3g

Sodium:

233mg

Fat:

15g

Saturated Fat:

9g

Carbohydrates:

6g

Fiber:

1g

Protein:

6g

Cholesterol:

43mg