To make jerky using a smoker or pellet grill, select your meat, then slice it into 1/4" thick, uniform pieces. These pieces should be placed in a marinade for 24 to 48 hours. After marinating, you will pat each piece dry and put them into a smoker set at 160°F for 2 to 3 hours until they are dry but still able to bend.
One of the best reasons to get a smoker is the ability to make jerky. Making homemade jerky requires no specialized equipment and can be done in a few hours! Once you make your own jerky, you'll never want store-bought jerky again.
The secret to making tender and delicious jerky in a smoker at home is adding enough brown sugar to your jerky marinade. The additional sugar will not only help preserve your meat but also lock in moisture.
How Do You Make Jerky in a Smoker?
Here's a step-by-step guide on how to make jerky in a smoker:
Choose and Prepare the Meat
Many people opt for a sirloin tip roast for making smoked jerky because this lean meat is easy to work with.
Once you have your meat, trim away any excess fat. Fat can increase the drying time and cause the smoked beef jerky to spoil quickly.
Use a sharp knife or meat slicer to cut the beef into small 1/4-inch thick slices. Try to ensure each piece has similar dimensions.
Wrap the sliced beef in plastic wrap and keep it in the freezer for one or two hours.
Marinate the Sliced Beef
Combine black pepper, brown sugar, soy sauce, kosher salt, onion powder, garlic powder, and water in a ziplock bag or medium-sized bowl to make a marinade.
Remove your beef slices from the freezer and place them in the marinade. Ensure the bowl is covered to lock in all those flavors. Marinate the meat for 24 to 48 hours.
Ready the Smoker
Jerky can be made on a pellet grill, electric smoker, or regular smoker.
You will want to cover the drip pan with foil to keep the drippings off the smoker after the drying process. Place aluminum foil over the heating element to make cleaning easier. 
Preheat the smoker to 175°F – 185°F, and then add hickory wood to your smoker. You can use different woods, but hickory is recommended for the flavor profile it gives to beef.
Get Smoking
After marinating the meat, put the slices onto a baking rack. Use a paper towel to pat dry any excess marinade. This will allow the beef to smoke more evenly.
Place the slices of beef on the grill grates and let them smoke for 2 to 4 hours, monitoring them every hour to ensure even cooking. The smoking process should be complete at around the three-hour mark, but the process can take up to five hours if you're using a pellet smoker.
You can tell the jerky has reached doneness when you bend it and it starts to crack without breaking. It should not be brittle or shatter when trying to bend it but should feel dry.
Cool and Store the Jerky
Remove the jerky from the smoker and let it cool on the cooling rack. Once it is cool, you can place the smoked jerky in an airtight container or zip-lock bag, and store it in the fridge for up to 2 weeks. 
That's it! You can now enjoy your smoked beef jerky for many days to come.
Print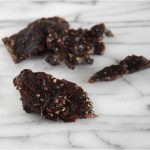 Smoked Lime & Honey Beef Jerky Recipe
---
Author:

Total Time:

4 hours, 10 minutes
Description
This smoked beef jerky recipe makes the perfect treat for work, camping, or hitting the road and can be made on a pellet grill or smoker. Once you try this smoked beef jerky, you'll say goodbye to store-bought jerky forever. The soy sauce and Worcestershire sauce marinade with red pepper flakes, honey, and lime juice complement the flavor of the beef perfectly.
---
3

lbs

beef round roast or round steak

1 tbsp

red pepper flakes

1 tsp

black pepper

2 tsp

garlic powder

2 tsp

onion powder

1/2 tsp

red pepper flakes

1/3

cup

soy sauce

1/4

cup

Worcestershire sauce

3 tbsp

honey

1 tbsp

lime juice

9

pieces of wood chips (hickory, pecan, or oak)
---
Instructions
Place the meat in the freezer for 1 hour to make it easier to slice.
Trim any excess fat from the beef.
Use a sharp knife or meat slicer to slice the meat across the grain into small 1/4-inch uniform strips.
In a ziplock bag, combine the Worcestershire sauce, soy sauce, lime juice, honey, black pepper, onion powder, garlic powder, and red pepper flakes. Place the sliced meat in the marinade and store it in the refrigerator for at least 6 hours and up to 24 hours.
Preheat the smoker to 180°F and add hickory, pecan, mesquite, or your favorite wood chips to the hot coals. Replenish the wood chunks as required to maintain the smoke.
Remove the meat strips from the marinade. Using paper towels, pat the meat dry.
Place the meat strips onto the smoker grates. Close the lid and smoke for 2 to 3 hours until your beef jerky is adequately cooked.
Check the jerky every hour and bend it to check for doneness. The jerky should take around 3 hours for it to be done. You'll know it is done when it feels dry with a slight bend to it without being brittle and shattering.
Remove your beef jerky strips from the heat, place them on a cooling rack, and let rest for 10 minutes before serving. Enjoy!
Prep Time:

1 hour

Rest Time:

10 minutes

Cook Time:

3 hours
Nutrition
Serving Size:

1 ounce

Calories:

116

Sugar:

3.1g

Sodium:

400mg

Fat:

7.3g

Carbohydrates:

3.1g

Fiber:

0.5g

Protein:

9.4g

Cholesterol:

12mg
How Long Does it Take to Make Jerky in a Smoker?
If you're using a pellet smoker, the process should take about 3 to 4 hours. It takes about 3 to 5 hours to make jerky in an electric smoker. The smoker's temperature will also factor into how long it takes to make jerky, as well as the thickness of the sliced meat.
What is the Best Temperature to make Smoked Jerky?
The best temperature to make smoked beef jerky is between 160°F – 180°F. Drying meat will require low temperatures.
If the temperature is too high, the exterior of the beef will form a crust that prevents the interior moisture from evaporating. This is crucial for steaks on the pellet grill, but high temperatures don't favor the jerky-smoking process.
Is Jerky Better in a Smoker or Dehydrator?
Jerky is better in a smoker because smoke brings extra flavor.
If you want to preserve your meat to eat much later, you can use a dehydrator.  However, if you choose to use a dehydrator you will also need to pasteurize the meat because dehydrators do not reach high enough temperatures to kill bacteria.
Benefits of Making Smoked Jerky
The main advantage of making smoked jerky is that it yields a beautiful smoke flavor. Smokers are also easy to use, and you don't require special equipment to make smoked beef jerky.
What are the Best Meats for Making Smoked Jerky?
When making smoked jerky, it's always essential to choose a lean cut of meat. Your meat should be lean because fat doesn't dry out completely. The best meat cuts for making smoked jerky include sirloin tip roast and round roast.
Although jerky was initially made from beef, you can experiment with various cuts of meat. Pork, lamb, turkey, and game animals like venison, mule deer, or elk can make delicious jerky. Make sure the meat is a lean cut without excess fat or marbling.
How to Store Smoked Jerky
After smoking your jerky, place it on the cooling rack and let it come to room temperature. Place the jerky in an airtight container or zip-lock bag, and store it in the refrigerator. You can extend its shelf life to several weeks or months by storing it properly.
Your homemade jerky should stay fresh for 3 to 6 months in the refrigerator or up to one year in the freezer.