It is easy to make beef jerky in your electric smoker. Select your desired cut of meat and trim it into 1/4-inch thick strips cutting against the grain. Marinate your jerky for 12 hours and up to 2 days. Smoke for 2-3 hours at 160°F. It is done when the jerky reaches 160°F and is dry but still flexible.
Smoking meat has always been one of the most popular ways to preserve it because it can keep food safe for much longer than other preservation methods. Both beef jerky and venison jerky have become popular snacks that people are learning to make at home. Not only are these snacks portable with a long shelf-life, but they are protein-packed and healthier than processed foods.
Step-by-Step Guide to Make Beef Jerky in an Electric Smoker
Choose Your Meat
Pick your desired cut of meat – sirloin and round roast are both great options.
Trim the Meat
Trim away the sinew, silverskin, and excess fat from your cut of beef, using a sharp knife.
Slice the Meat
After you've trimmed the meat, slice it against the grain in quarter-inch slices. Try to cut each piece at almost the same thickness so they dry out simultaneously. Beef slices should be between 1/8 inch and 1/4 inch thick. A meat slicer will ensure perfectly even slices if you have one.
Marinate the Meat
Marinate your jerky. You can make a sweet, savory, or spicy marinade depending on what you want your jerky to taste like. The jerky should be marinated for a minimum of 12 hours and a maximum of 2 days.
Preheat the Electric Smoker
Preheat the electric smoker to 160 degrees F and keep it at this low temperature.
Place the Beef Jerky in the Smoker
Place beef jerky in your smoker by placing every slice of beef on a metal rack or position them with toothpicks to lay between the grill grates.
Smoke the Jerky
Let the strips smoke for 2-3 hours until they reach 160°F and are dry but still bendable.
Cool the Jerky
Remove from the smoker and place in a semi-open ziplock bag until they cool completely.
Print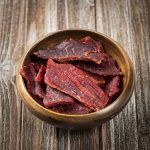 Dr. Pepper Jalapeno Beef Jerky Recipe
---
Description
This unique combination is sweet and spicy with a hint of smoke. For flavor-packed jerky that will wow your tastebuds, this recipe is all you need!
---
Saucepan
Zip-lock bags
Wood chips of choice

2

–

3

pounds

beef eye of round steak (thinly sliced against the grain)

2

cups

Dr. Pepper

2

jalapenos (sliced)

2 tbsp

kosher salt

1 tbsp

Worcestershire sauce

2 tsp

black pepper

1 tsp

garlic powder

1 tsp

onion powder
---
Instructions
Cut the beef jerky into thin, even slices against the grain.
Prepare the marinade by mixing all the ingredients in a heated saucepan. Bring to a boil and simmer continuously until the mixture is reduced by half. Get the saucepan off the heat source.
Marinate your slices of beef by placing the mixture and the meat in a zip-lock bag.
Place the bag in the fridge and let it sit for 12 hours.
After that time has passed, preheat the smoker to 170°F.
Pick your preferred wood pellets and add them to your electric smoker.
Pat each piece of jerky dry and place it on a jerky rack, the grill grates, or a cooling rack.
Let them sit in the smoker for 2-3 hours (or longer if the pieces are thicker). Be sure to check on them every hour.
You'll know they're done when they're fairly rigid but still bendable.
After they're done, place them quickly in a semi-closed zip-lock bag and let them steam until they reach room temperature.
How Long Does it Take to Make Beef Jerky in an Electric Smoker?
It will take about 3 hours to smoke beef jerky at a temperature of 160°F but you should check on their progress after the 2-hour mark because timing can vary depending on the thickness of your slices.
What is the Best Temperature for Smoking Beef Jerky in an Electric Smoker?
The best temperature for smoking beef jerky in an electric smoker is 160°F.
It is important to note that beef jerky must reach an internal temperature of 160°F to kill harmful bacteria. Using a dehydrator alone won't allow you to get the jerky to a safe temperature.
You can use a dehydrator with a smoker, but ensure that you follow the safety guidelines for making jerky.
What are the Benefits of Smoking Beef Jerky?
Smoking beef jerky is fantastic. You don't have to be a master smoker to appreciate the benefits of smoking your own meat:
Taste
When you smoke your jerky, you get that lovely smoky flavor everyone loves.
Pasteurization
The heating process kills bacteria in meat.
Shelf-life
When you smoke beef jerky, it will last much longer.
Large Batches
Even if you don't have time to eat all the beef jerky you made, there will still be plenty of time to eat it down the line.
Customization
You can customize your jerky by adding your favorite spices or marinades.
Better than Store-Bought
It tastes better than store-bought jerky and has less sodium.
What is the Best Type of Wood to Use for Smoking Beef Jerky?
Hickory
Hickory is the most popular type of wood out there for making jerky.
Mesquite
Mesquite is a strong smoke. If you enjoy a sharp, woody note in your jerky, mesquite is the way to go.
Pecan
Pecan wood is milder than other types of wood since it's not as strong-tasting. Pecan adds a mild nuttiness to beef jerky without overpowering it.
What Can You Do to Make Beef Jerky Taste Better?
Beef jerky can taste however you want it to with spices and a great marinade!
Marinate the Meat
Marinating the meat before drying is crucial because it allows the flavors to soak into the tissue and helps keep it from drying out. You can brush jerky with soy sauce, Worcestershire sauce, vegetable broth, or liquid smoke. Let the jerky soak up all those delicious flavors overnight before drying it in the smoker. Vinegar-based marinades will also add complexity to the flavor and can help make jerky softer.
Add Spices
You can add different flavors to your beef jerky using different spices in your marinade!
There are so many possibilities for flavoring your beef jerky. Some popular choices include teriyaki sauce, barbecue sauce, chipotle pepper powder, garlic powder, thyme, cumin seeds, garlic powder, brown sugar, and cayenne pepper!
How to Store Beef Jerky
Beef jerky is a delicious snack you can eat anytime, but it must be stored properly to stay fresh.
Here are some tips on how to store beef jerky:
Dry the Meat
Pat the meat dry with a paper towel before storing it.
Cool the Jerky Before Storing
Let the beef jerky get to room temperature before storing it to keep moisture out of the bag.
Store it Properly
Store in an airtight container.
Use Oxygen Absorbents
Add an oxygen absorbent to your bag of jerky.
Keep it Cool and Dry
Keep the container in a cool place like the refrigerator.
Consume in a Reasonable Timeframe
You should consume homemade beef jerky within 1 to 2 months if kept in the cupboard, 3-6 months in the fridge, or up to a year in the freezer.