To make a smoked pork picnic roast, preheat the smoker to 225°F and add your favorite fruitwood wood chips or pellets. Bring the pork picnic to room temperature and coat with oil and dry rub. Smoke the roast until it reaches 145°F and allow it to rest for 1 hour before serving!
Method for Making Smoked Pork Picnic
Smoking meat is all about infusing smoke flavor, and it is easy to do with these simple steps:
Tools Needed to Smoke Picnic Roast
Before smoking, you must ensure you have a pellet smoker, pellet grill, charcoal grill, electric smoker, or Big Green Egg to smoke the meat.
Additionally, you'll need the following:
Aluminum foil
Meat thermometer
Wood chips or wood pellets
How to Prep the Picnic Roast for Smoking
Bring the pork to room temperature and trim it ensuring you leave at least a 1/4-inch fat cap.
Rinse the meat under cold running water and blot dry with paper towels. Apply dry rub on all sides of the roast.
Prepare the Smoker
Preheat the smoker to 225°F. Add your favorite wood chips or wood pellets to the smoker. Hickory and fruitwoods are excellent when making a pulled pork recipe.
Smoke the Picnic Roast
As with brisket, place your shoulder picnic pork roast with the fat side up. Smoke for 4 hours, adding wood chips as necessary, and monitor the temperature to ensure the smoker is maintaining a temperature of 225°F.
Continue smoking your pork picnic until the exterior forms a crispy crust, and the internal temperature of the pork reaches 145°F.
Rest the Pork Picnic
Cover the roast with foil and allow the roast to rest for one hour before serving.
Print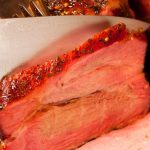 Smoked Picnic Roast with Rootbeer Recipe
---
Author:

Total Time:

6 hours, 10 minutes
Description
This succulent, juicy picnic roast is bursting with flavor and is easy to make in your backyard! This recipe is perfect for pulled pork and can be used for sandwiches, tacos, salads, and more.
---
1 1/2 tablespoons

black pepper, coarse ground

1

3-4 lb bone-in pork picnic roast

2 tablespoons

brown sugar, packed

1 teaspoon

garlic powder

1 tablespoon

coarse kosher salt

3

–

5

tablespoons mustard

1 teaspoon

paprika

1

can root beer
---
Instructions
Preheat the smoker to 225°F.
Combine black pepper, brown sugar, garlic powder, kosher salt, and paprika in a small bowl to create the rub.
Place pork on a flat surface and apply an even coat of mustard on all sides.
Apply the dry rub all over the roast.
Fill a heat-proof dish with 1/2 can of root beer and add the same amount of water. Place the dish inside the smoker.
Place the pork picnic directly on the grill grates in the smoker, then close the lid.
Fill a food-safe spray bottle with the other half can of root beer.
Every hour, spritz the top of the roast with the root beer.
Once the pork hits an internal temp of 160°F, pull it off the grill and wrap it in plain butcher's paper or aluminum foil.
Return the pork to the smoker. Add more root beer and water to the heat-proof dish if it seems to be running low.
Increase the temperature of the grill to 250°F and cook the pork until the internal temp reaches 202°F.
Remove the roast from the smoker, and double wrap in aluminum foil. Place the wrapped roast in a towel and place in a cooler for 1 hour. This will keep the meat hot while it rests and reabsorbs the juices.
Remove the roast from the cooler, shred the pork with a fork or meat claw, and toss it with any remaining juice or your favorite barbecue sauce.
Notes
You can use a mixture of apple juice and apple cider vinegar as a spritz solution for your piece of meat instead of rootbeer if you prefer a more traditional flavor profile.
You can use a dry bbq rub seasoning in lieu of creating your own. Most dry rubs will have all of the necessary seasonings incorporated.
Prep Time:

10 minutes

Rest Time:

1 hour

Cook Time:

5 hours
Nutrition
Serving Size:

150g

Calories:

318

Sodium:

432mg

Fat:

8.8g

Saturated Fat:

1.8g

Carbohydrates:

46g

Fiber:

3g

Protein:

14g

Cholesterol:

22mg
Best Temperature to Smoke Picnic Roast
The best temperature range to smoke picnic roast is 225°F to 250°F. This temperature is ideal because the low heat will dissolve the fat and connective tissue resulting in mouthwatering smoked pulled pork that is fork tender.
How Long Does It Take to Smoke Picnic Roast?
A general rule is to smoke picnic roast for 75 minutes per pound at 250°F. The following chart will give a rough timeline for smoking picnic roast at 250°F. Continuously monitor the internal temperature of the meat because the total time can vary.
| | |
| --- | --- |
| Weight of Picnic Roast | Time Needed to Smoke |
| 4 pounds | 5 hours |
| 5 pounds | 6 hours and 15 minutes |
| 6 pounds | 7 and a half hours |
| 7 pounds | 8 hours and 45 minutes |
| 8 pounds | 10 hours |
| 9 pounds | 11 hours and 15 minutes |
| 10 pounds | 12 and a half hours |
Target Internal Temperature for Picnic Roast
Per the USDA, pork must reach a minimum internal temperature of 145°F however, the target internal temperature of picnic roast is 202°F because at this temperature it can be easily shredded.
Bone in Picnic Roast vs Boneless Picnic Roast
Bone in picnic roast is often considered better than boneless roast because the bone keeps the meat moist and adds flavor. However, boneless picnic roasts cook much faster and are easier to handle.
Best Side Dish Ideas for Smoked Picnic Roast
There are so many delicious side dishes that work well with smoked pork butt and pulled pork sandwiches! Here are a few of my favorites:
This recipe is a delicious medley of roasted potatoes, parsnips, carrots, and onions. It is colorful, healthy, and has a short prep time. Roasting brings out the natural sweetness of the vegetables, and they're seasoned with fresh herbs and vegetable broth.
Mac and Cheese is a classic side dish for a roast. This Southern-style recipe includes a quick from-scratch cheese sauce and a buttery toasted breadcrumb topping that adds crunch to the creaminess of the casserole.
This is a side that will impress dinner guests. These spears are a mix of sweet, tangy, salty, and smoky. There are only four ingredients, and it is easy to make!
Tips for Shredding Pork Picnic for Pulled Pork
Wait until the pork picnic or pork butt reaches 202°F before shredding as it will pull apart easily.
Shredding pulled pork can be done by hand, but it is easier to use two forks or a meat claw.
While shredding pulled pork, pull out any bits of unrendered fat and discard.
Be sure to use shredded pulled pork immediately or mix it with bbq sauce to keep it moist.
Best Way to Store and Reheat Smoked Picnic Roast
The best way to store leftover roast is to refrigerate it by placing it in an airtight container.
To reheat a whole smoked pork shoulder, place it in an oven-safe roasting pan with mopping sauce, cider, or water. Cover the pan with aluminum foil and reheat in the oven at 325°F for 30 to 40 minutes. Check the internal temperature to ensure it is at least 160°F.