Electric smokers are an excellent option for people who want to cook Brisket but don't have the space or budget for a traditional smoker. Brisket should be seasoned and at room temperature before going into the smoker. The smoking time will depend on the size of the brisket and the temperature at which it is smoked - most recipes call for an electric smoker temperature of 250°F.
Guide to Cooking Brisket in an Electric Smoker
Ready to make the best brisket you've ever tasted? Use these tips to make the most of your brisket.
Pick a brisket with more marbling throughout it – all the amount of fat will add some much-appreciated juiciness.
Leave the seasoning on the brisket for a whole night to ensure perfect flavor and texture – a simple rub of equal amounts of kosher salt and pepper works wonders.
The brisket has two muscles: the flat and the point. The flat has a layer of fat on top of it called the fat cap which is the part that you have to trim (typically by cutting about 1 inch off of it). 
Trim any excess fat from the brisket while it's still cold – but let it reach room temperature before cooking it in your electric smoker.
Watch out for flare-ups caused by fat melting from the brisket when smoking meat.
Be mindful of the stall in the smoking process – when your meat stops cooking, and the internal temperature starts to stop or "stall" (hence the name). You can prevent that by foiling your brisket in butcher paper or aluminum foil, ensuring your wrapped brisket reaches the desired internal temperature faster. 
Place your brisket with the fat part closest to the heat source – this will protect your meat from over-drying while cooking. That's not because the fat melts into the meat (because fat doesn't get absorbed) but because fat acts as a protective shield, keeping your whole brisket from burning.
You can occasionally spritz the brisket with apple juice or beef stock to keep the edges from burning.
Beyond covering the brisket with dry rub, you can add a marinade or wet brine the night before for that extra smoke flavor.
Print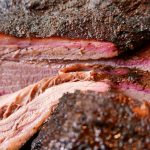 Tender Electric Smoker Brisket Recipe
---
Total Time:

9 hours 20 minutes

Yield:

2

0

1

x
Description
This smoked brisket recipe can be made in an electric smoker, making it a great dish for those who don't have access to a charcoal grill or wood-burning smoker. The smoky flavor is just as good as if you were using one of those methods, but without the hassle. The result is a perfectly smoked brisket that's so tender it will have your guests raving.
---
10

–

14

lbs

whole packer brisket

2 tbsp

olive oil
Brisket Dry Rub
2 tbsp

Kosher salt

1 tbsp

onion powder

1 tbsp

garlic powder

1 tbsp

smoked paprika

1/2 tbsp

black pepper

1/2 tbsp

chili powder

1/2 tsp

dried mustard powder

1/4

cup

brown sugar
---
Instructions
Trim your brisket when cold – trim the silver skin and only a little of the fat cap; the recommended thickness is one inch of fat. Make sure also to remove the deckle if your butcher hasn't done so already.
Season your trimmed brisket by drizzling it with olive oil and sprinkling the dry rub on top. Place brisket in the fridge for 8 to 24 hours (overnight is best).
Take the brisket out of the fridge and let it reach room temperature before putting it in the smoker.
Set the electric smoker temperature by preheating it to 225°F.
Place your brisket in the electric smoker (the fat side closest to the heat source) and cook for about 5 hours or until the internal temperature reaches 165°F. Check the internal temperature with a meat thermometer.
Take the brisket out of the smoker and let it rest for about 5-20 minutes.
This step, called "Texas crutch" might be the most critical part of the cooking process – wrap your brisket in aluminum foil or butcher paper, depending on what you have at hand.
Place the brisket back on the smoker and let it stand for about 2-3 hours or until it reaches an internal temperature of 195-200°F.
Take the brisket out of the smoker and place it in a cooler until it reaches an internal meat temperature of 170°F. Let your brisket rest like this for about 2 hours. 
Place it on a cutting board and slice the brisket thinly against the grain of the flat cut.
Serve with your favorite side dishes such as loaded baked potato, grilled zucchini, sweet potato fries, or a fresh garden salad!
Prep Time:

20 minutes

Cook Time:

7 hours

Cuisine:

American
Why Cook Brisket in an Electric Smoker?
There are several advantages of using an electric smoker (compared to a traditional pellet grill):
An electric smoker makes it easy to control settings – you can set your exact temperature and choose to cook fast or slow. 
Works great in tight spaces – electric smokers don't take up that much space horizontally, making it an ideal choice in apartments or condos. 
It's made with interiors in mind – most of the time, you won't be able to put a smoker with real fire inside your home.
Cheap option – if you're on a budget but still want to enjoy a BBQ-flavored piece of meat, electric smokers can easily replace your traditional grill.
What is the Best Temperature to Cook Brisket in an Electric Smoker?
Cooking brisket at a lower temperature for a longer time will make it more tender and juicy. This slow-cooking method breaks down the connective tissues in the brisket, ensuring increased tenderness. Cooking the brisket at a higher temperature will ensure a faster cooking time (as expected), making the brisket easier to cut and crustier.
There are limits, though: cooking the brisket at 140°F or below will place it in the danger zone, as this temperature encourages harmful bacteria to form. 
Most pitmasters will agree that cooking the brisket at 225-250°F in an electric smoker is the best temperature. Anything above that will dry out your brisket.
The internal temperature the brisket has to reach is more important than the temperature you're cooking your brisket at. The meat can achieve this temperature earlier or later in the process, but it's important to get there eventually!
The first time you place your brisket in the electric smoker, it has to reach 165°F before the dreaded stall. The second time you put it in a smoker and wrap it up in butcher paper, it should reach 190-195°F. After you lay your brisket to rest, keep in mind that the internal temperature will still rise a little – about 5°F.
How Long Does it Take to Smoke Brisket in an Electric Smoker?
The answer to how long it takes to smoke brisket in an electric smoker depends on a few things: the brisket's weight, your smoker's heat level, and whether or not you have a meat thermometer.
At a low temperature between 225-250°F, you'll need about 1 hour to 1 hour and 15 mins per pound of brisket. So let's say you have a 4-pound slab of beef resting comfortably in your electric smoker – in this situation, a good rule of thumb is to leave it alone for about 4 hours.
Of course, this is something to take with a grain of salt – the most important thing to consider is the time it will get your brisket to finish cooking which depends entirely on the internal temperature it has to reach!
To find the internal temperature, place a temperature probe thermometer in the thickest part of the brisket.
Should You Wrap a Brisket in an Electric Smoker?
Yes! You should definitely wrap your brisket no matter what type of smoker you're using.
The main reason is that it helps keep the meat moist while cooking. It also helps lock in flavor, keeps the meat from drying out too fast, and speeds up cooking time. It is the best way to power through the stall.
Recommended Electric Smokers for Brisket
Smoking a brisket using a smoker for the first time can be daunting. How do you know if you're going to do it right?
Many different types of smokers can help you make a delicious brisket, but if you're new to smoking and don't have much experience with the process, an electric smoker is the best option for you.
The Masterbuilt MES 340G Bluetooth Electric Smoker offers an affordable price point and plenty of features that make it easy for anyone to use and has the best array of features for the price.