Smoking meatloaf on a pellet grill is simple to do and only takes around 2 hours to smoke at 225°F. Season and form your loaf with your favorite spices and ground beef/pork mixture, place it on your pellet grill, and allow the heat and hickory do the rest.
This easy-to-make meatloaf recipe packs all the wood-fired flavor you know and love.
Can Meatloaf Be Smoked?
Meatloaf is an excellent choice for smoking. The consistency of the meat lends itself well to smoking and doesn't take as long as other meats. Unlike smoking a turkey for 10 hours, this dish only takes 2 hours. The fat in the ground sirloin helps carry and preserve the smoky flavor.
Print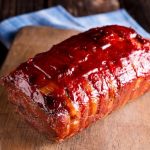 Best Smoky Pellet Grill Meatloaf Recipe
---
Total Time:

2 hours 35 minutes

Yield:

4

1

x
Description
In this smoked meatloaf recipe, ground beef and pork are seasoned with onions, bell pepper, and celery and double-smoked on a wood pellet grill to create a super moist and flavorful smoke-infused dish.
---
1 1/2

lbs

ground beef (80% fat)

1/2

lb

ground pork

1 tbsp

Kosher salt

2 tsp

black pepper

2

large eggs

1

cup

panko bread crumbs

1/2

cup

grated parmesan cheese

1/3

cup

diced red bell pepper

1/3

cup

diced onion

1/3

cup

diced celery

1/2

cup

barbecue sauce (divided in half)
---
Instructions
In a large bowl, combine all the ingredients and mix well (keeping 1/4 cup of barbecue sauce in reserve for basting).
Form the mixture into a log or loaf by rolling it into a sheet of aluminum foil or parchment paper.
Refrigerate the loaf for one hour after it has been wrapped in foil/parchment.
For smoking, set your pellet smoker to 225 degrees Fahrenheit and add hickory pellets or wood pellets of your choice. Remove the wrapped meatloaf from the refrigerator.
Unwrap the meatloaf to season the entire exterior with salt and pepper (or your favorite dry rub).
Place the seasoned meatloaf into the smoker. Smoke the meatloaf for one hour at 225 degrees Fahrenheit.
Glaze the top and sides of the meatloaf with reserved bbq sauce after opening the smoker.
The pellet grill should then be heated to 325 degrees Fahrenheit.
Smoke for another 30-45 minutes until an internal temperature of 160 degrees Fahrenheit is reached.
Remove the smoked meatloaf from the grill and allow it to cool for 30 minutes before slicing.
Prep Time:

1 hour

Cook Time:

1 hour 30 minutes

Category:

Main Course

Cuisine:

American
How Long Does it Take to Smoke Meatloaf on a Pellet Grill?
It takes 1 and 1/2 hours to smoke a meatloaf on a pellet grill. If you have a large amount of meat (more than 3 lbs, the time to smoke it may increase).
What Temperature to Cook Meatloaf on a Pellet Grill
Meatloaf should be smoked for one hour at 225 degrees Fahrenheit and after it is glazed with barbecue sauce or ketchup, the heat should be increased to 325°F for an additional 30 to 45 minutes.
Best Wood Chips for Making Meatloaf on a Pellet Grill
Choosing the right type of wood is important because different woods provide different flavors and smoke strength.
The best wood chips for smoked meatloaf are hickory, apple, cherry, maple, or pecan.
Smoked Meatloaf Seasoning and Sides
Smoked Meatloaf Seasoning Ideas
Try these seasoning variations to kick up the flavor in your smoked meatloaf!
BBQ rub or beef rub will add big, bold, barbecue flavors to your meatloaf.
Incorporate minced garlic or garlic powder with a squeeze of lemon and black pepper for freshness.
Add tomato paste or diced sun-dried tomatoes for extra acidity.
Worcestershire sauce brings umami flavor to meatloaf.
You can add brown sugar along with paprika and cayenne for sweet and spicy meatloaf.
Smoked Meatloaf Sides
Meatloaf is a great main dish, but what side dishes work with smoked meat?
Try a twist on these classic comfort foods to accompany your smoked meatloaf!